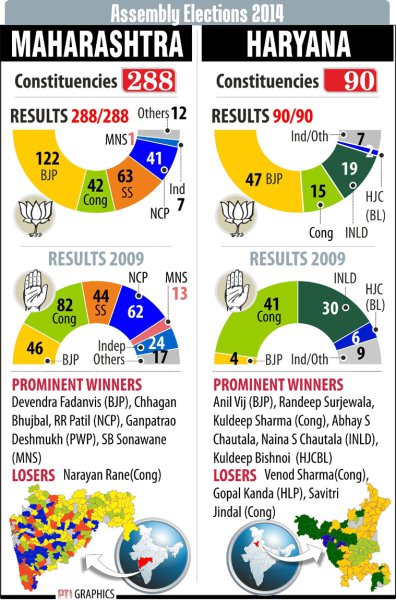 From being the number 3 party in Maharashtra, the BJP emerged as the largest party, with 122 out of the 288 seats in the House.

BJP's erstwhile alliance partner Shiv Sena had offered it a total of 119 seats to contest.

This is the first time that a party has got more than 100 seats on its own in Maharashtra since 1990 when the Congress got 141 seats.

From being the ruling party, the Congress is reduced to No 3 place in both the states.

The No 2 party Shiv Sena too improved upon its 2009 showing winning 63 seats, it still fell short of its best performance in the 1995 poll when it had won 73 seats

This is the Congress's worst performance in Maharashtra. Since 1960, when Maharashtra was formed, the Congress has always been in power, barring the Sena-BJP rule in 1995-99 and 580-day stint of Sharad Pawar-led Progressive Democratic Front government between July 18, 1978, and February 17, 1980.

Raj Thackeray's MNS, which many thought will be the X-factor in the poll, was nearly decimated as it managed to win just one seat as against the 13 it had earlier.

Hyderabad-based MIM has opened its account in Maharashtra winning two seats.

In Haryana, the BJP had never got more than 10 per cent of the votes and played second fiddle to regional partners ended up with 33.2 per cent of the votes and 47 seats to get a clear majority in the 90-member House

The BJP does not have any state leader of note and with only a skeletal party structure, it depended entirely on Prime Minister Narendra Modi's charisma.
Some of the reactions on Twitter: