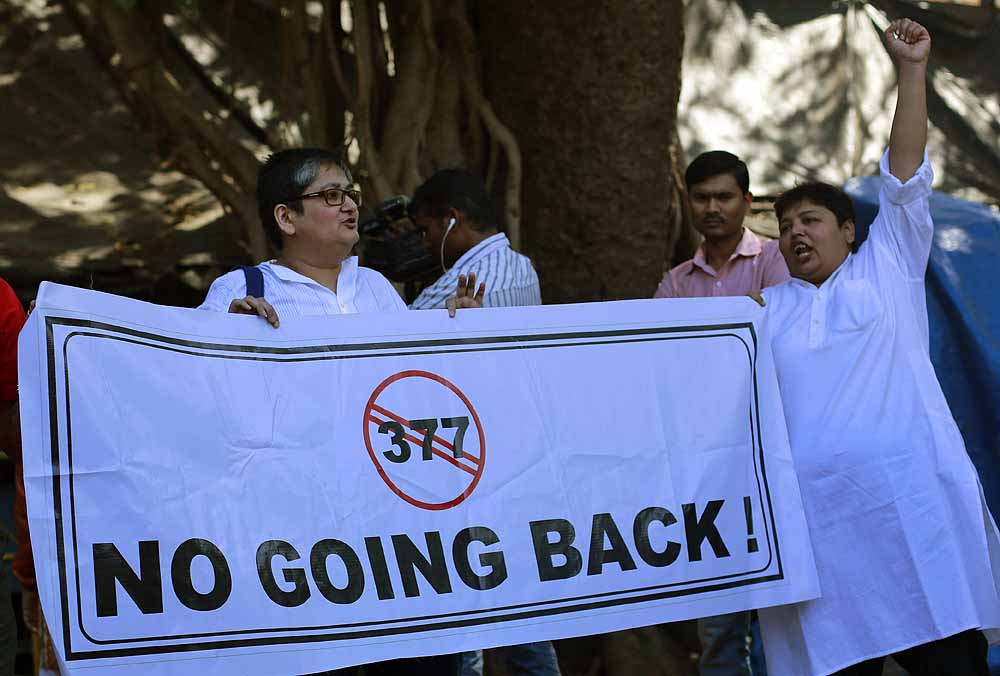 In a shocking development, the Supreme Court today overturned the historical Delhi High Court ruling of 2009 and has recriminalised homosexual sex.
In a path-breaking judgement, in July 2009, the Delhi High Court had read down Section 377 of of the Indian Penal Code, which criminalises homosexuality, to exclude consensual sex between adults in private in its judgment in Naz Foundation v. Union of India (2009), holding that the law making it a criminal offence violates fundamental rights.

"We declare Section 377 of IPC in so far as it criminalises consensual sexual acts of adults in private is violative of Articles 14, 21 and 15 of the Constitution," a Bench comprising Chief Justice A P Shah and Justice S Murlidhar said.

Various religious groups had appealed against the widely hailed ruling, calling homosexuality a western import that hurts Indian society and family values.

Some reactions:
Anjali Gopalan, Executive Director, Naz Foundation:
"It is horrible. It is just so regressive. It makes no sense"
Mohammad Abdul Rahim Quraishi, spokesman, All India Muslim Personal Law Board:
We are very happy with the judgment. There is no space for homosexuality in our social setup. It is a sin, it is a heinous crime.
K. Radhakrishnan, Trust God Ministries:
Homosexuality is a Western phenomenon. It has polluted the minds of young Indians.The court has recognized this. We are very grateful.
Colin Gonsalves, Founder, Human Rights Law Network:
This is a day of mourning for all Indians. The 2009 High Court ruling was one of the finest judgments for minority rights and for inclusion. This is a wrong and retrograde approach to fundamental rights. That the legislature should take it up and not the court is an obsolete notion. The Supreme court has said 500 times in different judgments that it is the duty of the court to intervene when there is a violation of fundamental rights.
Meenakshi Ganguly, South Asia director, Human Rights Watch:
It's a huge setback for gay rights across Commonwealth countries that inherited Victorian law criminalizing homosexual acts during British colonial rule. Countries such as Malaysia, Indonesia, Bangladesh, Pakistan, Bhutan and Sri Lanka, among others, have some version of this law on their statute books. Australia, Fiji, Hong Kong and New Zealand are countries that had the law, but abolished it. Human rights advocates were looking to India to take the lead on this so that similar changes could be made in other countries.
Anantha Padmanabhan, chief executive, Amnesty International India:
It's a black day for freedom in India. This decision is a body blow to people's rights to equality, privacy and dignity. It is hard not to feel let down by this judgement, which has taken India back several years in its commitment to protect basic rights.
Former Attorney General of India Soli Sorabjee has said that he was deeply disappointed by the SC judgement:
This judgement shows a little bit of intolerance. The judgement shows traditiomal thinking. Deeply disappointed that our Supreme Court has given a judgement is deeply retrogressive. A little bit of sensitivity should have been shown to the people with a certain inclination.
Indira Jaising, Additional Solicitor General of India, Co-founder, Lawyers Collective:
I think it's an erroneous interpretation of the Constitution of India. The court should have recognized that we live in the 21st century. Each individual has the right to choose their sexuality. "Every human being has the right to live their life the way they want to live it. It's not just disappointing, it's almost contrary to the constitution of India.
Subramanian Swamy, Bharatiya Janata Party:
Homosexuality is a malfunction of the human body and should be treated medically. I welcome Supreme Court judgment holding homosexuality as illegal. It is no accident that men and women are born in equal proportion. Moreover survival of the human race requires one man one woman cohabitation. The government and corporates must fund research to find a cure for homosexuality at the earliest. It is a malady that should not be celebrated but cured with compassion
Some reactions on Twitter: