Debarghya Das mounts "a privacy breach of the highest order" by "acquiring the results of ICSE and ISC candidates" because "the results page had no proper security mechanism whatsoever."

But his purpose was not just "to demonstrate the vulnerability of information on the web in India", for he found something bizarre: no student, out of the 15 thousand or so, scored some marks at all in ANY subject -- the exact same numbers were missing from everybody's results in all subjects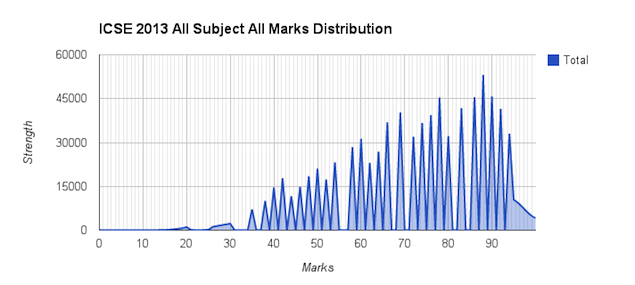 Evidence:
There were specific numbers, in no real pattern, that were missing for the distribution of the entire distribution of all subjects achieved by all students. And these missing numbers were regularly interspersed on the number line. For example, 81, 82, 84, 85, 87, 89, 91 and 93 were visibly missing. I repeat, no one in India had achieved these marks in the ICSE.
32, 33 and 34 were visibly absent. This chain of 3 consecutive numbers is the longest chain of absent numbers. Coincidentally, 35 happens to be the pass mark.
From the 66 numbers between 35, the pass mark, and 100, the maximum possible, ONLY 33 WERE ATTAINED.
Let me repeat that, 50% of the possible pass marks were attainable in the ICSE. Here's a complete list of unattained marks -
36, 37, 39, 41, 43, 45, 47, 49, 51, 53, 55, 56, 57, 59, 61, 63, 65, 67, 68, 70, 71, 73, 75, 77, 79, 81, 82, 84, 85, 87, 89, 91, 93. Yes, that's 33 numbers!
And he eventually concludes:
In my opinion, there is not a shadow of doubt in my mind that the CICSE board is fraudulent and guilty of mark tampering. Whether they changed some results by plus or minus 1 or plus or minus 5 is irrelevant. Fact is, they changed some results. This is the second motive behind my writing of this article - to draw out this fact.
Read the full article: Hacking into the Indian Education System
Watch this space.