Qutubuddin Ansari and Ashok Mochi. Two men from Gujarat. Two men who unwittingly became the faces of 2002 Gujarat riots— as victim and perpetrator.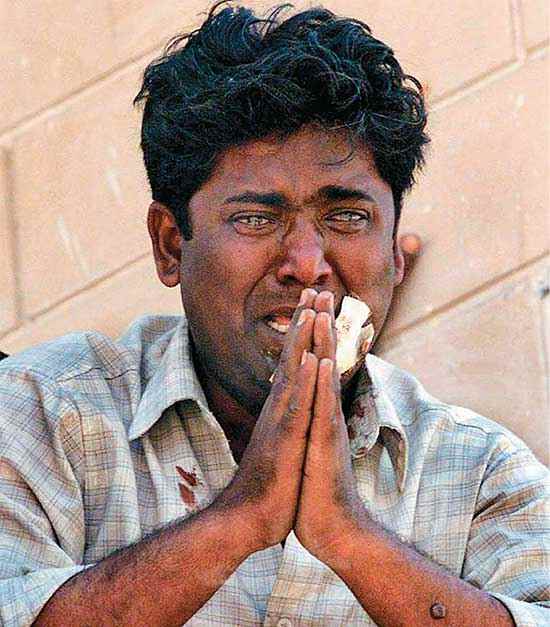 Qutubuddin Ansari is clearly a better known name. The Ahmedabad tailor first came to national limelight by means of a caption to a March 1, 2002 photograph put out by Reuters news agency:
"An Indian Muslim stranded in the first floor of his house, along with a few other Muslims and surrounded by a Hindu mob begs to the Rapid Action Force (Indian paramilitary) personnel to rescue him at Sone-ki-Chal in Ahmedabad, March 01, 2002"
The photograph was taken by Arko Dutta.
But not much is known about Ashok Mochi, whose February 28, 2002 photograph, with a saffron band around his head, a rod in one hand and the other clinched into a fist, taken by former Mumbai Mirror photo editor Sebastian D'souza, made him the face of the perpetrators of the riots.
The two men finally came face to face, not in the land of their birth, but in far away Kannur in Kerala, 12 years later, at a seminar —'A Decade of Genocide' —organised by the co -ordination Committee of Minority Organisations, an arm of CPI (M), where a book based on Ansari's experience of riots and post-riots Gujarat -- Njan Qutubuddin Ansari (I am Qutubuddin Ansari) -- was also released.
They sang, shook hands, and Ansari accepted a rose from Mochi. Behind them were posters carrying the pictures that had made them famous.
The Mumbai Mirror quotes Qutubuddin Ansari as marvelling at the fact that he was seated next to Mochi. "Even though we are both Gujaratis, we could not have met in Gujarat like this. This is a new experience for me."
As Zahid Qureshi and Swapna Pillai write in the the Mumbai Mirror:
Ansari said that Mochi, who was charged under sections 435 and 436 (arson and causing destruction by fire) and spent nearly two weeks in prison, wasn't the first Hindu to apologise to him for the riots. "A retired army officer named Anand Shroff, a resident of Pune, had apologised to me on behalf of the Hindu community some years back. Today, my brother Ashok Mochi has asked for forgiveness. It means a lot to me. Let this be the beginning of a new chapter in humanity," he said.

Mochi, who looked nothing like his famous picture -- now clean shaven and the middle parting giving way to a neater side parting - called the riots a mistake. "It was a huge blunder. I do not know what to say, I have never addressed so many people in my life. But I cannot leave without talking about insaaniyat (humanity) -- that is what I have learnt over these years," he said.

They sang the famous song from Manoj Kumar-starrer Purab Paschim 'Hai preet jahan ki reet sada...' completely out of tune. For sure, the crowd comprising mostly of Malayalees did not get a word of it. But the message somehow must have reached, because the applause was loud.

Read more at the Mumbai Mirror as to what they have to say about Modi and Muslims and Modi's development model: Defying NaMo
Also read a 2012 BBC profile of Qutubuddin Ansari and watch him talking about a retired army officer named Anand Shroff, a resident of Pune, had apologised to him:
Also See: Outlook Archives