A General And A Labyrinth
Organises mehfils or singing soirees at his flat on Hyde Park Crescent. Visiting Pakistani singers perform there.
Buys music at Ilford suburb, shops otherwise at Selfridges
Plays a weekly game of bridge with his friend Brig (retd) Niazi Ahmed.
Went for a 10-day cruise.
Attends seminars, lambasts those who point fingers at him. Participated in a meeting at the British Parliament with thugs in tow. Ended in a fracas.
Attended a function organised by Khalistanis to celebrate Pakistan's Independence Day.
For the next three months, likely to be in Saudi Arabia. In December, it's off to the US on a lecture tour.
***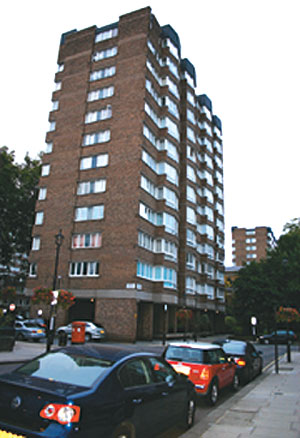 Mush's apartment building Castleacre
The darling has come home; it's so much nicer to be wanted abroad than being wanted the way he is in Pakistan. It is in London that former president Gen Pervez Musharraf has more or less dropped anchor for now; the visits to Saudi Arabia and then on to the US are now from here. And 'here' is a three-bedroom apartment, 28 Castleacre building, on Hyde Park Crescent. The heart of London, but also an elite Pakistani neighbourhood.