Matchpoint Haryana
Thorny Issues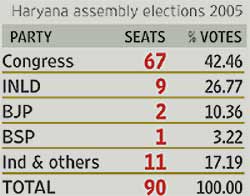 Jobs, favours handed out to Jats only by the Congress government; non-Jats unhappy.
Farmers in drought-hit districts feel concerns have been ignored.
Widespread corruption in the government is an issue across the state.
The ad campaign trumpeting the state govt's achievements has not gone down too well with many sections.
***