In 1983, when I was 17, I had two dominant thoughts. One was to get married. I often wondered: how nice it would be if I were to get married; then my wife could also be with me and we could travel together around the country! But I had to wait, and only got married when I was 23. The other thought was a more depressing one—my voice had broken. Well, I did not lose total control, but, as is natural, my voice cracked from 14 onwards. I gave my first solo performance in Calcutta at the age of 11. But, as a teenager, once my voice started changing, I became very depressed. I didn't perform any more; I also stopped my daily riyaz.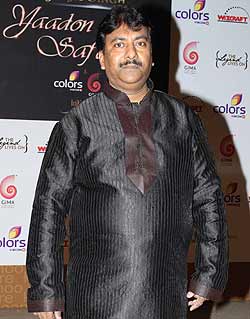 My 'Nana', the great Ustad Nissar Hussain Khan Sahib, used to tell me not to worry and be patient, as it was natural for boys of my age to go through the process till their voice matured. But every time I tried singing, I could hear two voices coming out at the same time and I did not like the sound. Throughout that period I concentrated on listening to a number of great artistes, which included, apart from my own Nana, singers like Ustad Amir Khan Saheb or Pandit Bhimsen Joshi. I was also interested in sports, particularly football and cricket. I used to play both with boys of our locality in Calcutta, where I mostly stayed, but also occasionally in Bombay and Badaun in UP, where I was born. I did not get a chance to watch much sport, but had to rely on the radio for commentaries of Test matches, as well as the Calcutta football league.
I am so fond of football and cricket that even now I fight with my 8-year-old son over watching a good game of cricket or football on TV. Politically, a lot might have been happening then. But I always stayed clear of politics, and do so even now. Indeed, when I look back to 1983, what I remember most is the shock and sadness of my voice breaking. I prayed every day to regain musical control. It was only in my early 20s that my voice matured and I started singing regularly.
As told to Pranay Sharma