Under the Sheltering Sky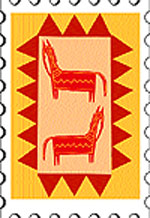 I was recently in Gwalior and Shivpuri, Madhya Pradesh. As the Shatabdi wended its way south, we passed a continuous landscape of dusty fields with dispirited men and cattle, all wandering in search of food and water. The pitiless landscape of empty, unsown fields extended all the way to Agra, Dholpur, Morena and Gwalior. I was told there had been no rain.
I stayed at my farm. After many decades I slept out in the garden. Shivpuri is always cool, a breeze all day long, and a soothing gentle zephyr at night. Sleeping out I needed a blanket. I naturally followed the time-cycle of the universe. Sleep came early and instantly. Once the moon went down, the sky shimmered with a billion little lights, Venus the most prominent. One cannot see these in Delhi's murky atmosphere. We woke early with the dawn of the rising sun still below the horizon. But...