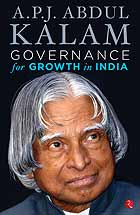 Governance For Growth In India | Published by Rupa
| Pages 168 | Rs. 295

Dr Avul Pakir Jainulabdeen Abdul Kalam's sprawling house in Lutyens' Delhi (well, less sprawling than his previous house just across the road, parts of which you can glimpse from the lawns) has a library almost the size of a badminton court, crammed with books on shelves along the walls. There are numerous biographies, books on science (many by...