Last night a storm raged round the bare oak tree.
A cold, sharp rain fell; wild in pace
The ice-fed air swirled free.
Now in this place
I see
No trace
Of wind or lee,
No grass, no earth—the space
Is a clear lake, deep as my knee.
I reach its edge and view, far down, my face.

I wade out to the bench, set down my wine,
My bread and cheese, and like some sage
Of old, sit down to dine.
I do not rage
Or pine
At age,
For youth once mine.
This pool, this plate, this page,
This tree whose roots are branch and tine
Holds me in its still hour-glass, its free cage.
***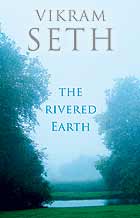 The Rivered Earth by
Vikram Seth
Hamish Hamilton/Penguin
| Pages: 120 | Rs. 399

For someone who claims to be indolent, Vikram Seth can invent work on a mind-boggling scale. Six years ago, when he was 'between books' and 'goofing around' in his home in Salisbury, England, he agreed to collaborate on a festival project with two musician friends—his then partner, violinist Phillippe Honore, and composer Alec Roth. All that Seth had to do was provide the words for a 20-minute...