***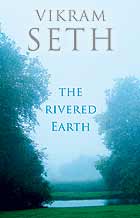 The Rivered Earth by
Vikram Seth
Hamish Hamilton/Penguin
| Pages: 120 | Rs. 399

For someone who claims to be indolent, Vikram Seth can invent work on a mind-boggling scale. Six years ago, when he was 'between books' and 'goofing around' in his home in Salisbury, England, he agreed to collaborate on a festival project with two musician friends—his then partner, violinist Phillippe Honore, and composer Alec Roth. All that Seth had to do was provide the words for a 20-minute composition. But that would have been too easy and boring, so he came up with one of his 'grand plans': why not undertake a four-year project in which they could create a new work each year? No one had done that before, as Roth gently pointed out. But that was hardly a deterrent for someone like Vikram Seth.