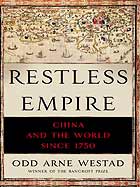 Odd Arne Westad is an award-winning historian and one of the world's foremost experts on the Cold War and contemporary East Asian history. He is a Professor of International History at the London School of Economics and the co-director of LSE IDEAS, a centre for the study of international affairs, diplomacy and grand strategy. His just-released book, Restless Empire, has already received critical acclaim. He talks to Pranay Sharma on Sino-Indian relations, what the simultaneous rise of the two Asian giants means as well as the challenges and opportunities before the two nations in the coming days.

Your most recent book, Restless Empire, looks at China's interaction with the wider world since 1750. How would you interpret the history of Sino-Indian relations over the 20th century?
China and India have had an uncertain relationship all through the 20th century and up to the present day. During the anti-colonial period, many Chinese and Indians were inspired by each other; Tagore, for instance, had a major influence in China. But there was also an undercurrent in Chinese radical thinking of abhorrence at the Indian loss of independence and subservience to the British. India's fate was an example of what China had to struggle to avoid. Some of these Chinese views have lasted up to today. India was far too influenced by the West, too easy in its intercourse with foreign cultures, for the taste of Chinese nationalist radicals. And even after Indian independence, there was always a suspicion in Beijing that India served British, or European, or Western interests as opposed to the increasingly radical orientation of many Chinese.