As I sit in front of my computer wondering about the year that is almost drawing to a close my mind wanders on some of the most memorable events that we have collectively experienced over the past 12 months. This time last year was one of deep sadness. We all collectively experienced a national tragedy—the brutal gang rape and death of Nirbhaya. She will forever be memorialised for me as Delhi's, or even as India's braveheart. 2013 has been a remarkable year in modern India's history. For the past couple of weeks we have all been consumed by the important and unprecedented victory of the Aam Admi party, an event that few anticipated. It is as yet too early to tell what its implications are for Indian politics as a whole.
But, if we moved away from the domain of the state to everyday life what do we see? For Indians the state looms above everything else. Put differently we seem to live our daily lives in the shadow of politics.
As Bengalis however, this past year has been remarkable in another arena. Interestingly, we speak a lot less about it even in the daily press perhaps because it is less spectacular, more quiet. Yet it portends something novel for Bengal, where things otherwise seem to be the same old, same old in most other arenas of life. I have in mind a handful of Bengali films that we were fortunate to see in 2013. They portend something new and at the same time recall a bygone era of Bengali cinema. Think of the flourishing of Bengali films between the years 1970- 1972. We had Aranyer Dinratri (Days and Nights in the Forest), Pratidwandi (the Adversary), Seemabaddha (Company Limited), Sagina Mahato, Interview, Calcutta 71. Even 40 years later it is impossible not to be blown away by this impressive list that is by no means complete for I have not mentioned Chadmabeshi, Nishipadma, Har Mana Mar, Ekhane Pinjar and so many others featuring Uttam Kumar, Suchitra Sen, Madhabi Mukherjee, Supriya Debi, and others. Suchitra Sen, I learned yesterday, is critically ill. We lost Rituparno Ghosh, another trailblazer of Bengali cinema in 2013. As I remember these greats and pay my tribute to them at this moment of the year ending, let me also take a few moments to think of some remarkable achievements in Bengali cinema during this past year. 2013 has been a year of a different Bengali cinema. I say different instead of new because newness implies a break with the past. This year's films, whether it was Taasher Desh (The Land of cards) by Q or Chader Pahaar (the Mountain of the Moon) have brought the past back, albeit in new garbs.
For me, the highlight of 2013 was Kaushik Ganguly's Shabdo (Sound) that had its theatrical release in April. The protagonist Tarak was a foley artist whose world was so overpowered by the ambient sounds he produced in cinema that he lost his grip over the every day. Shabdo broke new ground for me as it reminded me once more to appreciate the elusive sound of silence. It made me think long and hard about what the "talkie" means. It is not just songs and dance music. It is the sound of the everyday—the blaring of horns, the clattering of utensils, the quiet footsteps on a stairwell, the light tinkle of putting down a cup of tea. It was a film that forced me to slow down, to listen quietly, and to then re-emerge in the cacophony of Calcutta with the awareness that it is still possible to loose oneself in a world of little voices and sounds.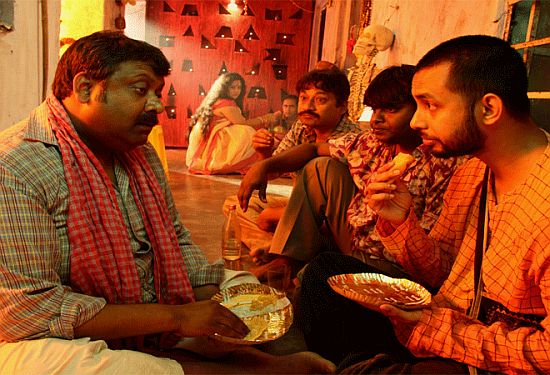 Kangal Malsat
Another aspect of the everyday came with Kangal Malsat (War Cry of Beggars), Suman Mukhopadhyay's adaptation of Nabarun Bhattacharya's novel of the same title. Kangal Malshat was of a completely different flavour. In recreating on a low-budget the world of the rebel Choktars and Phyatarus, Suman seemed to be making two points. The first as I see it is about the power of the small people. This was no Dhoom 3 or Krrish with high speed motorbikes and special effects worth crores of rupees. In many respects however the simplicity of Suman's special effects spoke more eloquently to the processes of political change not only in Kolkata but in India as a whole. It did not take crores of rupees to shake up the national parties in New Delhi. All it took was a party with a broom as its symbol and a name that was derisively cast upon it by wealthy son-in-law of our national family. Second, Mukhopadhyay much like Srjit Mukherji continued the bold experimentation with language on silver screen. People squirmed when they heard certain words. Do Bengalis really speak like this, asked many? The future will determine the implications of bringing this Bengali lingo—not new, but certainly not parliamentary or bhadra (genteel)—into the domain of daily interaction.
No account of 2013 would be complete without a mention of two remarkable films, both national award winners, Apur Panchali (The Song-Tale of Apu) by Kaushik Ganguly and Megha Dhaka Taara (Cloud Capped Stars) by Kamaleshwar Mukherjee. Interestingly, both films are biographical in their content but stylistically the two could not be more different. One, Meghe Dhaka Taara, is almost entirely in black and white. Its overt theatricality recalls the larger than life melodrama that was epitomized by its subject—Ritwik Ghatak. And Apur Panchali takes us back to the one of the greatest moments of Bengali cinema Pather Panchali (Song of the Little Road) and gives us back a different Apu. Both films are a gift to Bengalis in recalling for us the richest decades of our film history. They remind us once again of two stalwarts, Ray and Ghatak, whose bold experiments on screen repeatedly told us that there were many ways of being modern, that modernity always came at a price, and yet there was no turning back from that condition. To flourish as a modern person was to learn to innovate and reinvent oneself time and again. It appears that Bengali cinema in 2013 has embraced that message. The Bengali viewer is once more anticipating with relish the gifts that cinema will bring in 2014.
---
Rochona Majumdar teaches Cinema and South Asian Studies at the University of Chicago