"It tastes like a combination of ashes and fingernails," Aamir Khan said, wrinkling his nose and wiping the corner of his mouth. "No, really, it's not that bad."

He was between takes on the set of Rajkumar Hirani's new movie PK, on the platform of a brand new metro station in Andheri that had not yet opened for operation. The team was working on the scene early in the film where the peculiar little fellow known as PK (Khan) meets the television news anchor Jaggu (Anushka Sharma) for the first time. PK chews paan with relish while chatting with Jaggu about his search for Bhagwan. They had done a lot of takes, and Aamir had eaten a lot of paan.

He explained to us that paan was nice, in a small amount, but since he'd been chewing it all day his mouth was numb and gritty from it. He grinned at us, and his ears— protuberant under the best of circumstances, and for this film, made even more so with plastic shims wedged behind them— seemed to wiggle with delight. Aamir buttonholed a crew member to get some paan for us— me and David and the friends with whom we were travelling. I stuffed one in my mouth and began to chew.

It tasted good, sweet and tingly and interesting, but it was an enormous beeda of paan, much more than I could manage. My mouth filled up with saliva and bits of nuts and spices and I don't know what else. What to do? In the movies I had seen people spitting paan juice but I knew this was disgusting and uncouth, usually shown for comedy or as a signal of coarseness and incivility. Still, there was no way I could keep chewing this much stuff. I tore a piece of paper out of my notebook and, as surreptitiously as I could, spit the remnants into it and folded it into a damp little bundle. Fortunately, Aamir Khan had gone back to work and had not seen the Amreeki make a fool of herself.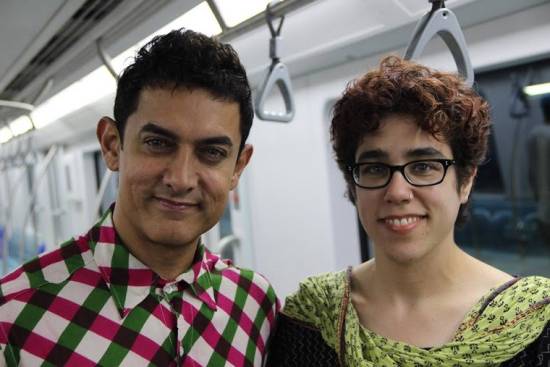 The author with Aamir Khan: Photo courtesy, Greta Kaemmer
When I finally saw the movie, all the work I had seen that day was edited into a smooth minute or two of footage. It was an interesting look into how the sausage of the movies is made. Rajkumar Hirani and Aamir Khan share a reputation for exacting perfectionism and attention to craft, and these were evident as we watched them work. We sat near a monitor, a few dozen feet away from the action. After each take, Aamir and Hirani came over to the monitor, donned headphones, and watched and discussed what had gone right in the take and what they wanted to tweak and reshoot. Hirani used a single-camera setup for the scene, taking first a medium shot of the conversation between Aamir and Anushka Sharma, and then later, close-ups over the actors' shoulders. These takes would later be edited together for a single, smooth scene, and both Hirani and Aamir worked with tremendous detail to preserve continuity from take to take. Aamir Khan practiced his lines as he watched the monitor, memorizing every fine point of his delivery to best replicate it on the next take. Hirani repositioned the extras, who played commuters passing through the metro station, so that the same extra would cross the scene in the same place at the same time, take after take after take.

In the movie, PK is an alien stranded on earth, who turns to God for help finding a missing gadget that he needs to call his ride home. With his extreme innocence and literalism, PK tries to make sense of the great tangle that is human religious beliefs and philosophies. He is confused by the variety of conflicting rules and practices across religions, to charming comical effect. In one sequence, after learning that widows wear white, he encounters a Christian bride and offers his condolences; she tells him that widows wear black, not white, and he immediately approaches a group of niqab-clad women and, well, you can imagine what follows. But PK, who begins the movie with no clothes, is the only outsider innocent who can point out that the emperor has no clothes, seeing only confusion and misguidance in the instructions of God's messengers on earth. The movie is pure Hirani: heart-tugging, with its do-good-to-feel-good message; when Jaggu's TV show starts broadcasting viewer-contributed "Wrong Numbers," PK's term for questionable advice doled out by religious leaders, it's hard not to remember Vidya Balan's character spreading "Gandhigiri" on her radio show in Lage Raho Munnabhai. But Hirani is great at this sort of thing, and the movie is a good solid smile.

And so was my day on the set. When it was time to break for lunch, my friends and I joined Hirani, his co-screenwriter Abhijat Joshi, a few other senior crew members, and the movie's stars at their table. It was the last day of shooting in Mumbai, and to celebrate the milestone Sharma had brought a marvellous meal prepared by her mother—biryani, chicken, dal, pakoras, chapaatis. I was seated beside Sharma. In the movie, Jaggu is outgoing and nervy, comfortable chasing down a stranger to pursue a story. The actor, though, is a bit less gregarious than her character or her co-star. It was on me to break the ice. I told her I had seen only two of her movies, but both were among my all-time favorites— a complete truth, not at all starstruck flattery. Band Baaja Baarat and Matru ki Bijlee ka Mandola, I answered when she asked which, stumbling a bit over the pronunciation of the latter. She smiled.

Anushka's mother's lunch was delicious, and so I tried with more somewhat more success to engage the star on the subject of food and cooking. "It's not too spicy?" she asked, and to prove my mettle I plucked a green chili off my plate and ate it whole. She seemed amused. We talked about recipes for Hyderabadi-style biryani and mirchi ka salan.

Aamir Khan changed out of his outrageous costume— PK wears disparate outfits plucked randomly from cars in which couples are, let's say, distracted— and turned up a little late, after everyone else had nearly finished eating. He perched on his chair in a most peculiar way, his bare feet on the seat, squatting rather rather than sitting. It was the eccentric posture of a star, or of a man tired of often being the shortest in the room; he hovered over the table, his eye level higher than everyone else's. He began to eat, and to discourse. He talked about what he was reading, historical fiction, and David got his interest with a mention of Gore Vidal's Creation. And he ate as meticulously as he had worked earlier in the morning. He mixed rice and dal with his fingers. He took a small amount between his thumb and first two fingers, turning and shaping it against his plate, turning and shaping, turning and shaping. He did not eat it until he had sculpted it into a perfect little cubical morsel. Perhaps the perfection of detail is as much an unconscious compulsion for Aamir Khan as an intentional mode of working.

In the afternoon, the crew moved into a metro car that had been pulled into the station, and shot a few segments of a song. After a few takes they took a break, and I noticed Aamir Khan sitting nearby, chatting with an extra from the song scene. I moved closer to listen. Aamir was lecturing on the history of conflict in Kashmir. With the tone of a patient professor, he explained the creation of the Kashmiri state by the British, the referendum on its governance that was supposed to occur after Partition but never did, the subsequent wars and unrest. I don't know whether the man he addressed already knew this history, but it didn't matter; Aamir clearly enjoyed pontificating. He likes to have an audience, whether on screen or off.

In the movie, PK's character arc is one of innocence lost; there is a poignant moment where PK realizes that what he's been calling "Wrong Numbers" are not just erroneously-delivered messages from God, but cynically-delivered deceptions by all-too-human religious figures. And while PK helps bring out some of the best qualities of humans, he also takes on some of their less admirable ones. He gives Jaggu the gift of love, and gives society at large clearer insight into the best workings of God. The movie's sweetness and charm are pleasant and lingering, if not subtle, and make a much more comfortable mouthful for me than that first taste of paan.
---
Carla Miriam Levy's been watching Hindi movies and refusing to check her brain at the door since 2005, when R.D. Burman's music snuck up behind her and clocked her over the head. She blogs as and at Filmy Geek