Shah Rukh Khan has been described (rightly or wrongly) as the Tom Cruise of Indian cinema. If you search the web for "Meryl Streep of Bollywood" the results range from Shabana Azmi to Vidya Balan. But there isn't anyone like Helen, in western movies or Indian. There is no "Helen of Hollywood," no comparison that makes sense or even comes close. Helen occupies a space of her own, signifying both what is foreign and what is uniquely Indian, what is sexy and what is wholesome, what is dark and subversive and what is joyfully bright and sparkly.
In his book about her, Helen: The Life and Times of a Bollywood H-Bomb, Jerry Pinto writes:
"She is a signifier who lets us know that the hero has wandered away from the bourgeois respectability of his middle-class trading family and is now in the dark depths of the underworld.... Now the hero has begun his descent into danger."
Helen's stage is usually the cabaret, often filled with patrons who are drunk, seedy, white, or all of the above. She represents a transition zone, a place where worlds collide and mix, with results that are tantalizing, explosive, and always entertaining.
When Helen's name rolls by in the credits of some movie I am watching for the first time, I know that even if the movie is a dud, it has five guaranteed minutes of pure awesomeness. There will be at least one terrific song, and there will be Helen, wearing ostrich feathers or gold sequins or a Flamenco gown or all of the above, filling the screen with her unique arm-flinging, hip-shaking energy and her dazzling smile.
And just as Helen is a signifier for a hero's narrative arc, and a signifier for the audience of something fabulous to come, she often is also a signifier to set designers that it is time to think big, to execute on every wild, brilliant, mad idea that can be packed onto one enormous cabaret stage.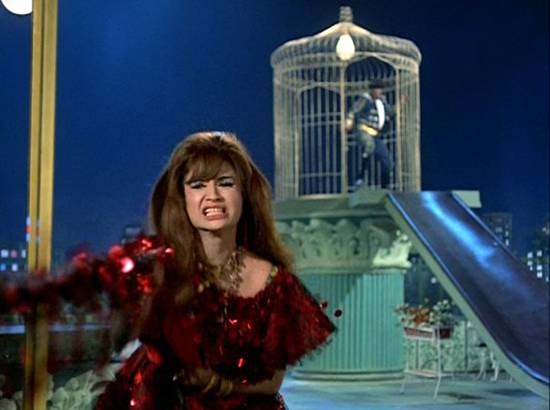 From a human-sized, giant birdcage of 'Piya tu ab to aaja', to a bar decorated with enormous playing cards, to revolving fountains, spinning staircases, and giant lotus flowers bearing chorus dancers, Helen always gets the most marvellously fantastical sets in which to work her magic. So in honour of Helen's 76th birthday today, let's visit her in some of the best, most outrageous stages she has ever adorned.
Ae naujawan hai sub kuch yahan, Apradh (1972)
This song is perhaps the mother of all outlandish cabaret sets. In this club, young women in bathing suits lounge in a hot tub. Patrons mingle at a revolving bar centred on a crystal palm tree. A taxidermised leopard lurks in a jungle tableau. Coloured lights shimmer and sparkle as gamblers place their bets at casino tables. The band wears Mariachi outfits. And through it all dances Helen, with black gloves to the elbow and bright orange hair extensions, trying to win the attention of a distracted Feroz Khan, who gazes upon Helen, but sees only Mumtaz.
Hum kaale hain to kya hua, Gumnaam (1965)
Mehmood's far-reaching daydream about Helen places her on several wildly fantastical sets. One is adorned with classical sculpture and fountains and sweeping curved staircases festooned with scrollwork for Helen to glide up and down. In another, vaguely Polynesian head totems with glowing eyes and collars made of flashing multicolored lights belch steam out of their giant ears and crowns. If you're going to daydream about Helen, you may as well make it count.
Aiyaiya, karun main kya, Junglee (1961)
On one of her trademark enormous cabaret stages—twice the size of the club itself—Helen dances Flamenco-style across a Brobdingnagian painter's palette in front of a backdrop that evokes Van Gogh's Starry Night, surrounded by gigantic paintbrushes. She is soon joined by Shammi Kapoor, and the two of them frolic in a field of hanging baubles until Saira Banu loses patience with the spectacle and drags Shammi away by his ear.
Aaj ki raat, Anamika (1973)
In this unusual specimen of the great tradition of rain songs in Hindi films, this song brings the rain into the cabaret, as Helen dances on a cabaret stage that portrays a city street of remarkable depth—and remarkable weather.
Tumko piya dil diya, Shikari (1963)
Helen dances a duet with Ragini on a superb fantastical set of outsized lily pads and lotus flowers as Ajit looks on from a scalloped, gilded throne. The backdrop is painted in technicolor sunset hues, and in a nice design detail, Helen and Rajini's costumes coordinate; Helen wears a silver dress with a red dupatta, and Ragini a red dress with a silver dupatta.
Typewriter, tip tip tip, Bombay Talkie (1970)
The song in the film-within-a-film of Merchant-Ivory's sarcastic look at the Hindi film industry is meant to be a sendup of the wildly imaginative sets that appeared in films of the era. But it ends up a delightful exemplar in its own right. Helen and Shashi Kapoor rehearse on what their director calls The Fate Machine, a huge typewriter upon whose keys we dance out the story of our lives. As Jennifer Kendal comments, "It's very symbolic."
Kab se khadi hai, Sachaai (1969)
Helen, in sequined underwear writhes inside a bottle; silver-and-enamel champagne glasses revolve around her, each bearing a chorus dancer. What else need be said?
O haseena zulfonwali, Teesri Manzil (1966)
Helen shakes it with Shammi Kapoor once again, on a cabaret set adorned with the name of his character—ROCKY—in curvy, bulbous letters that look almost Gaudiesque when they first appear in close shots. Behind them comes Helen, tipping down a vast staircase from nowhere, and dances into the pupil of a humongous eye, with chorus dancers draped on its lashes. This song is many loony sets in one; later, a forest of colourful geometric shapes appears, through which Helen dances in a Flamenco gown (as you do). Finally Shammi and Helen groove across a set strewn with human-sized floor lamps and plaster statuary. It's hard to fathom how all of this scenery can be packed into one cabaret club. But when Helen is on stage, anything is possible.
---
Carla Miriam Levy's been watching Hindi movies and refusing to check her brain at the door since 2005, when R.D. Burman's music snuck up behind her and clocked her over the head. She blogs as and at Filmy Geek