The Renault Megane R.S. has had a long and illustrious history with the 'Ring. It started in 2008 with the Megane R.S. R26.R setting the first front-wheel-drive production record at the Nordschleife with a lap time of 8:17s. Three years later in 2011, that lap time was shattered by the second generation Megane R.S. Trophy driven by Laurent Hurgon with a lap time of 8:07.97 seconds. In 2014, the Megane 275 R.S Trophy-R set the bar higher with a 7:54.36 . This record was eventually surpassed by the 2014 Honda Civic Type-R, the 2016 Volkswagen Golf GTI Clubsport S and the 2017 Honda Civic Type-R. That record stood until April this year.
On April 5, Renault Sport created history in the war between high-performance hot-hatches at the Nurburgring. The new Renault Megane R.S. Trophy-R, with Laurent Hurgon at the helm again, has set a new FWD Nurburgring lap record of 7:40.100 on the 20.6km lap of the Nordschleife. This shattered the previous record held by the Civic Type-R by a whopping 3.7 seconds.
You can check the record breaking lap of the Megane R.S. Trophy-R below:
This record-breaking speed of the new Megane R.S. Trophy-R is not because of an explosive increase in power. The new Megane retains the same 304PS engine of the Megane R.S. Trophy. But Renault has shaved off 130kg off the hatchback while reworking aerodynamics and improving the driveshaft. In addition to this, Trophy R gets new brakes from Brembo, new stickier tyres from Bridgestone, lighter bucket seats seats from Sabelt, improved dampers from Ohlins and a lighter and improved exhaust from Akrapovic.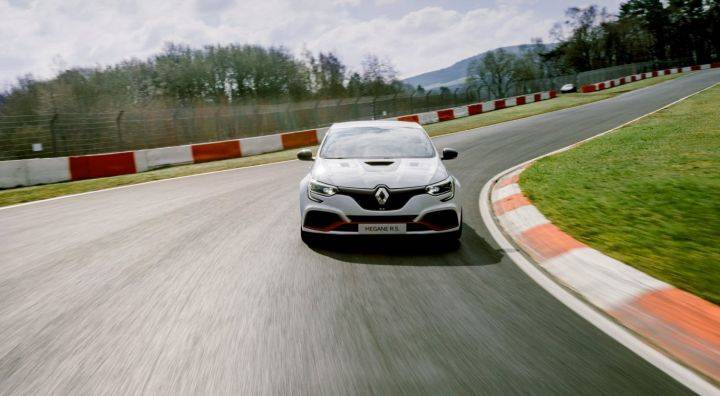 The Megane R.S. Trophy-R will be launched as a track-only car by the end of 2019 with a limited production run of a few hundred units. The record-breaking hot hatch will makes its public debut alongside Renault's F1 drivers, Daniel Ricciardo and Nico Hulkenberg, on Friday, 24 May 2019 during the Formula One Monaco Grand Prix weekend.
---
Source: zigwheels.com