I had just come out of the Oval satisfied at having spent a good day at Cricket on 11 June. The Indians had handed the West Indians a pasting and Shikhar Dhawan and Rohit Sharma had lit up an otherwise gloomy London afternoon. I needed to head back to Oxford and hence was in a rush. Evening traffic in Central London can be a real nightmare and the attempt was to get out of it as soon as possible.
Just as I was about to enter the Oval station did someone call me from behind. And the call was "bhai jaan". I turned around to see Nasir (I don't know his surname), an ardent cricket fan and Pakistan supporter, smiling at me. I have bumped into Nasir at several cricket grounds around the UK and know him to be a passionate supporter of the game. "Ab to apna team haar gaya hai. Aap ka team bahut achha khel raha hai. India ko support karenge abhi (Our team has lost now while your team is playing really well. I will support India from now on)" quipped Nasir.
I returned the smile and said to him that I'd see him in Birmingham come Saturday. The Nasir incident wasn't a one off.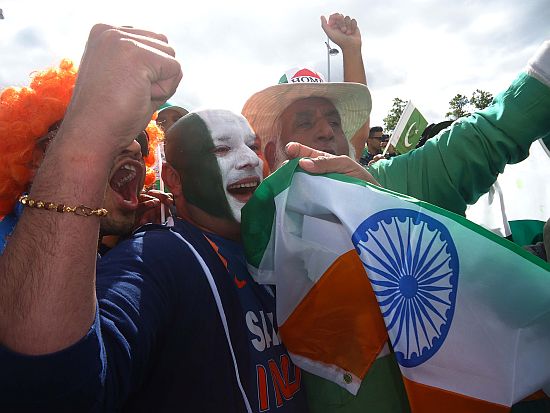 Photo: Boria Majumdar
Soon after I went down for breakfast at the Oxford University Club on 12th morning did my friend Samantha, the Assistant Manager, inform me that the India-Pakistan Society will be watching the match at the club. There were to be 60-80 members of the Oxford University, Indians and Pakistanis, who planned to watch the game together. They had made plans to have breakfast together and then enjoy the action. "They really enjoy their cricket and shout and scream and do all sorts of things. In fact, at times they become really excited and animated," laughed Samantha.
Now to the happenings of today.
I boarded the 8am train from Oxford to Birmingham to find the train fully packed with Indian and Pakistani supporters. Hindi and Urdu conversations could be heard loud and clear and it seemed rather strange to be in a train from Oxford, which had so few locals. If this was surprising, a far bigger surprise awaited me at the Birmingham New Street station. It was a sea of blue and green and each was trying to outdo the other in passion and excitement.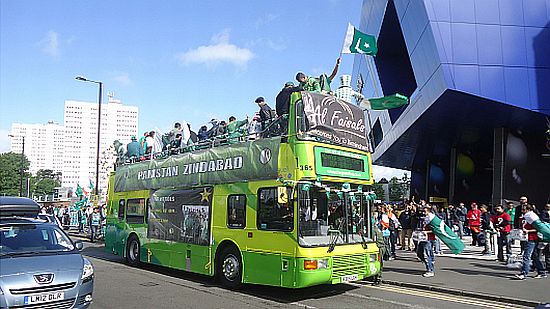 Photo: Debashish Sen
The Pakistanis walked away with the cake when a double decker bus, painted all Green, suddenly appeared from nowhere with a 100 or so supporters. It was one of the most vibrant and dynamic environments I have seen in my 18 years of watching international cricket worldwide and had the rain not played truant right through the day people would have had their money's worth.
More than the match it was the atmosphere that made the trip to Birmingham one worth the money. The passionate support also proved, once and for all, why this rivalry is cricket's foremost rivalry bigger perhaps than even the Ashes.