Born in Hyderabad to a German father and Bengali mother Dia Mirza recently acted in her first Bengali film, Paanch Adhyay. She spoke to Namrata Joshi on the Bengali in her.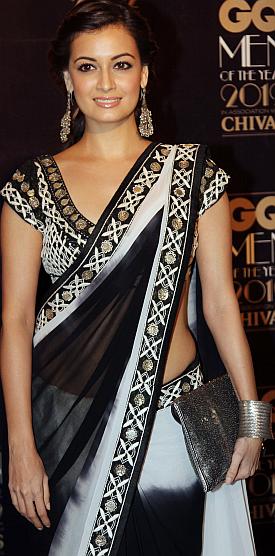 I see these candid images of my mother, clicked by my father, lining the corridor walls at home. In a crisp dhakai sari, big red bindi, jet black hair with the middle parting. I never met her parents. Her father was a lecturer in Osmania University and her mother was all of 14 when she got married. Am told am quite like her. Like my grandmother am finicky about cleanliness, love to cook and have learnt her recipes. Being a Bengali is all about that—the home cooked food, the macher jhol, aloo dum. A lot of my summer holidays were spent at my Mamoni's house. I got a lot of my Bengali grounding from there, I learnt the language there. There is this word in Bangla, shushudi. I have memories of that, before a child goes off to sleep the back of its arm is stroked and tickled with nails. That's so Bengali. Then there was the Rabindra Sangeet. We used to attend the Bengali Samiti's Durga Pooja in Hyderabad. I remember the aarti, the bhog—the serving and the eating.
Bengal has been a deep, subtle influence. It's about being like my mother—not ritualistic but a big believer in Shakti. That we have the capacity within to make anything happen. My mother has always been a friend, very liberal. It reflected in the way I grew up. I listened to Brahms, Mozart, Vivaldi, Beethovan. And the ghazals too. It was all about the intellect, about stimulated conversations, asking questions. That was the way to grow. To expand by seeking, by not losing the child in you. It's difficult to encapsulate how much in me is Bengali but it is a very large part and am discovering it as I am growing older. Simple things like the powder after the bath, the way the sari is worn, the red bindi, the bath before sleeping... Since Outlook asked me I have started joining the dots and seeing that at a subliminal level there's a lot that's Bengali in me. I have seen a lot of Ray movies, Gautam Ghosh was our house guest when my parents were in Berlin. I have seen Aparna Sen's films, love what Konkana has been doing. I love Shantanu Moitra's music. Aparajita Tumi had some great melodies.
When I started shooting for Paanch Adhyay I wasn't too sure about attempting a Bangla film. But as I got into it, familiarised myself with the dialogue I began feeling at home, totally at ease. The DNA kicked in. Shooting 25 days at a stretch for it has been the longest that I've spent in Kolkata. Earlier I was there for a few days for Parineeta.

My mother's family is spread all over the world. There is hardly anyone in Kolkata. I used to visit an aunt often back then. Visiting Victoria Memorial was a must. I remember the heat used to get me. I used to wonder at the logic of being there in summers. I also think that there's South Kolkata and then there's the rest of Kolkata. The colonial influence, the streets reminiscent of the past, the mansions of Thakurs and Zamindars. I hope none of it ever goes away from South Kolkata. I guess there's a nostalgia that most people feel for Kolkata, what brings out a strong connection, what people hold on to. Otherwise it's steel and glass facade everywhere. Our highways now look identical to anywhere in the globe.

Am amazed at how the Music World in Kolkata stores the music and movies which you won't find even in Bombay. It has a large, diverse selection reflecting the choices of the buyers. The treasure in the second hand bookstores is also unreal. Kolkata for me is the city of nostalgia. It's strong and overwhelming. I feel a belonging and familiarity. Paanch Adhyay creates a fascinating world. I wonder if it is what the city brings out. The film is a perfect ode to my mother. And to the Bengali in me.