If Only...
Tarun Tejpal got caught because the woman – his junior colleague – who was sexually assaulted by him had the courage to take him on. But there are hundreds of women – I spoke to many working women in Calcutta after the scandal broke (in which Tejpal, the high profile editor of Tehelka Magazine was accused of molestation) – who have faced some form of sexual harassment at their workplaces and kept their mouths shut. Why? Here is one of the replies. A journalist's. "We live in a city where our own chief minister – a woman herself – calls allegations of a rape by a woman, 'a concocted story', as she had done in the case of the Park Street incident. Can you imagine how humiliating that is for the woman? On top of the trauma of having been sexually violated, the shame of having to face disbelief! Then there is the stigma that somehow the sexual attack was brought on by something that the woman did and so somehow it's her fault. After the Park Street incident, a Bengal cabinet minister asked, 'what was she doing in a nightclub at that time?' So obviously women are wary about bringing up issues of sexual assaults."
The journalist has faced situations where she had powerful men, bureaucrats and politicians, whom she went to interview for stories, make suggestive sexual comments which made her feel uncomfortable. "But I felt that they could use their power to hush me up. Also I would be considered squeamish if I made a noise about it. So not only did I just grin and bear it, I have gone back many times for interviews with the same men as if nothing had happened."
Perhaps this is where the inadequate response of Shoma Chaudhury (who just resigned as Tehelka managing editor a week after the scandal) to the complaint by the journalist stems from. So many women face and silently suffer, accepting sexual harassment at the workplace as a daily and occupational hazard, that society seems to have become inured to it, almost oblivious of the fact that it's a criminal offence. So Tejpal must have felt he would get away with it. Demands have also been made for Shoma Chaudhury's arrest. Not reporting the matter and subsequently allegedly trying to cover up the incident is the kind of criminal negligence and manipulation that should not be condoned.
But I'm thinking how often do members of the society we live in run straight to the police each and every time a woman faces sexual violation in some form or another? Sometimes when they do, they get the opposite of a sense of protection. The Park Street rape survivor, when she finally mustered up the courage to go to the police station, was leered at by the police, who made her feel more humiliated, with one policeman taunting her by saying, "I heard you like beer. Why don't we go down to the pub and grab a few?"
So women have accepted it. Subjected to lewd comments. Groped by unknown hands. Molested by known and trusted people. Harassed. Raped. If they complained each and every time, it might not have come to such a dire state. And the Shoma Chaudhurys of the world would neither sit idle on a written complaint of sexual assault nor try to defend her powerful boss and speak about "his version". The truth is that they just did not think that it would become such a big deal. They did not perhaps even think that it was a big deal. Thanks to the unwavering courage of the girl it got the attention it deserved. Like her, if every woman who faces sexual violence at any level came forward and complained without fear of stigma, blame, disbelief or harassment, the Tarun Tejpals of the world would think twice before doing what he did.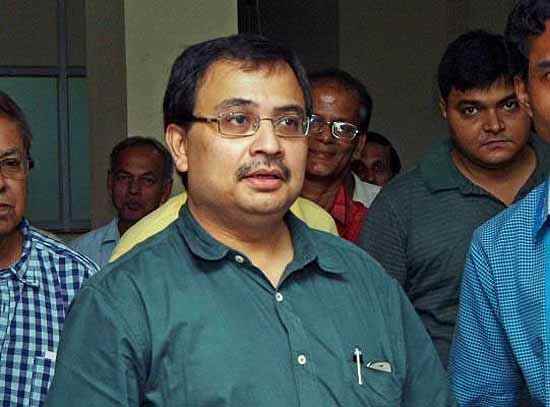 File - PTI Poto
Kunal's Karmic Cycle
Kunal Ghosh was also caught. Finally this week, after much speculation about whether or not he would be arrested, police came to his doorstep and picked him up. The former media head of the electronic news channels and print publications run by chit fund company Sharada (which went bust last year after the scandal broke that it had duped hundreds and thousands of people in the small towns and villages of their life's savings), had become the blue-eyed boy of Mamata Banerjee in the days before the Assembly elections in Bengal in 2011. He had used the channels and publications he ran to campaign for the Trinamool Congress party, no doubt hoping to be sufficiently rewarded when the party came to power.
The symbiotic relationship did blossom and stayed in bloom for a while, with Mamata Banerjee, after winning the elections, making him the TMC's Rajya Sabha Member of Parliament. Then of course, the unthinkable (as far as Kunal was concerned) happened. Mamata withdrew from the UPA II government. So what did that matter to Kunal? Well, the Centre had long been wanting to crack down on the chit fund companies which had mushroomed throughout Bengal and was milking the masses for money, mostly illegally. But the Central agencies could not take action as long as Mamata was a partner of the government because many of Mamata's people were closely associated with these chit fund companies. And allegedly the TMC's election campaigns had been funded by many of these companies. In fact, Kunal was one of the most vociferous in trying to dissuade Mamata from withdrawing from the UPA. Soon after, the chit fund scam broke and owner Sudipta Sen was arrested for fraud. It is then that questions about Kunal Ghosh started to be raised.
He had breathed a sigh of relief when Mamata supported him. But then he made the cardinal mistake of announcing at a public gathering that he was sure of TMC's protection because he was aware of the party's links with chit fund companies. That was his undoing. He was summarily expelled from the party and before he could do damage control he found himself being hauled off to jail. Kunal held a press conference the day before his arrest, where he broke down, no doubt feeling betrayed and let down by the party. But then, maybe, at that point, he would have remembered, the hundreds and thousands of people – mostly small time savers – whom his company had betrayed and let down.
Tully's Calcutta Souvenir
Not many know that well- known journalist, BBC's Mark Tully was born in Calcutta. The year was 1935. But he didn't possess a birth certificate. On April 5 this year the 78-year-old who has recently become a grandfather wrote to Calcutta Mayor Shovan Chattopadyay applying for one. Not that he had hoped to get it in a hurry. He told a newspaper, "Knowing how things move in India…I didn't expect a reply." Then the unthinkable happened. On November 16 he was informed that his certificate was ready. The Kolkata Municipal Corporation's MMIC (health) Atin Ghosh reportedly explained the process of retrieval thus: "We searched KMC records but there was no birth recorded under the name Mark William Tully in 1935. That's when we decided to increase our search ambit and ventured to the state registrar-general and the state archives." On November 26, a smiling Mayor handed the certificate to a beaming Mark Tully.
Someone's Gain, Someone's Pain
Calcutta's commuters always held a grudge against subway authorities because on Sundays the Metro only operated from 3 pm onwards. "This was very inconvenient," says a passenger who works on Sundays. "First of all, Sunday is the day when most people visit friends and relatives or do other kinds of traveling. So it just doesn't make sense not to run the trains on Sunday. Also, for some of us, it's a workday. So the authorities' logic never seemed justified to many of us." Well, finally, the passengers' woes seem to have been taken into consideration. From Sunday December 8, Calcutta commuters will be able to take the Metro as early as 10 on a Sunday morning. While the passengers are elated, the staff is reportedly grumbling as that would mean Sunday morning shift duties.
Helmet Vs. Hell-Met
Calcutta traffic police, which for several years now, has been trying to inject some life into the otherwise drab cityscape by putting up "interesting" (that can range from the creative to the corny) ad campaigns to promote road safety (remember the Beatle's Abbey Road cover?), has this week come up with the following: The visual of a helmeted head versus the visual of a cracked head with the following words written under each image respectively: "Helmet versus Hell-Met".