Team Mamata
Another high profile name has been added to the growing list of people who would like to see Bengal Chief Minister Mamata Banerjee as Prime Minister. After author and Magsaysay award-winner Mahasweta Devi endorsed suggestions at a Trinamool Congress mega rally in Calcutta that Didi lead the charge to bring "Poriborton" or change to Delhi, this week none other than Anna Hazaare said that he wants to see Mamata in the PM's seat.
The anti-corruption crusader who had made this suggestion after a meeting with All India Trinamool Congress general secretary Mukul Roy, said that there was a condition though and that corruption had to be one of the TMC's election issues. Does Anna's suggestion have anything to do with trying to divert attention away from Arvind Kejriwal, whose name too has come up in connection with the Prime Ministership? After all, the Delhi chief minister, oh wait, the former Delhi chief minister, is not exactly at the best of terms with his former colleague and leader of the anti–corruption movement. Anna is scheduled to meet Mamata on February 18. He also said that he is even willing to campaign for Mamata's Prime Ministership if the corruption agenda is an integral issue for her.
Rail Rampage
Calcutta's Sealdah Railway Station has turned into a veritable battleground. Even as we go to press, reports are trickling in of massive fighting going on at the platforms with railway police clashing with passengers, who after being stranded for hours at the platform because of inordinate delays in train departures, are on a vandalising rampage...pelting stones, smashing glass panes, even destroying computers inside the ticket counters. Hundreds of men, women and children are cowering inside trains, which are stuck on the railway tracks unable to leave the platforms. Many of those who found themselves on the platform are running helter-skelter as bricks and stones fly. Many have reportedly been injured.
Trouble started when the Naihati local train which was supposed to have left Sealdah at 9:20 pm had no signs of leaving even an hour later. There was no announcement about the delay and when angry passengers demanded to know the reason from guards and railway authorities they were told that they didn't know. Passengers found themselves running from platform to platform trying to get into a train – any train – to get home and in the ensuing melee, a near–stampede was somehow averted. Railway authorities claimed that technical difficulties caused the delay and admitted that passengers should have been informed. Too little too late.
Falling Darkness
Around the same time as this railway rampage was going on, news came in that a college girl who was going back home from Calcutta to Panshkura, a small town in West Bengal's Midnapore District, had jumped to her death trying to escape a gang of molesters. According to her family, with whom the girl was reportedly on the phone throughout the time, the men were harassing her and she tried to get off the train a couple of times when the train stopped at stations but was prevented by the men.
This incident is another shocking testimony to Bengal's growing apathy and indifference to crimes against women. To think that a compartment full of people could not come to the rescue of a girl being harassed by molesters...and she finally had to jump to her death should make us all hang our heads in shame. There is something really horrific that is happening in our society and we are accepting too much injustice silently. As the rampage goes on in Sealdah station, I see many women stuck in the trains and platforms. It's late. They say that they feel there is no guarantee that they will all reach home safe and sound.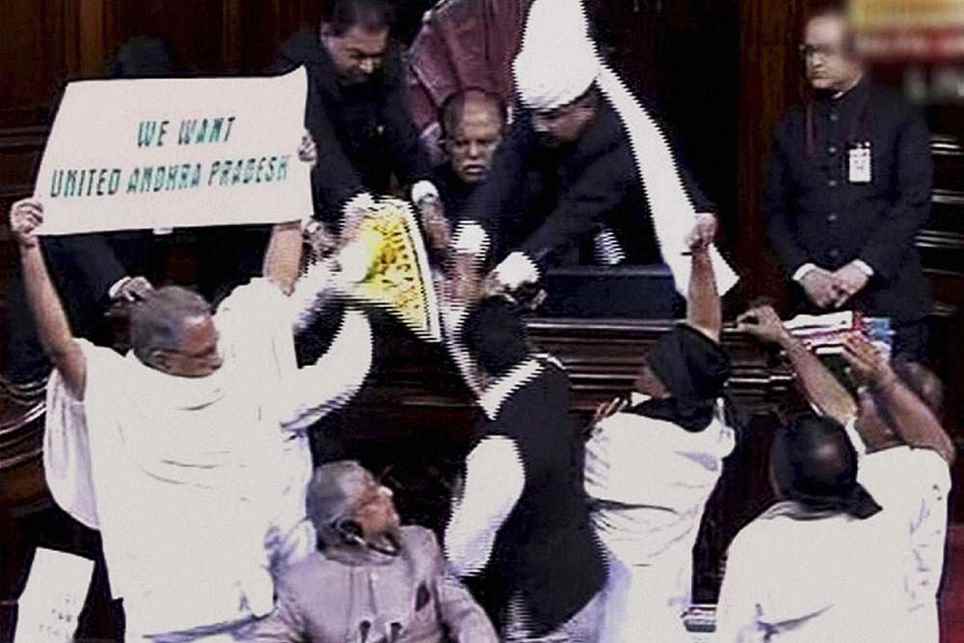 When Will They Ever Learn?
Speaking of hanging our heads in shame, everyone seems to be in agreement that after witnessing the happenings in Parliament on February 13, with MPs uprooting microphones and spraying pepper spray over the placing of the Telegana bill, that's what most Indians should do, if not already doing. The Bengal Assembly had its own fair share of trouble – vandalism of property and fisticuffs between MLAs included – but the Parliament shenanigans has made all such attacks look like child's play. In the meantime, asked to comment on the Parliament's happenings, TMC MP Sudip Bandyopadhyay while condemning the behaviour of MPs did not miss an opportunity to point out that the Congress High Command should have learnt from their leader Mamata Banerjee how to deal with the demand for a new state. Pointing out that it was mishandled by the Congress, he said that the Bengal chief minister crushed the demand for a separate state of Gorkhaland with an unequivocal "nothing doing".
Railways' Bong Connection
What is it with West Bengal and the Railways? Everyone knows that when Mamata was the Railways' Minister she showered the state with gifts of many new trains and routes. But it was thought that all of it was a thing of the past when TMC pulled out of the UPA II government and the Railways went back to the Congress. Well, perhaps not wishing to be any less than TMC in flooding Bengal with railway goodies, the Congress High Command appointed another Bengali as the junior railway minister, Adhir Chowdhury. He seems to be following the footsteps of his predecessor by showering Bengal with railway SOPs because the new Rail Budget has announced 27 new trains and convenient routes connecting Bengal to other states.
Mamata, Not Manmohan
Something else is making Adhir Chowdhury very happy. The known Mamata- baiter is so pleased that Somen Mitra, the Congress bigwig, who had joined the TMC for a while but has since returned to the Congress party, has come back to the fold, that he embraced Mitra during a public meet and declared that the Congress will now go from strength to strength and challenged the TMC to a symbolic duel of sorts as they get ready for a face-off in the upcoming Parliamentary polls. "They are now afraid," beamed Chowdhury with Mitra in tow, adding "I challenge them to a fight." But judging by the early surveys and poll projections which show that Congress is at its worst political form since Independence, I wonder if this happiness is not just a little misplaced. And don't miss the irony that even though TMC is still just a regional party, more people are talking about Mamata as Prime Minister than about his leader Manmohan Singh.
Campaign Champagne
A TMC election slogan: "Nei bhoy, nei bhoy...hobey Ma–Mati–Manush–er joy". (Fear not, fear not...Ma-Mati-Manush will win).