Anushka Sharma and Virat Kohli having an affair is not a new or surprising phenomenon. Nor will they be the last couple from Bollywood and cricket to have a close relationship. For the bond between Bollywood and cricket is very old. And so are the affairs between cricketers and filmstars.

It should be interesting to see whether Anushka and Kohli will get married. And if they do, their married life will be closely followed and observed by many over-enthusiastic, self-styled custodians of society masquerading as fans.
Of course, there are reasons why. There have been quite a few instances of cricketers and movie personalities tying the knot; but there are only a couple of peaceful, successful marriages in reality.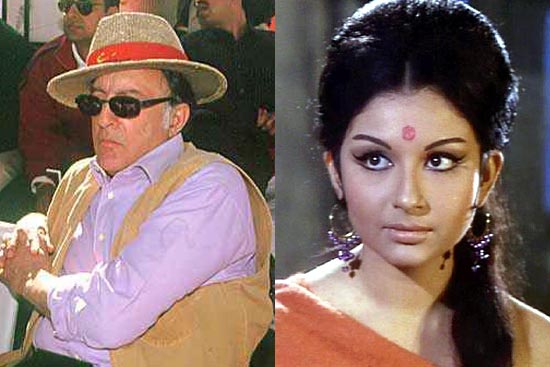 Kashmir Ki Kali Sharmila Tagore and former India captain Mansoor Ali Khan Pataudi, who was known as Tiger for his electrifying fielding despite loss of vision in his right eye, were the first celebrity couple from Bollywood and cricket.
Sharmila and Tiger first met in Delhi in 1965. Though Tiger developed an instant liking for her and proposed pretty soon, it was not until after several years that the Bengali beauty responded positively.

But there was still a major hurdle. Since they were from different communities, their families opposed to their proposed marriage. They relented after a bit of cajoling and persuasion and Sharmila and Tiger went on to enjoy a very happy and model married life.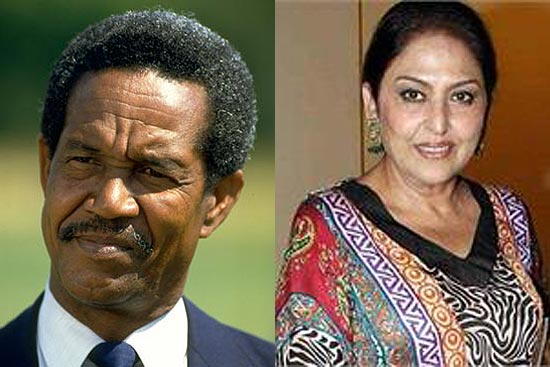 Garfield Sobers was introduced to a 17-year-old upcoming "beautiful young actress", Anju Mahendroo, on the 1966-67 tour to India. She was reportedly engaged to Rajesh Khanna and was said to have broken it off to accept the West Indian's proposal.
Sobers and Anju were briefly engaged. However, the distance as well as lack of regular communication between the two proved to be their undoing as Sobers had been busy playing for Nottinghamshire as its overseas pro.

He finally married his Australian girlfriend, Pru Kirby, in September 1969, but not before informing Anju and seeking her permission. Anju wrote a nice letter and generously released Sobers from the engagement.

Sobers had two sons, Matthew and Daniel, and an adopted daughter, Genevieve. But the couple broke up in 1984 and the marriage ended in divorce in 1990.

Years later, remembering the affair fondly and describing Anju as "so beautiful and such a nice person", Sobers revealed in his autobiography that if he had taken her to England for marriage as he "intended", he would have had to deposit "a certain amount of money in the Reserve Bank as a sort of dowry".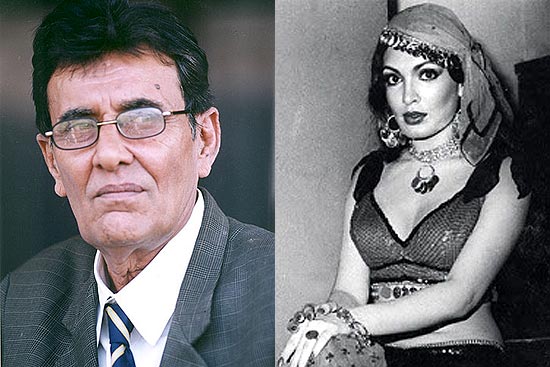 Salim Durrani, the Pathan born in Kabul and raised in Jamnagar, was admired as much for his sunshine cricket as for his awesome charm. He was the first Indian cricketer to play a major role in a film. He starred in a 1973 Bollywood flick, Charitra, as a hero opposite Parveen Babi. The two were alleged to have a brief but talk-of-the-town affair.
Durrani, one of the four most-loved Indian cricketers (the other three being Gundappa Viswanath, Kapil Dev and, of course, Sachin Tendulkar), was a special favourite of ladies, young and old alike, and stories of how many of them, including Bollywood babes, had a crush on the dashing cricketer abound.

In 1972-73, Durrani and the late Tony Greig were so attracted towards a hotel receptionist that they took a bet as to who would "get" her first. In "less than half an hour" she was in Durrani's "room" and, of course, "bed" even as the former England captain was rubbing his eyes in utter disbelief as to where she had suddenly disappeared. Durrani revealed that his one phone call from his room did the trick.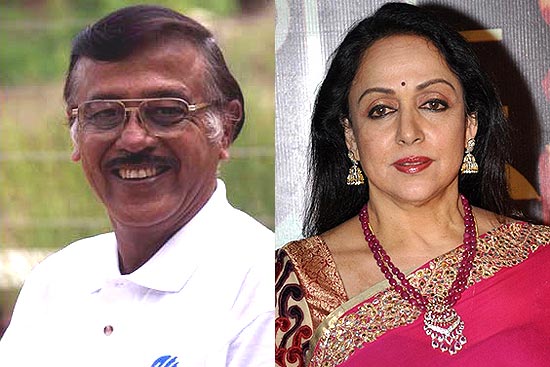 In the good old days, Srinivasaraghavan Venkataraghavan's name was hotly discussed with the dream girl Hema Malini.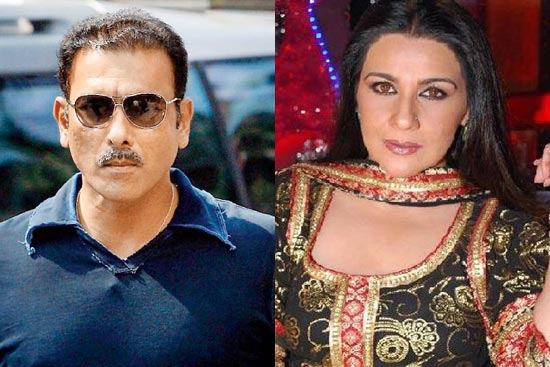 Ravi Shastri and Amrita Singh were also said to have something "cooking" between them. Several other heroines were also bracketed with the tall, attractive Mumbai allrounder, who is now a successful television broadcaster.
The gossip-happy did not stop till Shastri married a charming lady called Ritu and Amrita tied the knot with filmstar Saif Ali Khan, who was five years younger and the son of Sharmila and Tiger.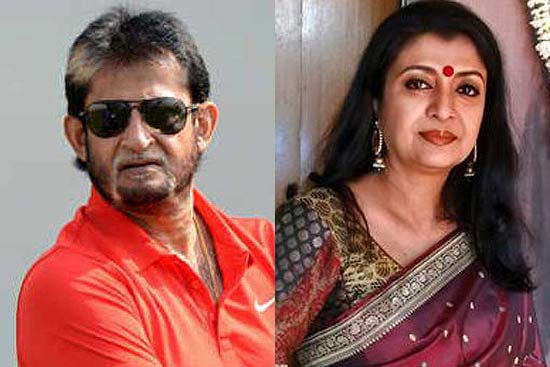 The dashing, good-looking Sandeep Patil's name was linked with a couple of actresses, including Debashri Roy, the heroine of the film Kabhi Ajnabi The in which he played the lead male role.
Patil was at the height of his cricketing prowess and popularity at the time, having just returned from Australia after playing a jewel of a Test innings (a blistering 174 off 220 balls with 22 fours and 1 six) against the fearsome Dennis Lillee and Len Pascoe in Adelaide against heavy odds.

So obsessed was Patil about Kabhi Ajnabi The that he even decided against going to the West Indies with the Indian team in 1983. His married life was already on the rocks. And he had not endeared himself to the BCCI by skipping the Caribbean tour.

So busy was he shooting for the film that he was completely cut off from active cricket for a while. A lot of hype had been built around Kabhi Ajnabi The for obvious reasons. But the public gave the film such a cold reception that Patil may have regretted trying his hand at acting at all.

Patil returned to cricket and vowed never to act in a film again. Though he made a comeback to the Indian team and continued to play for a few years, he was never the same again.

Incidentally, ace wicketkeeper Syed Kirmani had made a brief appearance in Kabhi Ajnabi The as a bad man. The role suited Kirmani perfectly; his tonsure and thick beard giving him a frightening look. Several other members of the 1983 World Cup-winning Indian team had also acted in that particular film.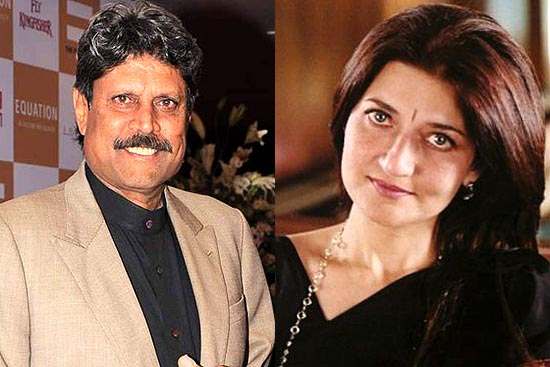 Kapil Dev's alleged affair with Hindi actress Sarika Thakur was also the talk of the town in the early 1980s. He was also rumoured to have been dating some other girl. Eventually, neither Sarika nor that unknown lady became Mr. Kapil Dev. The honour went to Romi Bhatia. The couple is happily married and blessed with a lovely daughter.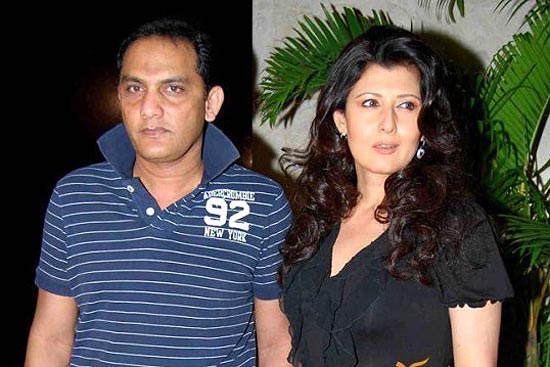 The "Allah-fearing" Mohammed Azharuddin was already married with two sons when he started his much-publicised affair with Sangeeta Bijlani, a top model and former Miss India. Azharuddin, whose name figured prominently in the match-fixing scandal, divorced his first wife and ceremoniously married Sangeeta.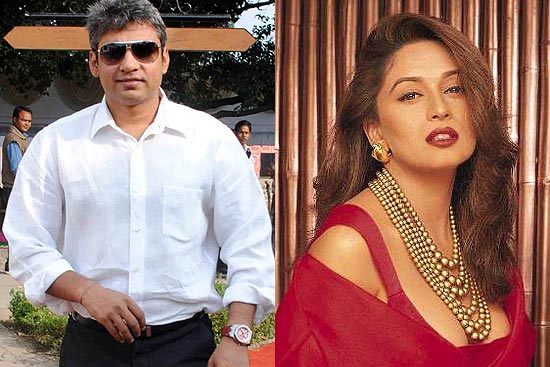 Kapil Dev's protégé and Azharuddin's partner in the crime of match-fixing, Ajay Jadeja, also enjoyed his moment in the sun as his name became involved with a string of Bollywood actresses, including Madhuri Dixit, Raveena Tandon and Tabassum Hashmi alias Tabu.

In fact, after Jadeja did a photo session with the "Dhak Dhak" girl for a film magazine, there were widespread rumours that he and Madhuri were dating each other and also doing a movie together. They did not deny the canards, which died down automatically when the dancing diva married an NRI.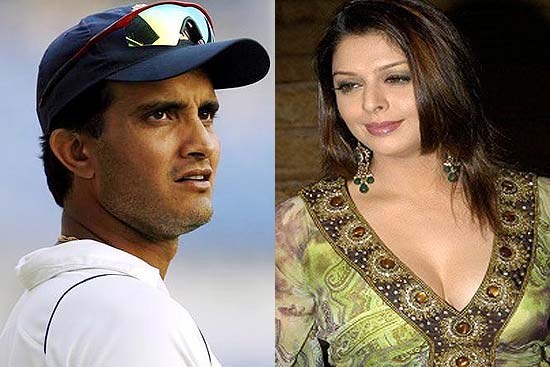 Sourav Ganguly also came under the spell of the South Indian siren Nagma Arvind Morarji when he was at the height of his cricket and captaincy. The two were allegedly dating each other and had even visited a shrine of Lord Shiva to perform some rituals.
Dada's dancer wife Dona was not unaware of what was going on behind her back and there were talks of tension troubling their tranquil married life. Fortunately, the affair was nipped in the bud, or so it seemed, before it could rock Ganguly's personal life.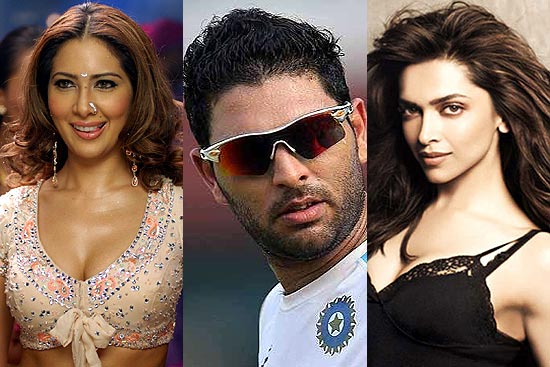 Yuvraj Singh, the handsome hunk, has had a couple of affairs with both little-known and leading Bollywood actresses. Once upon a time he and Kim Sharma, of the Mohabbatein fame, used to take a lion's share of the Page 3 space. But differences led to the split in the affair.
While Kim tied the knot with a Kenyan tycoon, the graceful left-hand batsman found a new lady love in the gorgeous Deepika Padukone. The media could not have asked for more and the Yuvraj-Deepika affair kept spreading like wildfire so long as it lasted.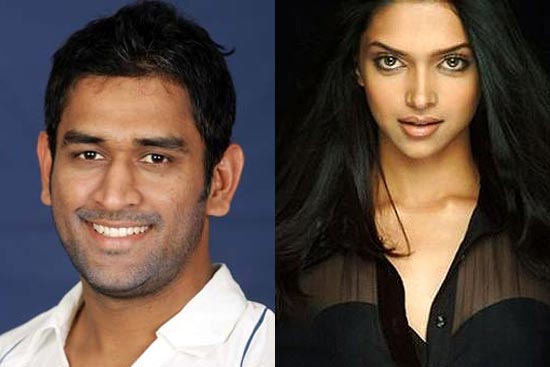 Mahendra Singh Dhoni, too, was rumoured to have been one of the several men in the No. 1 heroine's life. The ever-smiling Indian captain was said to have been "fascinated" by the dimpled Deepika's beauty and charm.
When Dhoni invited Deepika to a Twenty20 game against Australia, the starlet just could not resist the temptation. The media, as is their wont, went to town. But nothing of what the newshounds had been expecting happened as Dhoni later married Sakshi Singh and Deepika found new friends in the tinsel town.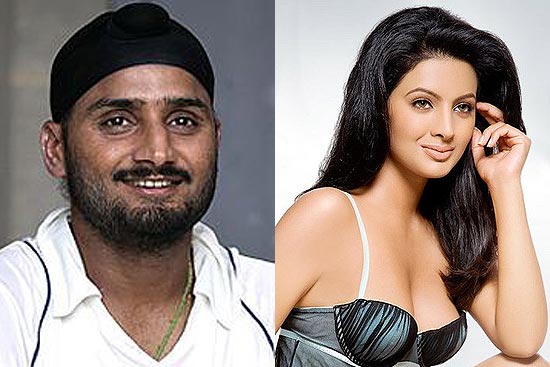 Off-spinner Harbhajan Singh and Geeta Basra, of the Dil Diya Hai and The Train fame, have been having a quiet affair for quite a few years now. Though they have never admitted to having been in a relationship, sources close to them say that the couple will cement their bond by tying the knot.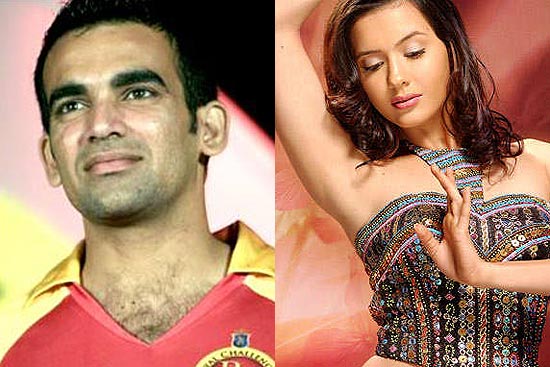 Star speedster Zaheer Khan and actress and dancer Isha Sharvani were seen together, and romancing, for nearly ten years. Like most such affairs, how and why they split is not known. But they are said to have ended their relationship mutually and they continue to remain good friends.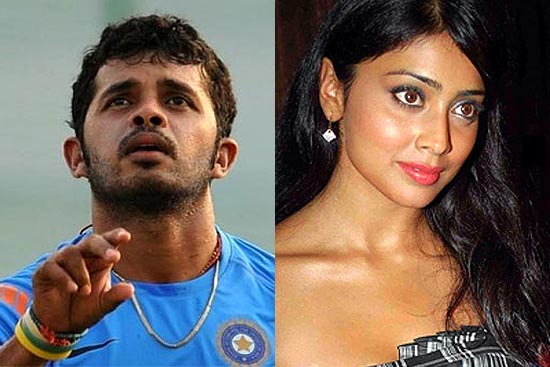 Shanthakumaran Sreesanth, considered to be India's brightest hope in the pace bowling department before he was banned for life for his involvement in spot-fixing in the IPL in 2013, was said to have been dating Shriya Saran. The beautiful actress, however, rubbished the rumours.
The latest addition to the august company (pun intended) seems to be Rohit Sharma. The stylishly aggressive batsman with two ODI double centuries to his name was linked with Sofia Hayat, the new "Curvy Icon", according to Vogue Italia.
The destructive batsman and the British Indian actress and singer were reportedly spending "quality time" together. And their cosy pictures were a fodder for the media. But their affair, or relationship, is rumoured to have come to an abrupt end.

Quite a few Pakistani cricketers, too, have managed to conquer certain "difficult" Bollywood beauties. The first among them was said to have been Fazal Mahmood. High, wide and handsome, Fazal was the Imran Khan of Pakistan cricket in the 1950s.

Striking green eyes, a splendidly thick crop of wavy hair grown as if for the Barclay cream, which he went on to model and promote anyway, a cravat round his neck and a cigarette in his hand were simply too much for the ladies who followed Fazal just about as much as they would a film star.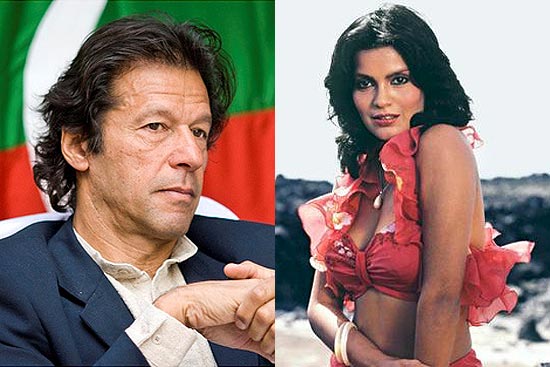 Imran, whose image of a playboy has been legendary, commanded a terrific following even among top heroines of Hindi cinema. Zeenat Aman, the sex-bomb of the 1970s and 1980s, had quite a crush on the devastatingly handsome cricketer.
The two began dating each other and were seen together at many places when Imran was in India with the Pakistani team in 1979-80. However, their affair proved as transient as it was dazzling and the Pakistani legend eventually married the famous British heiress, journalist, campaigner and socialite Jemima Goldsmith in 1995.

But their nine-year marriage ended in divorce in 2004 as the Englishwoman was finding it difficult to adapt to life in Pakistan even after converting to Islam. In January 2015, Imran married Reham Khan, a former BBC weather and regional news presenter, who is 20 years younger.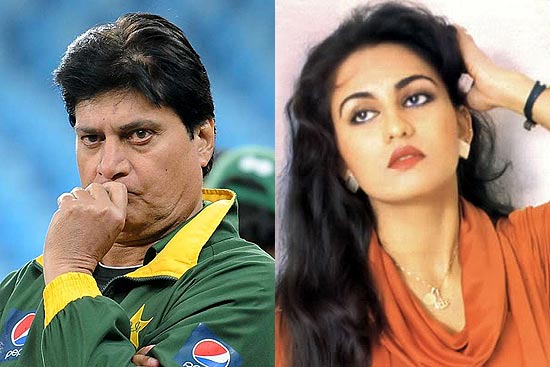 Mohsin Khan was another Pakistani cricketer who had a love affair with a leading Bollywood heroine – Reena Roy – in the early 1980s. The former opener later turned actor and played small character roles in a few Hindi movies.
Like Tiger and Sharmila, they were also at the peak of their respective professions when the Cupid's arrow pierced their hearts. But they had such a tense and torrid married life that they had to sue for divorce. Reena returned to India and, of course, Bollywood.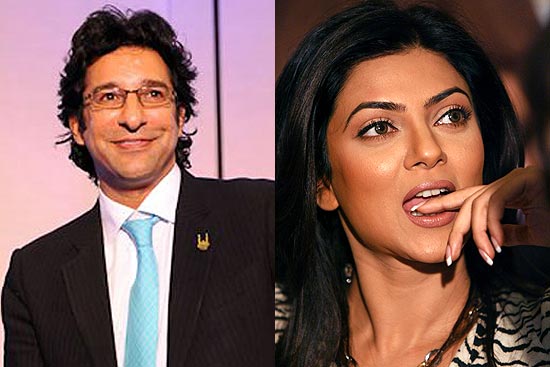 Wasim Akram is another celebrated cricketer from across the border who had been allegedly in a relationship with the 1994 Miss Universe and Bollywood diva Sushmita Sen after they were judges in the television dance show Ek Khilari Ek Haseena in 2008.
Rumours were rife that Sushmita, who has two adopted daughters and Akram, a widower since the death of his wife Huma in 2009, and a father of two sons, were going to marry.

But the fact was that the Pakistani had an Australian girlfriend, Shaniera Thompson, a former public relations consultant, after his wife's demise. They tied the knot on August 12, 2013, bringing to an end all those rumours of Sushmita and Akram being in a relationship and planning to get married.

In fact, the Pakistani became a father, again, when Shaniera delivered a baby girl last December.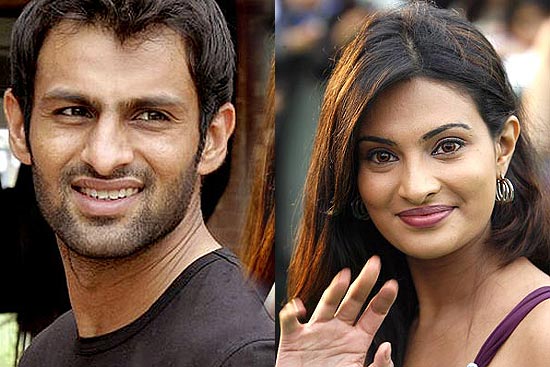 Shoaib Malik and Sayali Bhagat, a model-cum-actress of some renown, were also rumoured to have been dating each other before the Pakistani cricketer's famous marriage with India's tennis queen Sania Mirza. Sayali, who claimed that it was not an affair but a marketing gimmick, also tied the knot quietly.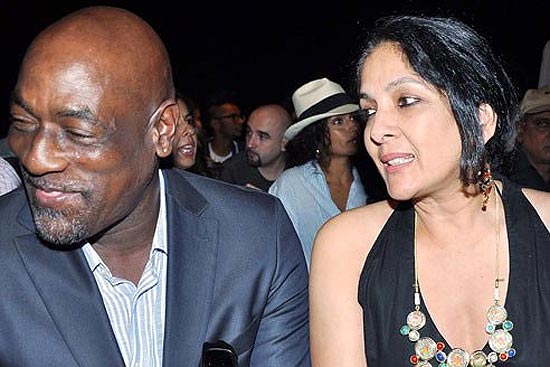 Viv Richards, the king of batsmen, was already married when he had an affair with the television queen Neena Gupta in the 1980s. They shared an unconventional relationship and were blessed with a daughter, Masaba, who lives with her mother and is today a renowned fashion designer.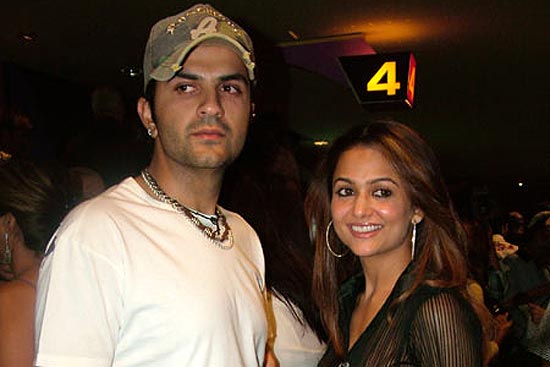 English cricketer Usman Afzal, who played three Tests in 2001, and Bollywood babe Amrita Arora were also into a relationship. But they, too, decided to separate mutually. While Usman wanted to focus on his cricket career, Amrita tied the knot with Shakeel Ladak, a rich businessman.