Korma, Kheer and Kismet: Five seasons in Old Delhi
By Pamela Timms
Aleph Book Company Rs 395, 172 Pages
Unlike Eid, the Navratri are a time of avoidance of certain foods rather than complete abstinence and while there is an emphasis on purification and cleansing, food is still at the heart of the celebrations. Home cooks and restaurant chefs deploy considerable creativity to devise inventive 'vrat ka khana', and there is a wide range of new dishes and snacks to explore. It is a time when, traditionally, stocks of wheat flour are running low just before the harvest, and are replaced by those made from dried singhara, buckwheat, millet and amaranth, resulting in a range of unusual breads. Halwa is made from sweet potato and lauki instead of semolina and tapioca, which I'd last seen in school dinners, is used in a hundred different ways, including in pakoras, fritters and khichdi. I was also delighted to discover that deep-fried snacks, sticky sweets, ghee and milk are still very much on the Navratri menu. Definitely my kind of fast.
I kicked off the season of feasts great and small on the first day of the Navratri in an appropriately restrained but sustaining manner with one of my favourite Old Delhi breakfasts—bedmi aloo and nagori halwa at Ram Swaroop's little shop in Sitaram Bazaar. Then food writer Anoothi Vishal introduced me to a special fasting milk pudding which helped solve the mystery of what I'd initially thought were sacks of polystyrene in the Khari Baoli spice market, but are in fact puffed lotus seeds used for, among other things, 'Indian popcorn' and 'makhane ki kheer'.
My flirtation with fasting lasted until the last few days of the Navratri when the Durga Puja unexpectedly provided one of the food highlights of the season. For most people, the main attraction of the puja is admiring the fabulous pandals which go up in Bengali neighbourhoods. Particularly in Kolkata, the pandals become more elaborate every year; recent creations have included giant replicas of the Taj Mahal, the Tata Nano factory and even Harry Potter's Hogwarts, complete with steam train. The main Bengali area of Delhi, Chittaranjan Park, also celebrates in grand style; craftsmen work for months, moulding and painting elaborate statues of the goddess Durga, and during the puja the streets teem with visitors who wander through the streets, pandal-hopping. But the city's oldest celebration, the Kashmere Gate Durga Puja, takes place in Old Delhi, dating back to 1911 when many Bengalis came to the city to work for the British after the government moved its base from Calcutta. The puja started life in the heart of Old Delhi, in Nai Sarak, then Fatehpuri, before settling in its current home on the lawns of the Bengali Senior Secondary School on Alipur Road.
The eve of the puja is known as the Anand Mela, when local women cook up a storm and bring a selection of their favourite dishes to share with the community. For those more greedy than spiritual, like myself, it is an opportunity to eat their way around Bengali home cooking. I arrived with my Bengali friend Surya and her husband Sean as devotees were pouring into the pandal to the sound of Tagore's beautiful Rabindra Sangeet and being whirled into dance by the dhaki drummers. We dutifully paid our respects to the giant Goddess, a dignified and ornate but, I was told, comparatively low-key idol about twenty feet high, complete with ten arms, each clutching a weapon. Sitting astride a lion, she was accompanied by her four children—Ganesh, Kartikeya, Lakshmi and Saraswati—and looked all set for her annual battle with the evil buffalo god Mahishasura.
With the help of the occasional fact-checking phone call to her mum in Siliguri, a small city in West Bengal, Surya provided me with some of the background to the Durga Puja. The panjika, or Hindu almanac, plays a vital role, she said—as well as giving the dates for festivals and auspicious times for weddings, new business and travel, it also states which mode of transport Durga will choose for her annual earthly visit. This in turn gives followers an indication of what's in store for them in the coming year. Everyone hopes the goddess won't arrive on a horse, for instance, which would augur drought and devastation, or a boat which means floods in the months ahead. Mum in Siliguri was only partially reassuring—while this year Durga would be leaving on an elephant, ensuring a good harvest, she had arrived on a palanquin, meaning famine.
I was distracted from possible future starvation by a commotion in another area of the tent that seemed to signal an imminent feast. Groups of women were ordering men to set out rows of trestle tables, unpacking shopping bags, setting out small stoves, pressure cookers and large plastic tubs. We walked over and watched the women spread neatly embroidered tablecloths and handwritten signs announcing the unfamiliar (to me) treats to come.
As the smells from the women's food began to waft across the tent, nostrils twitched and hungry lines began to form. We joined the queue but just as we were all set to dive in, members of the organizing committee moved in to hold us back in favour of a group of visiting VIPs who had to be felicitated at great length and shown every display in agonizing detail. Eventually the VIPs were safely tucked away in a roped-off enclosure and we were free to push through the crowds and eat. We held out our plates repeatedly to beaming women proudly serving up their family specialities—evocatively named dishes like 'luchi cholar', delicious deep-fried bread and dal; 'jimikand (yam) cutlets'; 'bonanza chilli chicken', 'rashmoni (surprise) kheer'; 'patishapta', pancakes stuffed with coconut; and neat rows of a milky sweet called sandesh. I often think there's no surer sign that you're about to eat well than a table covered in Tupperware, containing lovingly made home-cooked food. And that evening, in a season crammed with feasts, the little plastic boxes full of big treats didn't disappoint. There could have been no better start to the glorious Delhi eating season than the Anand Mela.
The following night, I gave my stomach a rest and went to watch the Ramlila Sawari, an Old Delhi tradition that dates back to the rule of the last Mughal Emperor Bahadur Shah in the nineteenth century. In its heyday, the parade was one of the most important events in the Old Delhi calendar when thousands would throng the streets every evening in the run-up to Dussehra to watch a procession of floats accompanied by elephants, horses, camels and marching bands, and cheer on the characters who take part in the annual epic depiction of the triumph of good over evil. Then, the procession was more than a kilometre long and passed through the whole of the old city, including the Red Fort. In recent years, as the Sawari's wealthier patrons have started to move away from the area, the parade has struggled to survive. When I arrived in Chawri Bazaar, the streets were nonetheless packed with people lining the route, as Ram, Sita and Lakshman made their way to their final showdown. Children swarmed around vendors selling Hanuman masks, bows and arrows, gorged on bright-pink candyfloss and bobbed up and down trying to catch a glimpse of their favourite hero or villain, oblivious to the rickety, makeshift floats pulled by bullocks instead of elephants, the tableaux and costumes that had seen better days and the lacklustre, almost totally tuneless bands.
If the Sawari procession is a fine Old Delhi tradition in decline, the city's Dussehra celebrations become more outlandish, ostentatious and extravagant every year. For ten days, the Red Fort pales into insignificance as an elaborate stage set, fairground rides and skyscraper-sized effigies of the evil king Ravana, his brother Kumbhakarna and son Meghnad dominate the parade ground in front of it. Scenes from the Ramayana are performed nightly in front of enormous crowds, accompanied by mesmerizing pyrotechnics and special effects.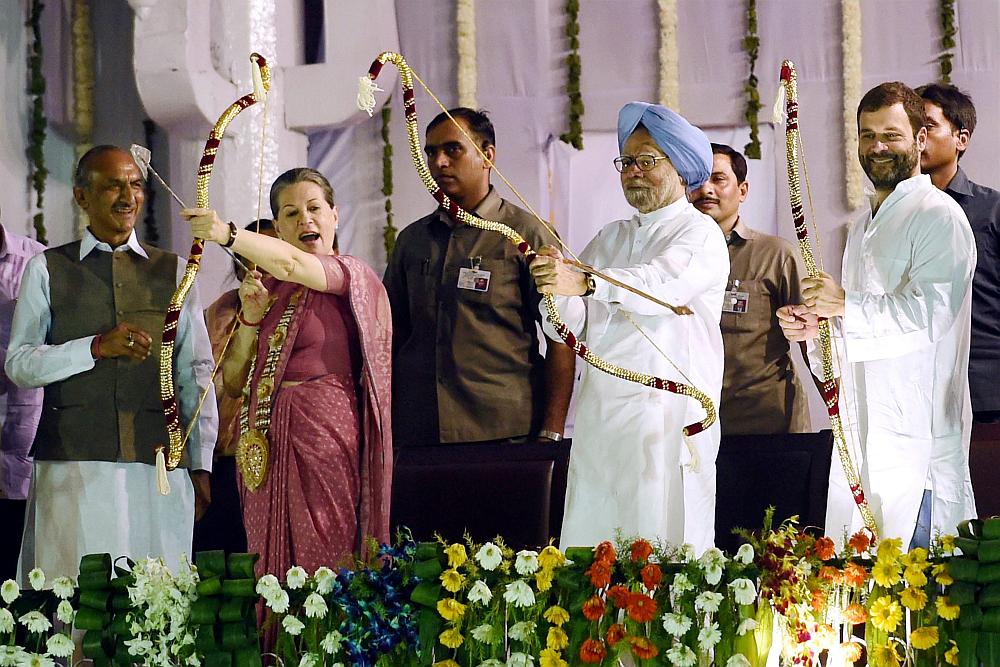 Everyone from Manmohan Singh to Sonia Gandhi as well as Bollywood and TV soap stars flock to the Ramlila grounds to make sure evil, in the shape of Ravana, is vanquished for another year.
The food at the Ramlila was, according to the T-shirts worn by the vendors, 'High Class Chaat', and certainly looked impressive on its brightly lit displays. But it was mostly the same dishes available a few yards away in Chandni Chowk but at five times the price. The exception was the giant stand of roller ice cream, an old fashioned novelty which appears only during festivals. It was essentially a six-foot cylinder of ice revolving on a spit. As it turned, the vendor scraped off portions and added slices of banana, mango and pomegranate and drizzles of flavoured cordials. My lasting impression of the night, though, was of the most overwhelming crowd I experienced that year, in fact any year. I had to work very hard to banish thoughts of what might happen if the crowd of many, many thousands all decided to make a dash for the very few exits.
---
This excerpt from Korma, Kheer and Kismet by Pamela Timms is reprinted by permission of Aleph Book Company