My son, who was born here in New York four years ago, doesn't speak Hindi—but I have taught him the first few lines of the Kishore Kumar song Hum to Mohabbat Karega, Duniya Se Nahin Darega.
I have often explained to him the meaning of the words, but sometimes he asks in English: "Baba, what does duniya mean?"

It means the world, beta, the world that I have lost. The world of Hindi.

I have recorded my son singing the song and played it on WhatsApp for my sisters who haven't seen him for a very long time. I think they would be amused if they also heard him say, when I'm putting him to sleep, "Chuppchaap so jaao."

I have been living in the US now for most of my adult life. I kept count as the years that I had been away from India began to pass. But after fourteen years, I stopped counting. Exile had now turned to something more permanent.

The loss of my mother tongue is one of the consequences of this loss of home.

My Hindi is now like an old Ambassador car. It can still cover distances, but the speed isn't there. This old car of mine, even when it is working, makes a lot of unnecessary noise.

And the smoke!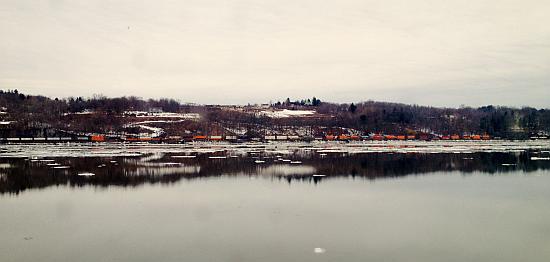 The small town where I live is on the river Hudson. I often take the Hudson line train down to New York City. There, in the big city, you can be walking along and suddenly you will hear someone talking on the phone in Hindi.

"Nahin, nahin, Mamaji, aap kyaa baat kar rahe ho… Baljit ke saath bhejta hoon. Aap meri baat suno—." Even this kind of Hindi, which I associate with Delhi or Punjab, and not the tongue that I grew up speaking, is welcome to me.

I have never spoken to an Indian or Pakistani taxi-driver in New York City in English. On occasion, if the driver is in the mood and I have the time, there is a long conversation in our shared language. It is a bit like sitting down and having tea together.

I realize I am being emotional. But here is a reason why. Many years ago, when the magazine Samkaleen Janmat was being published from Patna, I used to write a regular column called "Letter from America." The people at the magazine would translate what I wrote in English and publish it in Hindi. I was moved by the translations. The realities I was describing, when presented in my mother-tongue, became so much more immediate and sensual. I would read my own words, now in Hindi, and the hairs on the back of my neck would stand. Sometimes, I would cry.

Recently, my book A Matter of Rats: A Short Biography of Patna was published in the US. A producer at a radio station asked me to send in a poem about place. I thought of Patna and I translated two short poems by my friend Alokdhanwa.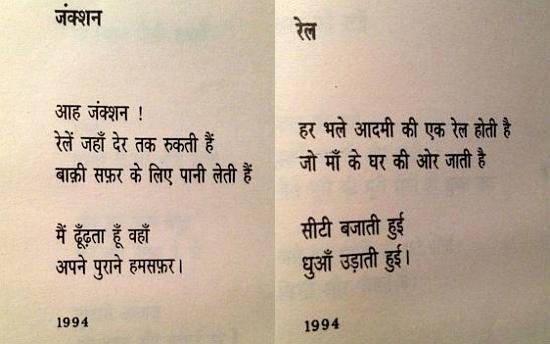 Junction
Ah, Junction!
Where trains stop for long
Collecting water for the rest
Of the journey

I search there
For my old fellow travelers

Train

Every kind man has a train
That goes toward his mother's house

Stretching its whistle
Blowing smoke

I chose these poems because of their beauty, but also because they were about trains. They reminded me of all the times I took the train to Patna when I was a student in Delhi. The joy at arriving home, seeing the look of happy surprise on my mother's face.

Then, just last week, I was asked to read from the new book in New York City. Also participating in the literary event was the visiting Hindi writer, Uday Prakash, and his translator, Jason Grunebaum. Uday Prakash's collection of stories has been published in the US under the title The Walls of Delhi. I once again took the Hudson Line down to New York City.

Uday Prakash read in Hindi.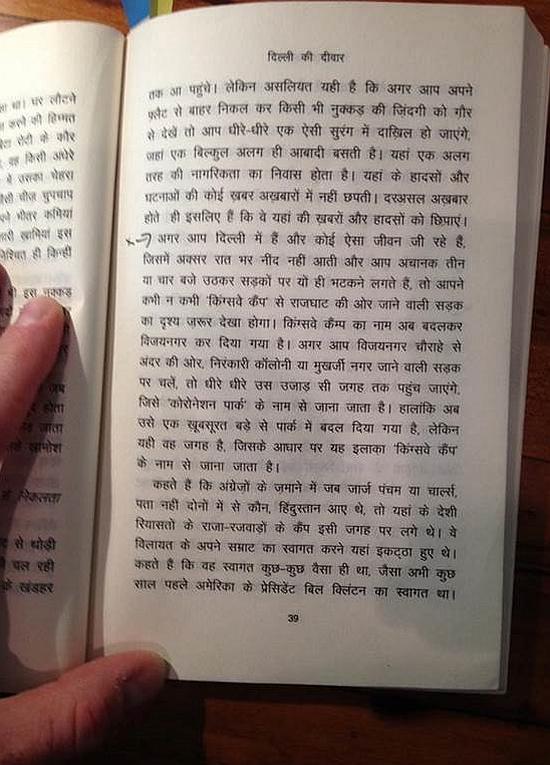 It was as if from the sixth floor of a building in Manhattan I had been returned to the street in Delhi near Rajghat. A man who knew the area well was talking to me, taking me back into my past. What else is language for?

To hear literary Hindi, especially in a register sensitive to social and political realities, conveying a sense of history but also protest, is to feel as if you are not alone.

You have come home. You are a part of a larger whole, a whole that has always been there. Your humanity has been given to you as if it were a flag. The flag is gently waving in the wind.
---
Amitava Kumar is a professor of English at Vassar College. He is author, most recently, of A Matter of Rats: A short biography of Patna. He can be found on Twitter @amitavakumar.