Bheema is what his parents named him. A name preferred by Gonds, it alluded to the popularity of their rain god as a folk hero amongst the tribes of Central India. Like his namesake, his parents hoped, the boy would grow up virtuous and astral. His non-tribal teacher, however, had other plans. He had to reform the 'savage' tribal, set him on a path to 'civilisation'. And the onerous but 'noble' task, he thought, began with a change in name.

So, when Bheema showed up at school on the first day, a government run one in Sukma district, he was rechristened. Bheema became Ashok. In one imperious stroke, he took on the name of the famous Mauryan emperor. A name shared by innumerable other Indians in towns and cities. In his new avatar, Bheema was going to cast aside his tribal roots. It was the start of 'progress' for him, one that is handed out to adivasis with formal education in our schools.

The plan has worked well. Today, if you ask the 15-year-old his name, he is programmed to respond, "Ashok". It is only when you prod him about how unusual Ashok is as a name for a tribal that he opens up to reveal the discrimination he has grown up with. Bheema is not the only victim. Countless other tribal children have been renamed. Masa has given way for Mahesh, Sanna for Satyendra, Joga has become Jogesh and Hidma, Hari. Across Chhattisgarh, just as elsewhere in India, tribal cultures and identities are under assault. It is a form of violence that goes unseen, relegated to the shadows of the Maoist conflict.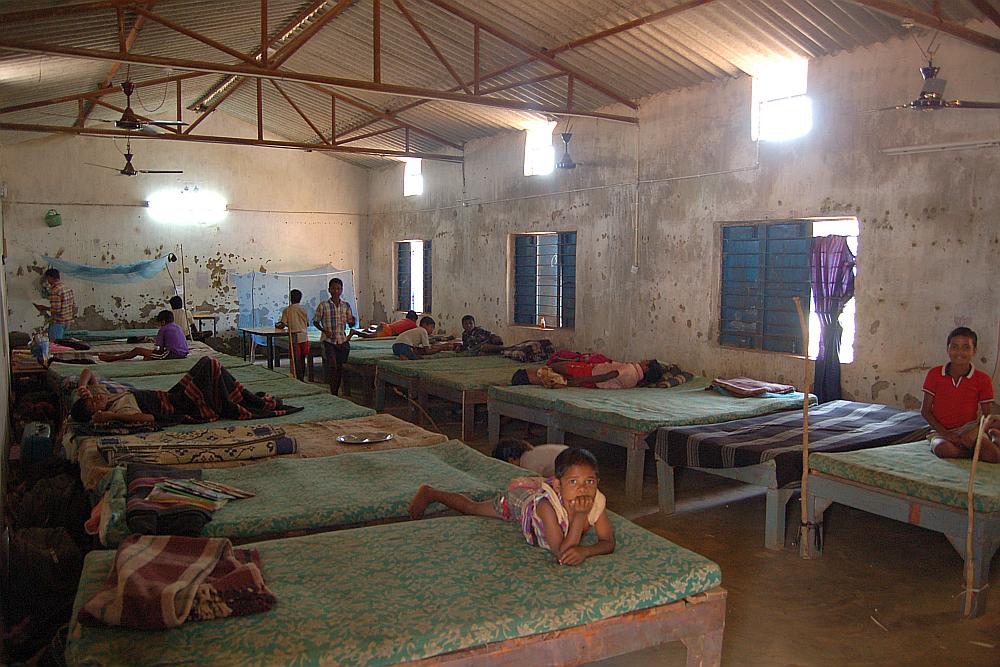 Where you can perceive it though is in the state's education system, especially in its "portacabin schools" that were launched around three years back. There are more than 30 such schools spread across the districts of Dantewada, Bijapur and Sukma with children between classes I and VIII enrolled in them. Students, those with their schooling interrupted, have been brought away from their homes to be enrolled in these fully residential schools that are located in relatively safer spots closer to towns. True to their name, these were conceived as an ersatz for regular schools in far-flung areas that have ceased functioning because of Maoist violence. However, there is nothing makeshift or portable about them. They are big concrete blocks, just the same as regular schools. Maybe it is a tacit admission of how protracted the Maoist problem is. Like the conflict, these schools are unlikely to go anywhere soon.

Bheema, who hasn't gone back home in three years, is a student at one of these schools. Having fled from a Maoist camp after being conscripted by them, the boy says he is a marked man. As of now, the portacabin school in Kuakonda, Dantewada district, is what Bheema has as his home. For those like him forced to drop out of school or live away from their homes, these institutions have come as a godsend. Not only do they have sustained access to some form of education, the children enjoy better food and living conditions than what they have back home.

Which is why Sanju Ram Kodopi misses school every time he returns to his parents. He is nine but studies in Class II, about three grades behind for a conventional student of his age. But with modest Hindi skills, Kodopi is one of the few in his class in Kuakonda to open up. "I like the egg and chicken curry we get here," he says, when the whole lot is asked what they like best about school. It is decidedly lavish fare compared to what Sanju survives on back home — crummy PDS rations cooked in locally milled oil from mahua flowers, modestly seasoned with just salt and chilli. And unlike back home, the children here even marvel at Hollywood action flicks dubbed into Hindi on big screen televisions.

But a live drama performance in Gondi? A far cry, even though it is the mother tongue for most of these children. A trip to the local weekly haat? Only for those who jump across the protective walls for an illegal sortie. A holiday during the important harvest festival? Not prescribed in the school rulebook. Such is the character of these schools that the local has been turned into foreign and the foreign, local. It has placed the children in a culture bubble. This makes the transition into these schools for the children in their first year sudden, like the neat blow of a cleaver. Its impact is especially worse for those who stay back at these schools, for years at a stretch, because they cannot afford going home during winter or summer breaks.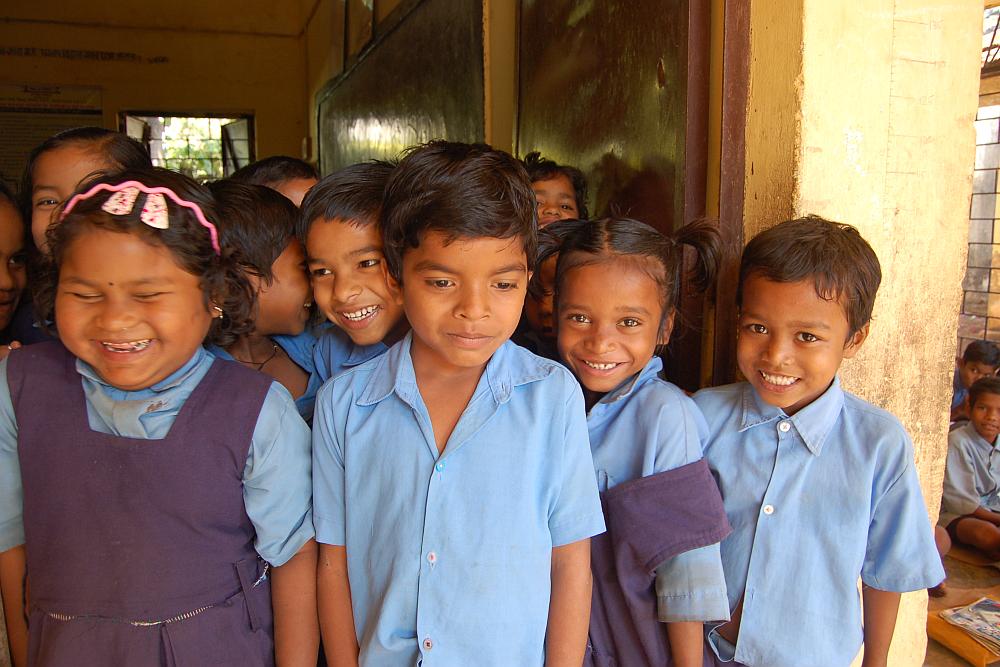 Often from a Gondi-only (or some other local language) environment, children here find themselves parachuted into a Hindi-dominated one. The chasm is deepened by the absence of local language-speaking teachers. While poorly educated tribals do not produce enough candidates to meet the official criteria to become teachers, an unimaginative policy of placing teachers randomly across the state exacerbates the problem. Scarce Gondi-speaking teachers are sent to the north of Chhattisgarh, when their skills are better off put to use in the south where most Gond children are found. Two portacabin schools I visited — in Kuakonda and Bengloor — revealed this absence of local language-speaking teachers. Only about an eighth of the teachers in the former and a fourth in the latter were Gondi-speaking. Gondi students, on the other hand, were in clear majority; 300 of the 350 students in Kuakonda and 360 of the 400 enrolled in Bengloor were Gondi-speaking.

Krunal Desai, an education postgraduate from the Azim Premji University in Bangalore and a "fellow" placed at the Bengloor portacabin by a Dantewada NGO, says Gondi-speaking teachers are even hesitant to use their language skills in the class. Years of discrimination against tribal languages have resulted in a stigma that is stubborn. "The state pushes Hindi and this has had an impact on classroom learning. They need some orientation to enable them to break away from this," he adds. This disconnect in the classroom is especially crippling for primary students, who already burdened with the syllabus, also have to grapple with learning a new language. Kodopi, dressed smartly in a light brown jacket, refers to this when he says, "I have to think before I speak in Hindi." Yet, most students react cautiously when Gondi is suggested as a medium of instruction. When it comes to their classroom, Hindi is all they can think of.
The blinkered resolve to teach only Hindi at the primary level, combined with the state's crippled education setup, has bred chronic illiteracy amongst the tribals. Chhattisgarh's perfectly able tribal primary children have ended up a passive lot in these schools because of this inflexible approach, overwhelmed by a language they do not understand and often intimidated by a non-tribal teacher who discourages them from using their language in the class. This has ensured kids fail to pick up basic reading and learning skills at the primary level, something they can do much better if taught their mother tongue. This puts them at severe disadvantage in classes above, if they still stick around that is. Nearly half of those class V children (48.6 percent) surveyed in rural areas of Chhattisgarh in the latest ASER Report, released in January this year, were found incapable of reading a class II Hindi text. Not being taught in their mother tongue in their initial years has contributed to this dismal statistic significantly.
Promoting local language learning and content in schools, therefore, ought to be considered as a strategic investment in our fight against Maoism. Yet, there is little attempt to do so. The portacabin walls in Bengloor and Kuakonda are a good example of this gap. They reveal little about the schools' Gond demography and context. From the paintings on them, you would think the school has nothing to do with tribals. Anna Hazare appears in one of them, brandishing a national flag. It is a relic from two years back, a time when the portly anti-corruption icon still held interest and when the school was built. There is also the obligatory image of Saraswati that one finds nearly in all state schools. The school building pantheon is completed with images of Bharat Mata. In Bengloor, she appears wearing a tricolour sari and with the Indian flag. She is more dramatic in Kuakonda — standing next to a lion atop the earth and with the continents, somehow, miraculously gathered around her feet.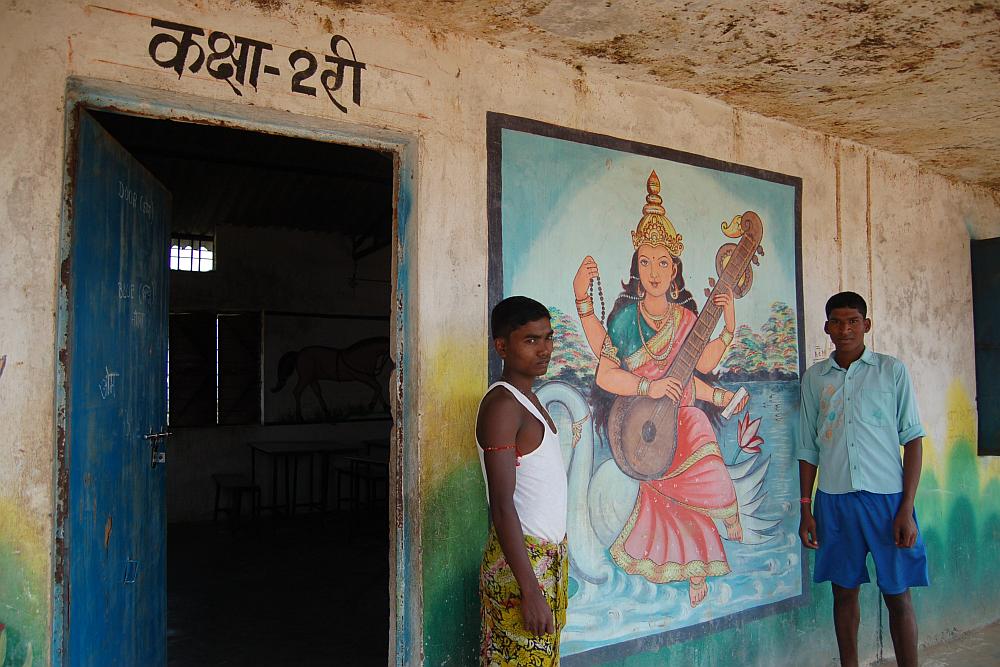 Walls here, like elsewhere, can reveal a lot. These wall paintings are the how the state chooses to tell adivasis about their Indian identity. In Dantewada, they also speak of the early deracination that children here undergo at state establishments. Aanganwadi centres across Dantewada, where toddlers are enrolled, feature contortedly puerile images of Mickey Mouse and Donald Duck, misplaced popular icons in a region where many kids still have no access to televisions, let alone cartoons they can enjoy.

This incongruous iconography reinforces the disparity in our education model that has been thrust upon adivasis. It is one that has been nearly conceived in its entirety by outsiders and with little place for indigenous languages and cultures. "Tribals are rarely included to work on what kind of education is needed for them even though this is what the Constitution mandates," says Raipur-based Mahendra Mishra, a noted advocate of multilingual education in tribal languages. "This is an apathy that comes from Hindi and other major language-speaking educationists." The singular focus of educating adivasis today remains on how to wean them from their roots and mainstream them.

For, if it had to be deities on school walls, no one in either Kuakonda or Bengloor thought of putting up a representation of the Gond patriarch, Bada Dev. This disconnect is also why nowhere in the Gond tribal heartland does one come across the public use of the illustrious tradition of Gond paintings to build a common Gond identity. Yes, you will find these paintings in Raipur and other major towns, but more as exotic ornamentation on walls of ministers' residences and key thoroughfares. This is also perhaps why the most impressive statue I saw at any public venue here was that of Maharana Pratap on a horse. It is placed at a major junction near Kuakonda as a nod, not to the tribal majority, but to a numerically inferior immigrant Thakur population from north India.

State textbooks haven't helped tribal children much either. The first disconnect between a tribal student and his textbook is built in with the absence of his or her mother tongue in it. While children of classes III, IV and V have been the only ones for a few years to enjoy nominal lessons in local languages, it is only this year that primary students of I and II have been given that right. This despite well-documented evidence from Chhattisgarh and elsewhere that children perform better when supported by their mother tongue in the class. Sceptics even need not look far for evidence. A 2012-13 survey by Arti Rani Jain of Bastar District of Education and Training (DIET) found that Class I and II children, even though they were being taught in Hindi, gave more accurate responses in Halbi and Bhatri than in their medium of instruction. "We asked them to identify simple pictures. The number of those who could respond accurately in Hindi were only half compared to those who could do so in Halbi and Bhatri,"" she says. Children also take more interest in learning when they are taught in their mother tongue. "You see a smile on the children when I switch to these languages from Hindi," adds Ratturam Rana, a teacher at the school in Kuakonda. From a relationship that is inhibitive, the use of indigenous languages in a classroom transforms the teacher-student relationship into one that is interactive and enabling.

But simply introducing adivasi language content doesn't do the trick. Where the textbooks still fail is in bringing the local context into the classroom. This has made going to school uninteresting and a burden for our tribals. Children here are adamantly taught about aeroplanes, yachts and zebras. These are things few tribal children here have seen. Even a mouse, they are told, is a 'chuha'. No one cares to find out they already know it as 'uppey', just the way few outsiders bother to understand or respect indigenous knowledge and traditions. This divide is perpetuated in later classes too. Children there learn of Niagara Falls. It matters little that most, even at that age, will not have had a chance to behold the spectacular Chitrakoot Falls in Bastar District. They read all about the French Revolution but comparatively little on the Bhumkal Rebellion closer home. This is why linguistic and cultural alienation is not just a concern when it comes to portacabin schoolchildren but also those in regular day schools.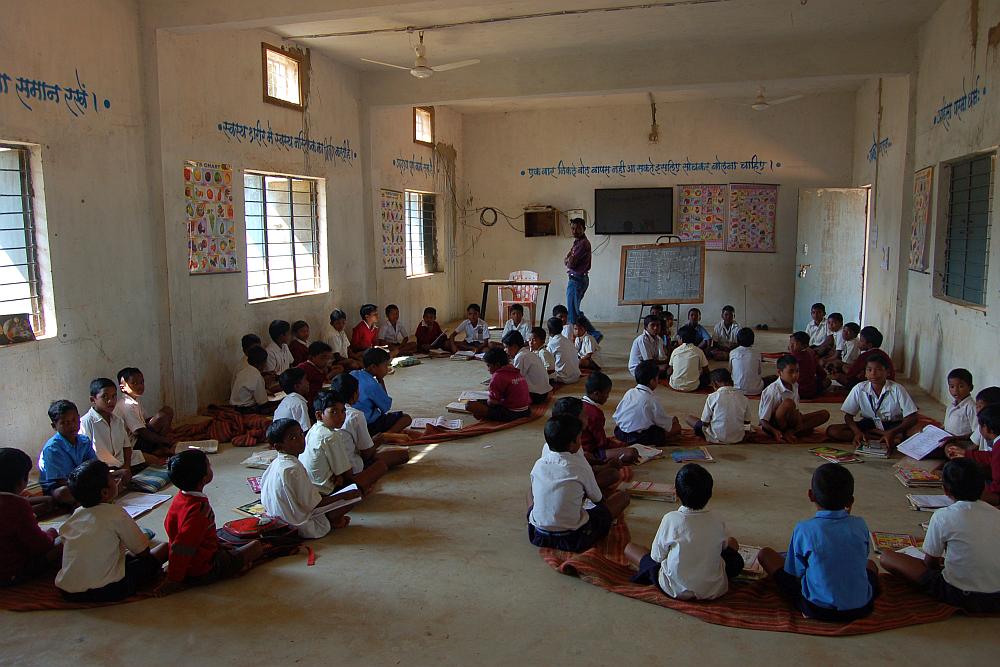 Aware of this disconnect, Ashish Shrivastava speaks of the need to create a "resonance between the classroom and home environments". He is the Director of Bachpan Banao, an NGO that works with the Dantewada administration to improve not just the quality of the education being offered but also its suitability. He has to raise his voice to outdo the excited gaggle of children gathered at his centre for an interactive session of science-learning. "The Chhattisgarh government is not serious about contextual education," Shrivastava says. "It is more determined to give the tribals so-called modern education but not retaining their strengths."
Getting there, he argues, has to start with promoting the use of indigenous languages in schools. Their absence, so far, has prevented the schools from developing a connect with the communities around them. For instance, School Management Committees, a mandatory body that each school must form with parents onboard, have failed to elicit genuine community participation because of the language barrier. This is because most of the meetings are conducted in Hindi and adivasi parents see little point in attending one where they are marginalised.

To try and unravel some of these knots, Bachpan Banao has placed fellows at the district's portacabin schools, like Krunal Desai in Bengloor, who are pitching in with their individual might. An aspect they are now looking into is to see how portacabin schools can observe local holidays to allow the children to return home for key cultural events. It will be a small step to integrate the portacabin schools with the local culture. The way things are, says Kuakonda fellow Gopi Krishna, most children today want to abandon their villages and see no future for themselves there.

Not establishing a local connect for these schools will only deepen the divide. Anil Kumar Baghel, an English teacher at Kuakonda, has seen what two years at the portacabin school has done to insulate these children from their organic environment. And he knows well what another six years here, away from their homes, will do to them. "By then nine out of ten would have forgotten their culture because what they get here is education but not one in their village environment. They will face a lot of problems when they return to their villages after finishing school here," he says. "As it is now, they don't want to stay home for more than two days on their holidays." (He is uncertain about his future too. As an ad-hoc teacher, like many others at these schools, Baghel has unsuccessfully campaigned to get the same perks and privileges as regular state-employed teachers.)

What is effectively being reared at these schools today is a generation of ambitious tribal children who, tomorrow, will be desperate for a way out of their villages. Nothing wrong with that in principle, most will concede. The problem though is that unlike privileged migrants who swarm into cities from towns, few of these children and their families have the resources or support necessary to make a comfortable shift to urban agglomerations. A substandard education the state offers them makes them more vulnerable. Most will instead have to contend with marginalised livelihoods in our cities instead of a position of relative strength they could have enjoyed here with organic education and suitable local livelihoods.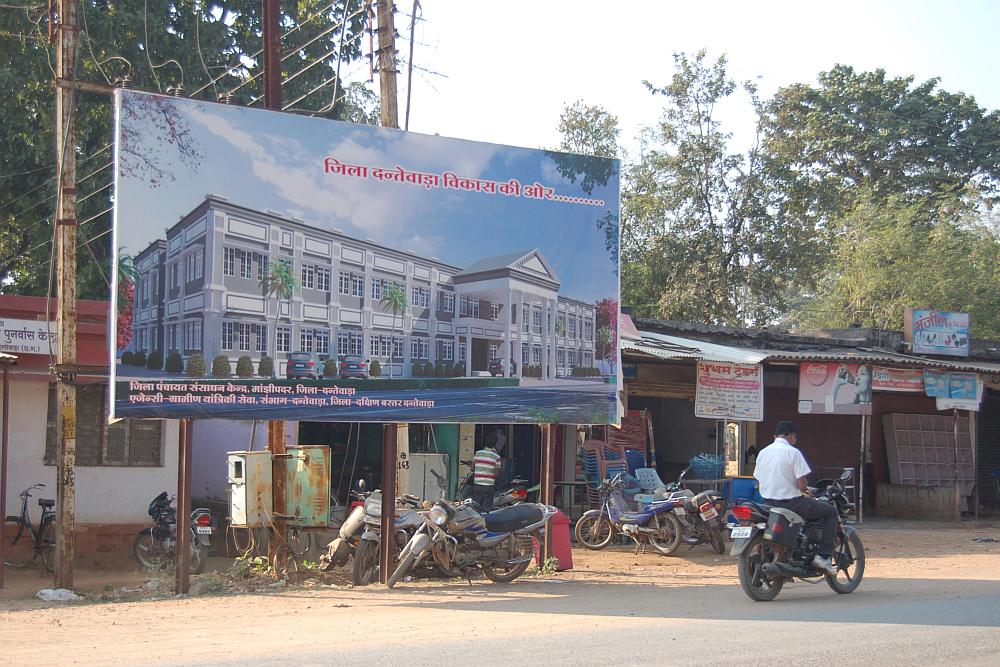 A hoarding at the Dantewada Collectorate depicts this urban career trajectory well. Tribals are lured to join a local vocational school with pictures of alumni who have ended up as waiters and mechanics in our cities. Leave your villages for the glitter of India's cities for there your future lies — this is the pitch the state peddles to its indigenous population here. A tribal-unfriendly education system, together with massive displacement caused due to "development" and the transformation of rural livelihoods into increasingly unviable lifestyles, all seem part of this plan. There is little thought or action here to build an alternate and sustainable future for our adivasis. Just the way Roman Corinthian architecture — the district panchayat building in Dantewada is going to be built in a gauche imitation of this style — gets imposed here without any local consideration, a model of development that is alien and inimical to adivasis is increasingly setting this region's future narrative.

During this trip, one road sign, more than anything else perhaps, crept up as a symbol of much that is wrong in the state's relationship with its indigenous peoples. "Anekta Mein Ekta" (Unity in Diversity), it read, much like other didactic messages that the government throws at you here. Adhering to that goal and in our drive to build our nation, we have ended up tearing down a multiplicity of cultures. What if, I wondered, the motto had been turned on its head? What if "Ekta Mein Anekta" (Diversity in Unity) was our defining feature instead? With diversity valued over homogeneity, for a change, this story may have turned out different.
---
Debarshi Dasgupta is a National Foundation for India Media Fellow, working on linguistic aspects of the Naxal conflict.
Clarification: Unity in Diversity and Diversity in Unity had been incorrectly translated. The errors have been fixed and are deeply regretted.