Movie Trouble
What is it about Telugu movies these days? They are all dogged by controversies. Earlier last week, it was the Youtube trailer of a movie named A Woman in Braammanism supposedly based on the Chalam classic Brahmanikam that got the goat of literature lovers and Brahmins alike. There were protests and a governmental panel review. This was swiftly followed by the furore over Puri Jagannadh's Cameraman Ganga tho Rambabu. The film featuring Pawan Kalyan as a TV journalist and actress Tamanna as a camerawoman raised the hackles of Telangana protagonists. The story sees Pawan Kalyan helping out the Chief Minister of the state fight a wicked opposition leader and his son. Many who watched the movie felt that the characters of Opposition leader played by Kota Srinivasa Rao and his son essayed by Prakash Raj resembled TRS chief K Chandrasekhar Rao and son KT Rama Rao. Telangana leaders said the movie was offensive to not just the politicians concerned but insulted the sentiments of Telangana people. The movie was again viewed by a State I&PR panel and suggested seven cuts. Those who caught the movie in the first couple of days, however, were able to see it without the cuts. Reels taken from many theatres in Telangana were burnt and there were attacks on the offices of both the producer and director. The TRS has filed a case against Puri Jagannadh and is demanding a ban. Even the TD has protested about unflattering references to Naidu. In all, there are about 15 objectionable scenes.
Talking the Walk
Chandrababu Naidu and YS Sharmila Reddy are both immersed in their respective padayatras. Naidu faced some rough weather in Mahabubnagar where the Telangana Joint Action Committee staged a protest. But with the TRS not joining in, the protest appeared quite weak. Thanks to the cult status attached to the late YS Rajasekhara Reddy's 2003 padayatra, Sharmila's walkathon is being watched eagerly. So far the 34-year-old has lived up to expectations, walking through dust, rain and sunshine, kissing babies, hugging women, hitting out at both the Congress and TDP. Sharmila never lets the crowds forget that she is walking on behalf of her brother Jaganmohan Reddy. "I am an arrow fired by Jagan," she says. It might be early days yet to talk about the success or failure of the respective padayatras. Both Naidu and Sharmila are trying to sustain their voter base and keep public memory alive. With Jagan in jail and no other truly powerful leader in the party, it is now up to Sharmila to maintain that connect with voters. For Naidu, it is a matter of keeping legacy issues at bay and give party cadre a sense that the leadership is intact. When YSR launched his padayatra, a couple of photos in newspapers was all the publicity he had. Today, it is a matter of padayatras catering to TRPs as well. The expectations are huge. So each day, the leaders round off with speeches. Walking is just part of the game. They got to talk too.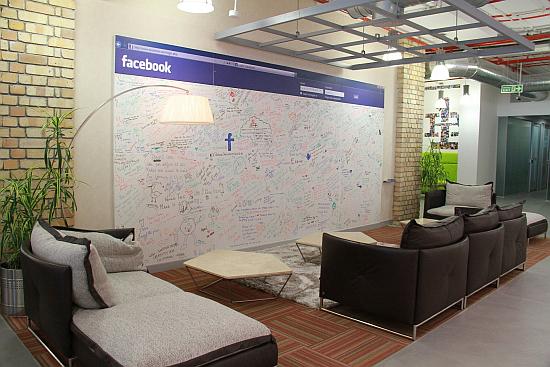 Zuckerberg Virus
Facebook India online operations director Kirthiga Reddy invited the media recently to view its uber cool office in Raheja Mindspace in Hyderabad's bustling IT hub of Madhapur. The 66,000 square foot office is all about what Mark Zuckerberg wants and gets. Openness. Cubicles are out, open work stations are in. There is a physical 'wall' where the employees, most of them around 25 years of age, scribble exuberant messages of loving their work and their office. Almost everyone seems to be unconsciously following a Zuckerberg dress code as well, causal and perky. Kirthiga Reddy refuses to reveal any details such as staff strength, upcoming products, revenue sharing models or how Facebook is dealing with going public. "We make money, a good amount from ads," is all she shares. She talks about how farmers in India are seemingly finding a platform for their products through Facebook. Recruitments are still on and the office with soft lighting, funky work stations named Metropolis, Ok Ok, Koob face, Orion, Scorpious seems like a Karan Johar set. Sorry Mark! The canteen atmosphere is highlighted in the cafeteria where food is to die for. "Most employees put on at least 15 pounds within a couple of months," jokes Kirthiga Reddy. Dude and cool are words which fly like bullets among employees. In the entertainment areas, there is flooseball, table tennis and pool. This is the office of Gen Y. The Friday meeting is calling the gup shup where employees are urged to talk about their mistakes and not be afraid of making them. "We focus on impact. Be bold, move fast, be open and build social value is our motto," says Kirthiga with pride, the Zuckerberg virus flowing strong in her veins.
True Hero
After extending his support to beef festivals, writer and Dalit activist Kancha Ilaiah now says history needs to be rewritten. Ilaiah is of the opinion that history books in schools must showcase Ravana as a true hero. "Brahmins and Kshatriyas have conspired to portray Ravana as a rakshasha," Ilaiah said at a Bahujana Sena meeting. "Balichakravarti, Surpanaka Narakasurudu, and Tataki were principled characters. They did not plunder or attack people. They gave people a proper rule. But popular culture tries to portray them as villains," he says. Every educational institution needs to take a relook at these characters. "Ravana was a better and more principled ruler than Rama. He never attacked other kingdoms and had respect for women," says Ilaiah.