No Small Feat
Chief Minister Kiran Kumar Reddy has completed two years in office and Hyderabad is flooded with hoardings and posters commemorating this superb achievement. It might appear amusing to some but given the current situation of tug-of-war between various Congress leaders, it is no small feat. Kiran Kumar has ridden the tidal wave of dissent ever since he took over as CM in 2010.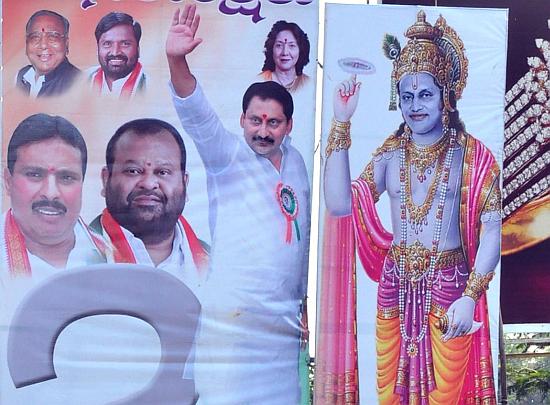 Narayan, Narayan
Apart from the many crises that he has faced in hanging on to his gaddi, the worst insult was flung at him by the MIM which stopped support to the Congress. The MIM called him a Sangh Parivar sympathiser. Kiran Kumar, who earlier let the other Congress leaders do the talking, hit out at MIM chief Asaduddin Owaisi, on his second year anniversary as CM. Kiran Kumar asserted that the Congress is a secular party and that peace would be maintained in the Old City at all costs. He also pointed out that the MIM which was restricted to the Old City alone certainly could not consider itself the voice of all Muslims.
The CM, however, reportedly told officials to take down a hoarding on Necklace Road which portrayed him as Lord Krishna. While the poster showing a blue-skinned Kiran Kumar was eye-catching, the CM was apparently worried that this would give the MIM further ammunition to label him as saffron. So the GHMC authorities moved quickly and took it down.
Meanwhile, Kiran Kumar has taken potshots at the padayatras of TD chief Chandrababu Naidu and YSRCP's Sharmila Reddy. Stating that in a democracy, every party had the right to project itself on any platform, Kiran Kumar said, tongue firmly in cheek: "Why padayatra? They can even walk on their hands."

Reddy Vs Reddy
Union Minister for Urban Development Jaipal Reddy whose rapport with Kiran Kumar was not too great to begin with is annoyed with the CM. Jaipal Reddy is sulking over the fact that he was not invited properly to a launch programme of the Metro Rail project at Uppal. Sources say a low-level staffer went to extend the invite to Jaipal Reddy who was in Hyderabad. The Union Minister was mighty miffed and did not attend the prestigious function. His absence was noticed by one and all. Kiran Kumar said he was unaware about the issue since he himself had just flown in from Tirupati. The CM's office points out that such invites are usually handled by senior government officials and that there might have been a lapse in communication somewhere. Whatever the reason, the rift between Kiran Kumar and Jaipal Reddy certainly seems to be intensifying.

Jumping Jacks
Jagan's YSR Congress continues to poach MLAs from both the TDP and Congress. As a result, both the parties are keeping a hawk eye on all MLAs. Names of fence-sitters and possible "jumping jacks" are speculated upon endlessly. One such MLA from Telugu Desam, P Keshav, was furious following reports that he was crossing over to Jagan's party. He called for a press meet and to the surprise of mediapersons, burst into tears. Accusing Jagan of playing mind games, Keshav explained in a broken voice that it was NTR who had invited him into Telugu Desam. "If there is one day in my life which has given me much pain, it is this day because of this malicious campaign. How can I leave a party which has given me name and recognition?" said Keshav, wiping away tears from his face. Keshav, MLA from Uravakonda, is a strong Rayalaseema leader and Chandrababu Naidu can certainly do with loyal soldiers such as him.
Third Person
After coming out of his self-imposed hibernation, TRS chief K Chandrasekhar Rao was in his elements at a public meeting in Suryapet, Nalgonda district. Lashing out at the Congress, TDP and the YSR Congress, he asked the people of Telangana to give his party 17 MPs and 100 MLAs in the next elections. This would give TRS the power to get statehood for Telangana, he told his audience. And like Julius Caesar, KCR often refers to himself in the third person. Many critics say that this particular characteristic is because he hails from a zamindari background. But for listeners, his speeches are full of punch and snappy. "Till KCR is alive, the Telangana movement will not die," says the TRS president and MP referring to himself with characteristic arrogance only he can carry off.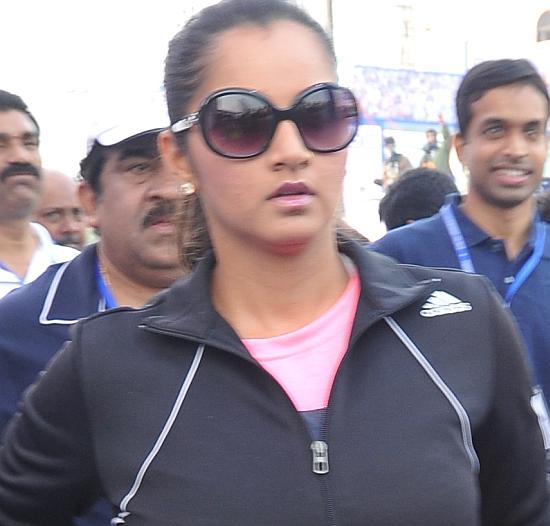 Howzzat?
What's up with tennis star Sania Mirza? Well, for one, she is suddenly seen quite often in Hyderabad again. Sania is working to launch a tennis academy in the city and work has already begun on the project. However, there are some murmurs insinuating that all is not well in the Sania-Shoaib marital paradise. She is not too happy about living in Dubai, say others. Sania, on the other hand, has been giving out interviews about her love for her husband and how happy she is. Meanwhile, the gossip mills continue to grind. She was spotted recently at a 10K run in the city, inspiring others to fitness by hitting the road.