The Sweltering Summers
This summer has been cruel for Andhra Pradesh as the mercury has soared above 45 degree Celsius in several places. Temperatures in Hyderabad are hovering around 44 degrees reducing citizens to a sweltering mass. The highest temperatures have been recorded at Vijayawada, Rentachintala, Bapatla, Visakhapatnam and Machilipatnam at 47 degrees. What is sad is that the State has recorded 524 deaths since April 1, 2013. The highest number of deaths have been recorded in Guntur (95) and Prakasam (75) districts. Dos and Don'ts for the summer have been issued by the Health Department in newspapers and public places since many are succumbing to the heat because they ignore simple safety tips. The government is providing assistance of Rs 50,000 to the BPL families of those who have died due to sunstroke. When there is death and a State scheme, there is bound to be politics. The CPI State secretary K Narayana criticises the government for giving the ex gratia based on FIRs alone saying this is being unnecessarily cruel to the victim's family.
Pickling Mangoes
April and May might have been the cruelest months in the State. But when it is hot, it is also time for pickle-making. Telugus love their mango pickle and no meal is complete without it. Hot and spicy avvakai is the perfect accompaniment for any main course and I am yet to come across any self-respecting Telugu household which does not have a jar tucked away in the kitchen. The ones available in supermarkets are certainly no match for the famous Telugu mango pickle. The red chillies, the tang of mango, the slightly salty taste and the flavour of mustard is to die for. In the pre-HiTec City era, when independent houses dotted most of Hyderabad's landscape, the ritual of drying the pickle on rooftops was a sight that stirred the taste-buds. Sure, it happens now too but in small, cramped spaces in balconies. Or given the heat, even on dining tables these days. In order to catch the first few steps of the pickle-making ritual, a trip to the Monda market or the Mozamjahi market is worth it. Here you have professionals who chop the mangoes into small pieces for you, grind your mustard and chilli powder. Nothing deters pickle fanatics like me from making a trip to these markets. I am a bit partial to Monda market in Secunderabad but then mango cutters in Mozamjahi have become innovative these days and sell you a glass of pudina paani as you wait.
Cabinet Clean-Up
Home Minister Sabitha Indra Reddy and Roads & Buildings Minister Dharmana Prasada Rao, chargesheeted in the Jagan assets case resigned after the Congress high command decided it was time for a clean-up. Chief Minister Kiran Kumar Reddy took his time in forwarding the resignations to Governor E S L Narasimhan but they were promptly accepted by the head of the State. Buzz in the corridors of the Secretariat is that a Cabinet reshuffle is in the offing. And as expected, there is a mad scramble for gaddis. Apart from these two ministries, the CM may also ease out his detractors such as Health Minister D L Ravindra Reddy and Endowments Minister C Ramachandraiah. There is talk that three other ministers who may be dragged into the CBI net in the Jagan case, Geeta Reddy, Ponnala Lakshmaiah and Kanna Lakshminarayana also face the axe. Congress party headquarters in Hyderabad, the Gandhi Bhavan is a buzz of activity nowadays and full of networking meetings.
The New Naidu
After his padayatra, TDP chief Chandrababu Naidu has emerged a more confident man. The TDP's annual meeting, Mahanadu, kicked off on May 27 in Hyderabad. Last year the focus was mostly on internal party squabbles and the sulking nephew, actor NTR Jr. This year, political resolutions and a poll agenda to take the party forward in view of the 2014 elections, was in focus. As for the heir, Naidu's son Lokesh has made it amply clear that he is ready for the role. Lokesh's face now dons several Telugu Desam posters across the city. He is also making his presence felt at district meetings and graces social occasions such as marriages in the families of party cadre. For years, Naidu has faced the criticism of ignoring the farmer for the sake of Information Technology when he was CM. Lokesh has answer for this. "People ask what my father has done for the farmer. He has gotten their children jobs in the IT sector," says Lokesh. Do we have another young leader in the making?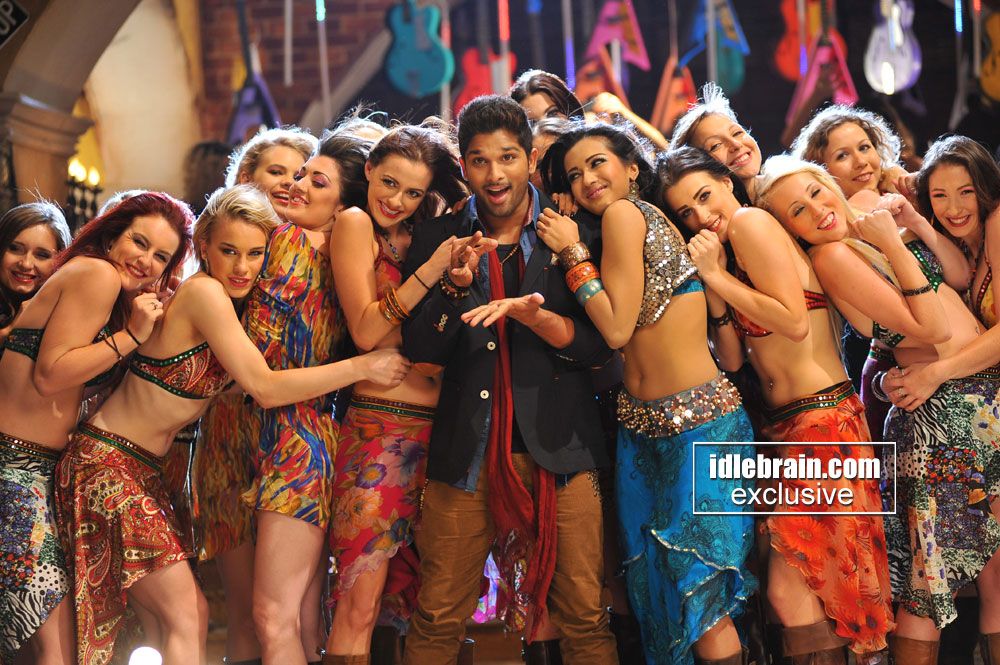 Actor Allu Arjun
Telegu Rap
Telugu star Allu Arjun's next film Iddarammayilatho (With two women) is slated for release soon. The film's music is a hit already and Devi Sri Prasad's compositions are the rage currently. Devi Sri Prasad or DSP as he is called has roped in international reggae singer Apache Indian to sing the number ' Run Run'. When it comes to rap, DSP is brilliant and who better than Apache Indian to sing Telugu rap? Fitness freaks vouch for the adrenaline rush they feel when they listen to Run Run spurring them to work the treadmill faster. There's another song 'Top Lesipothe' which is a super hit as well. The lyrics are typically teen. "Winter lo coffee laa, summer lo lassi laa (Life a hot cup of coffee in winter and icy lassi in summer). But there's something about DSP's powerhouse music which has everyone swinging to his tunes.