Superstar Forever
The Telugu film industry is still mourning the death of the legendary Akkineni Nageswara Rao, who died on January 22, at the age of 90. ANR, as Nageswara Rao, was popularly known, underwent open heart surgery as far back as 1974. But he lived life with a steely discipline that allowed him to maintain an unmatched zest for life. His superstar son Akkineni Nagarjuna is in many ways like his father. Unflappable, disciplined and a lambi race ka ghoda, Nagarjuna continues to have a tight grip over the pulse of Telugu audiences.
When this correspondent interviewed ANR at the time of his birthday (September 20, 2013), it was Nagarjuna who co-ordinated the meeting. "Let me check, dad is sometimes busier than I am," Nagarjuna said laughing. When the interview did happen, ANR, gave a good two hours and enjoyed himself thoroughly, reminiscing about old times and talking about the advantages of being a struggling actor in the industry.
He spoke about politics, philosophy, romance, attraction, health, self-discipline, atheism and his equations with his co-stars, namely the other legendary actor N. T Rama Rao. ANR disliked NTR's second wife Lakshmi Parvati and made no bones about his horror on learning about the latter's sudden nuptials. "You are not allowed to quote me on this till I am alive," he told this correspondent. I am assuming the veteran actor's soul would forgive me for this revelation now.
After the interview appeared, ANR called to say his grandchildren had read the piece and had briefed him about the same. Only a month after this interview, ANR called for a press meet with all his family members by his side where he announced that he was to undergo surgery for stomach cancer. The professional manner in which he announced his illness and treatment strengthened respect among his fans who admired his resolve. ANR promised his fans he'd live up to the age of 96 till the least. A promise he could not fulfil. Even a legend finally has to breathe his last, no matter how immortal he seems.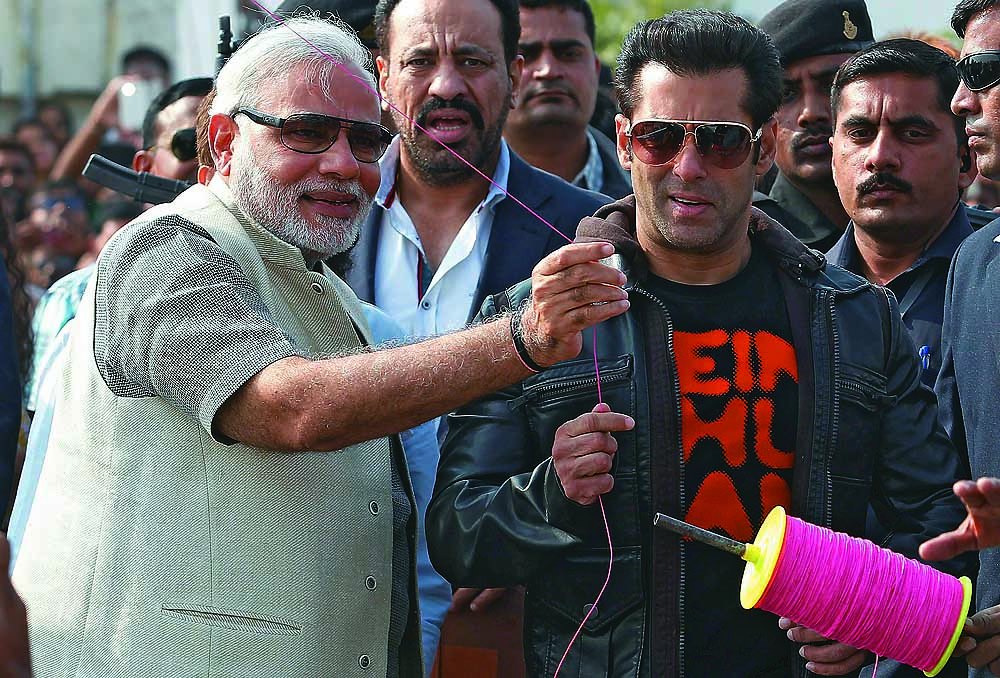 Kite Flying
Salman Khan's Jai Ho has had an average run at the box office and many in Hyderabad are attributing it to Salman's kite-flying date with BJP's PM nominee Narendra Modi. But the fact is that many people have not really liked the film and its premise of forming a chain of human kindness. When the Telugu version of Jai Ho starring Chiranjeevi, Stalin , was released in 2006, his fans knew that it was only a matter of time before the actor got into politics. So the audiences went to see the film more out of curiosity value rather than entertainment. When it comes to Salman, however, movie-goers expect entertainment, even if it is simply about placing a Raybans on the back of the shirt or dancing with a towel between his legs. As Vidya Balan rightly says in Dirty Picture, it is all about entertainment, entertainment and entertainment. The MIM might have asked people to boycott Jai Ho but really that is not the case at the ground level. For example, Jai Ho is running in the famous Shama Talkies in Jahanuma area of the Old City. The theatre belongs to former Deputy Mayor Jaffer Hussain, an MIM man. So unless the Owaisi brothers have gotten their facts all mixed up, the Muslim cine-goer has nothing against Salman flying kites with Modi, Rahul Gandhi or Chandrababu Naidu. They just want to see him bare that famous rippled six pack of his.
Stranger Than Fiction
A jewellery heist at Tanishq showroom in Hyderabad's busy Punjagutta area shocked the police and the management alike. Gold and other ornaments worth Rs 5.97 crore was stolen from the showroom located on a busy street. Robbers drilled a hole in the wall, shut off electrical switches and sprinkled chilli powder to throw sniffer dogs off their scent. Poor security arrangements paved the way for the robbery. But the drama that followed on Monday was even more sensational. A youth named Kiran Kumar walked into the office of a Telugu TV channel and announced that he was the one who had stolen the gold. Police have begun questioning Kiran but feel that he might be misleading them and that the real brains behind the operation is somebody else. Police also believe that there were two others involved and that the main person who actually made his way into the showroom after drilling the hole is a handicapped man as CCTV footage shows.
Telangana Tangle
The Andhra Pradesh Assembly is debating the Telangana statehood draft Bill amid dramatic scenes and Chief Minister Kiran Kumar Reddy is leaving no stone unturned to stress his opposition to bifurcation. Meanwhile, YSR Congress chief Jaganmohan Reddy, who is on his Samaikhya Shankaravam yatra, is taking it slow. Jagan's yatra from Kuppam to Srikakulam has been dragging on at a lazy pace which in turn is worrying the cadre. Amid reports that Jagan's party is not exactly gathering the kind of momentum it was expected to, after he got out of prison on bail, party workers are a worried lot. The YSR Congress has also decided not to put up any candidates for the Rajya Sabha polls which has put the Congress rebels who defected to Jagan's party in a quandary. Jagan is continuing to promise a golden rule if elected to power but as of now, he does not seem to be revealing all his cards.