Poll Wisdom
It's an oft repeated analysis, one that is used by several loud political analysts in TV channels and the print media alike. So much so that we don't really take it seriously anymore. But allow this correspondent to repeat this pearl of wisdom. A high voter turnout in an election usually indicates change. And while the urban voter likes to dispense his/her wisdom sitting at home, he/she does not like to make it to the polling booth. And this is exactly what was seen in Telangana. The overall voting percentage in Telangana stood at 72% as compared to the 67.7% in the 2009 elections. So this might mean doom for the Congress. In Hyderabad, the turnout was an abysmal 53%. Really Hyderabadis? After seeing practically every Hyderabadi go overboard on social media such as Facebook and Twitter about the excitement of voting, getting inked, after being bombarded with messages from malls, restaurants and pizza parlours about getting a discount on voting day, this was disappointing to say the least. Where did all these voters go? Were they all so intensely soaking up the analyses on TV channels that they forgot to step out? The heat was as usual and all offices had declared a holiday. So really, what was the problem? Some explain that since May 1 is Labour Day and also a holiday, many took a long weekend off. Others say that voters put off applying for their election I-Card till the last minute, some did not receive their polling slips and some others felt that anyway, governments are decided by the rural populace, so why bother.
But really, I found voting this time to be quite a breeze. Polling booth officials were not their usual surly selves and were actually quite helpful. Senior citizens were actually allowed to go ahead of others and cast their mandate. Since mobiles were not allowed into polling centres, citizens for once left their smartphones at home and took a look at the real world.
Take It, EC
Telangana BJP president G Kishen Reddy has blamed the Election Commission for the low voter turnout in Hyderabad. He said that mismanagement by the EC caused the names of hundreds of voters to go missing from electoral lists. He alleged that freshly enrolled voters were provided with cards but their names were not there in the voting lists. The same was the case with a large number of regular voters, he accused. Earlier, political parties were allowed to distribute polling slips. But this time, the Greater Hyderabad Municipal officials who were entrusted with the task, had failed miserably, Kishen Reddy said.
Whispers in the Wind
There are no exit polls. But there are loud whispers in the wind. These are getting louder. The Telangana Rashtra Samiti is all set to form the government in Telangana. The Telangana Pradesh Congress Committee chief Ponnala Lakshmaiah did not appear as confident after casting his vote when he said that the Congress would come to power. TRS chief K Chandrasekhar Rao, who spoke to reporters after casting his vote, said he was confident of his party getting a two-thirds majority. Another party leader T Harish Rao said that the high turnout indicated that the voter wanted the Congress out and TRS in. Now these might all just be hunches but even in districts where the Congress is considered to be strong such as Nalgonda and Mahabubnagar, the Congress candidates lay low. Nalgonda had a record voter turnout of 81% as against 75% in 2009. The other figures are Adilabad—78%, Nizamabad—70%, Karimnagar—76%, Medak—77%, Mahabubnagar—73%, Warangal—75%, Khammam—78% and Rangareddy—60%. Again, Rangareddy is a neighbouring district of Hyderabad so maybe the urban voter here too decided to stay put at home or was away holidaying.
Easy Money
It is also being said that several Congress stalwarts are likely to lose their seats this time. So all that money power might actually not have helped. As a party worker in Nalgonda told this correspondent, "Even if voters accept money, it does not mean that they are going to vote for you. It simply means that they are making the best of the election windfall. They've already made up their minds in any case."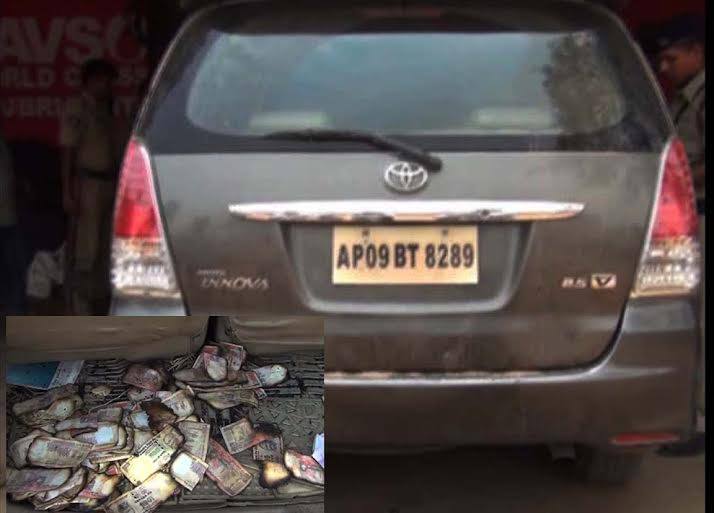 Burning Money
Speaking of money power, a Toyota Innova car reportedly belonging to Congress leader and former minister Uttam Kumar Reddy, caught fire near Suryapet in Nalgonda district. Currency worth Rs 2.5 crore was said to be in the car though other reports said this was only Rs 1.5 lakh. Two people who were in the car transferred the rest of the cash to another vehicle and fled before the police could reach there. The cash was stowed away near the engine of the car. The police are yet to file a case against Uttam Kumar Reddy and investigations are on.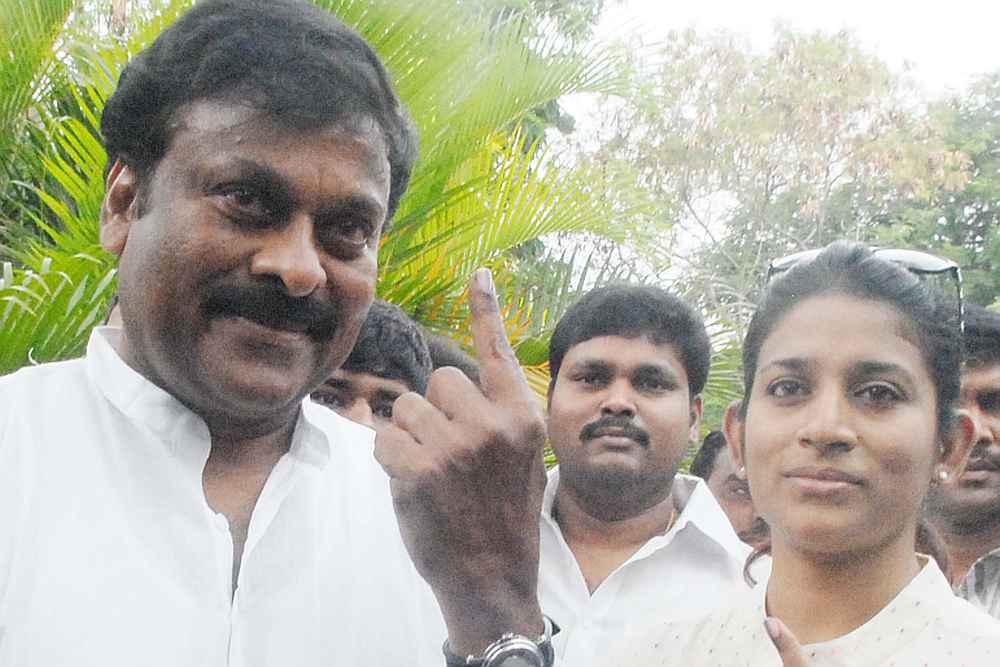 Lining Up
Photographers and news channels had a field day when a young NRI and IT professional Raja Karthik stopped Union Minister K Chiranjeevi from jumping the queue in the Jubilee Hills area. Chiranjeevi who was sauntering into the poll booth along with his son, daughter and wife to cast his vote ahead of the waiting commoners had a rude surprise. Karthik stepped ahead and asked Chiranjeevi why he was not standing in queue like the rest of them. "Do you expect special treatment?" he asked. A shocked Chiranjeevi concealed his irritation with a smile and struggled to maintain his composure as TV cameras recorded the masala action. Poor Chiru had to go back to the end of the line and wait for his turn which took about an hour. The former actor later came out and clarified that he was simply going in to check if his name was on the list and that he respected democracy. Memories of Chiranjeevi's son Ram Charan Tej and his securitymen bashing up two IT professionals in a road rage case in Banjara Hills still linger. "This family has zero tolerance for anyone trying to cut them down to size. Karthik had better be careful about his security," said a bystander.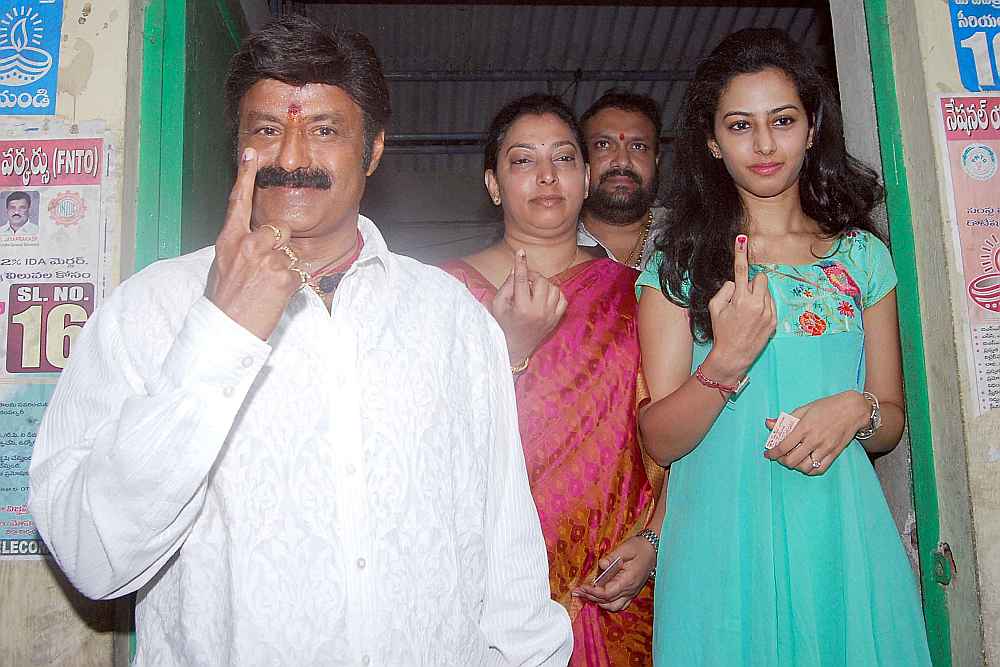 Nandamuri Balakrishna with his family
Celeb Watch
The other celebrities had a smooth time. Nagarjuna-Amala, NTR Jr and his wife Pranathi, actor Rajasekhar, Balakrishna and family, Saina Nehwal, Jwala Gutta, Mahesh Babu, Daggubati Rana, Allu Arjun, Suman, Pawan Kalyan all put in early appearances and cast their vote. Satyam founder B. Ramalinga Raju too was seen standing quietly in a Jubilee Hills polling booth and left immediately without talking to reporters. Governor ESL Narasimhan and his wife were among the early birds. The action now shifts to Seemandhra where elections are scheduled for May 7.