Welcoming Global Warming
Even as citizens in Hyderabad are stocking themselves with herbal swine flu kits and face masks, there appears to be some good news at last. Healthcare experts and government hospital doctors are saying that fewer deaths have been reported in the last few days. The rise in temperatures is key to curbing the spread of the virus, say doctors and pharma specialists. In the last couple of days, Hyderabad has become hot once again. The maximum temperature recorded recently rose to 35 degrees while the minimum was 17 degrees. While this is uncomfortable, signalling the onset of an early summer, doctors who have been treating hordes of swine flu patients and those showing similar symptoms, are heaving a sigh of relief. The official swine flu death toll in Andhra Pradesh and Telangana stands at 51. However, as a preventive measure, citizens are being asked to use masks, sanitizers, wash hands frequently and avoid shaking hands. Also, trips to crowded places ought to be avoided as far as possible, people are being told.

Is the TRS Joining the Narendra Modi Government Or Not?
That is the question on everybody's lips these days. There have been loud whispers that Telangana Chief Minister K Chandrasekhar Rao is keen to join the Modi Cabinet so that his daughter K Kavitha, Nizamabad MP, gets a ministerial berth. In return, the TRS might offer State BJP leaders some berth in the T Cabinet. KCR's son K T Rama Rao and Kavitha have been tight-lipped on the matter. Telangana Energy Minister G Jagadish Reddy has denied reports that the TRS would join the NDA government. "There have been no such talks on the matter," he says. The Minister went on to add that his party would strive to have cordial relations with any government that is at the Centre. "We need funds for several projects and need the Centre's assistance for the same," he says. Meanwhile, senior BJP leader and Union Minister of State for Labour and Employment Bandaru Dattatreya too ruled out such a possibility. The ideologies of BJP and TRS are different. This is mere speculation," he clarified.

Bonhomie in Mumbai
KCR celebrated his 61st birthday on February 17 and the CM was visiting Mumbai on that day. During a meeting with his Maharashtra counterpart Devendra Fadnavis, KCR assured the latter that the Pranahita-Chevella lift irrigation project would be redesigned to minimize submergence of villages in Maharashtra. Fadnavis expressed concern that 740 hectares of land in his State including Gadbirowli and Chandrapur faced the threat of submergence in the Pranahita-Chevella project. KCR promptly responded that he would explore an alternative design. "This project was designed by the previous regime in united Andhra Pradesh and it is defective. We will explore an alternative route," KCR assured Fadnavis. They also discussed the Lendi project and agreed to share 6tmc ft of Godavari waters which will benefit farmers of both states. The two CMs agreed to build barrages near Pajapet, Rubha, Pepard on the Penganga project. Many are wondering if KCR will display the same of bonhomie in the ongoing water disputes with Andhra Pradesh Chief Minister Chandrababu Naidu.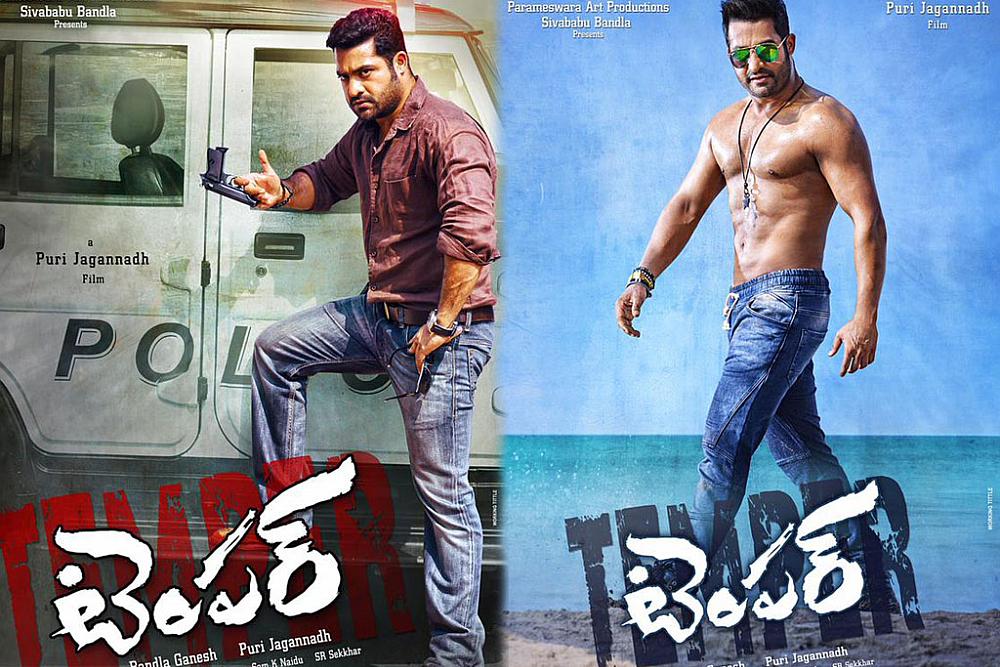 NTR Jr Finally Has a Hit
Actor NTR Jr has a hit at last in the recently released Temper. Directed by Puri Jagannadh, the movie has NTR Jr playing a corrupt cop Daya who slowly evolves into a good human being. NTR Jr who has had a string of flops badly needed this hit. He essays his role in this masala film with ease and even displays a hot six-pack. Those who've seen NTR Jr over the years have seen his weight issue struggles and this movie is a testament to the fact that he has put in hard work. While Arjun Rampal's Roy has left audiences confused and bored, Temper has kept box-office collections ringing. The story by Vakkantham Vamsi is quite powerful and therefore director Puri has been able to execute it well. NTR Jr is both the villain and hero in this fast-paced film. The songs Temper and Devuda are truly well picturised and NTR Jr gives us a taste of his terrific agility in the title song. Kajal's role is a blink and miss one. But the dialogues by Puri Jagannadh are what make Temper the toast of the box office.

Beating the Breathalyzer Test
Guess who was stopped by the police recently for a breathalyzer test? Nara Lokesh, son of Andhra Chief Minister Chandrababu Naidu. Lokesh was stopped by the Telangana police near Road No. 45, Jubilee Hills on Saturday night during a routine check. Lokesh was seen smiling and readily cooperated with the police. He tested negative and drove off. The police were completely bowled over by Lokesh's down-to-earth attitude. Lokesh sets a great example for Hyderabad's spoilt brats who often drink and drive and then get into fights with the police saying they won't take the test. In a recent incident near Congress leader Chiranjeevi's house, a neighbour called the police because a party thrown by Chiru's son Ram Charan Tej became loud and annoying. The "family dinner" as Ram Charan described it, spilled on to the street in Jubilee Hills. When the media reported it, Ram Charan, in his trademark arrogant style, dismissed the complaint as nonsense. Perhaps, the neighbours then, were imagining the din?

Much Fun During the India-Pakistan Match
The number of online jokes that did the rounds after the India-Pakistan match on February 15 was astonishing. While just a group match, it appeared that the clash between the two teams was like a semi-final of sorts. Pubs all over the city put up special offers to attract customers through the day. Happy hours became happier as unbeatable offers were made by watering holes. Firecrackers were burst, strangers hugged each other, couples extended their Valentine's Day celebrations and sweets were distributed.

Among the many jokes that made us laugh, this correspondent has a couple of favourites. One was a supposed tweet by Ravindra Jadeja which said: "Kudos to Virat Kohli. It's not easy to perform on consecutive days :)" The other featured YSR Congress chief Jaganmohan Reddy. Those who've followed Jagan's political rise will agree that it was largely due to his trademark Odarpu yatra (consolation yatra) which the latter undertook to console families which had lost members to suicides or shock demises following Y S Rajasekhar Reddy's death in a chopper crash. In fact, it was Jagan's decision to continue with this yatra that led to his falling out with UPA chairperson Sonia Gandhi following which he set up the YSR Congress. There have been a number of jokes about Jagan's Odarpu in Telugu.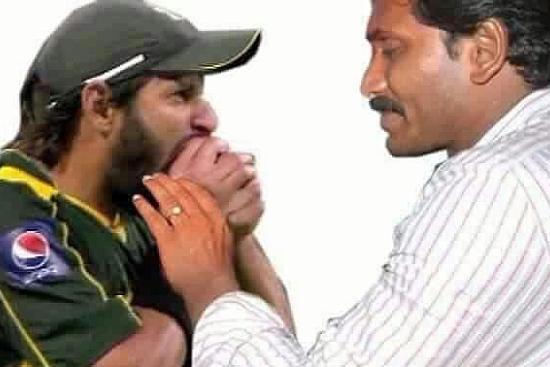 But this one after the match was outstanding. It showed Jagan consoling a heartbroken, weeping Shahid Afridi with the tagline "YS Jagan visiting Pakistan on Odarpu yatra".