House of Cards, Indian version
The thing about politicians is this; They can't help making promises to the aam aadmi they know they won't keep. It starts off as a contagious flu which they pick up from their counterparts. This later manifests itself as a chronic disease. These promises vary from simple things such as jobs for student supporters, reservations or a promise to lend an ear to the woes of various sections and immediate action thereof. But these are forgotten even before the printing ink has dried in the newspapers. Such is the weariness with the political system in our country that voters too treat election promises as mere embellishments in a campaign once the polls are over.
So we have Andhra Pradesh Chief Minister Chandrababu Naidu who bent over backwards to apologise to farmers for treating them like aliens in his earlier rule as CM. But barely had he warmed his seat this time round when he began taking over thousands of acres of fertile land from farmers to build his Singapore-style capital.
Similarly, Telangana Chief Minister K Chandrasekhar Rao stunned everyone when he announced that a Dalit would be made CM if TRS won the polls. Secondly, he would merge the TRS with Congress if UPA chairperson Sonia Gandhi ensured statehood to Telangana. Oh yes he did, remember? And the CMs are only a small sample to illustrate the promise-breaking example. Basically, the fine art of politics is quite crude.
Why is this correspondent talking about the dirty picture all of a sudden? Well, a weekend binge of the award-winning serial House of Cards might be one reason. The power politics plotted and played out by Frank Underwood?, wonderfully essayed by Kevin Spacey, is alarmingly similar to real-life politics in India as well. In Season 3 of House of Cards, President Underwood announces that he will not be running for office in 2016. But the manner in which he plots, coaxes, threatens and pushes himself into the race finally is riveting to watch. One could not help but be reminded of KCR's example who developed complete amnesia about a Dalit Chief Minister once his party won the elections.
Why is the power ministry important?
Telangana Power Minister G Jagadish Reddy appears to be in trouble with the Chief Minister again. Jagadish Reddy, who was earlier Education Minister, was shifted after the Opposition Telugu Desam and Congress alleged that he was seeking bribes from colleges to release funds under the fee reimbursement scheme. But the fact is that the Power Ministry is more fertile ground for anyone who is bitten by the graft bug. The Telangana government has quite a few thermal power projects in hand such as the 7,500 MW plant in Dhamacherla and Mattampally (2,200 MW), Bhadradri (1,080 MW) and Bhoopalapalli (600 MW).
KCR is said to be personally supervising meetings on these projects leaving nothing to chance. There are rumours that Jagadish Reddy has not been on great terms with the CM and that he is now not being allowed to sign any major documents. In fact, Jagadish Reddy faces a case in the Lok Ayukta which has been filed by former Karimnagar (Congress) MP Ponnam Prabhakar. Rumour mills further add that some of the documents which Ponnam Prabhakar used to file the case came from unnamed sources in the TRS. Jagadish Reddy seems to have made more enemies within his party than outside.
Heavy water in Telangana?
In August last year, KCR announced the ambitious Telangana Water Grid project on the lines of Gujarat's model to ensure drinking water supply to all rural households in the State. The grid, which will integrate all drinking water projects into one, will use 160 TMC of water from Krishna and Godavari rivers. When it was announced, the project was worth Rs 25,000 crore but now costs have escalated to Rs 37,000 crore.
The Water Grid project falls under the portfolio of the Panchayat Raj Minister which is held by KCR's son K T Rama Rao. The Congress calls the Water Grid project a scam and an unnecessary drain on the reserves of the State exchequer. AICC general secretary Digvijay Singh termed the entire exercise as a means to earn commissions and benefit companies supplying water pipes. Rama Rao in turn hit back at Digvijay Singh saying he had no right to mention corruption as his party was better off named the "Scam-gress". The fisticuffs continued with Congress leaders Mohd Ali Shabbir, Jana Reddy and Uttam Kumar Reddy terming the Water grid a "Scam grid" and "corruption grid". They alleged that the tender bids were prearranged. "The bidders sat at one place and everything was finalised within a week," they said.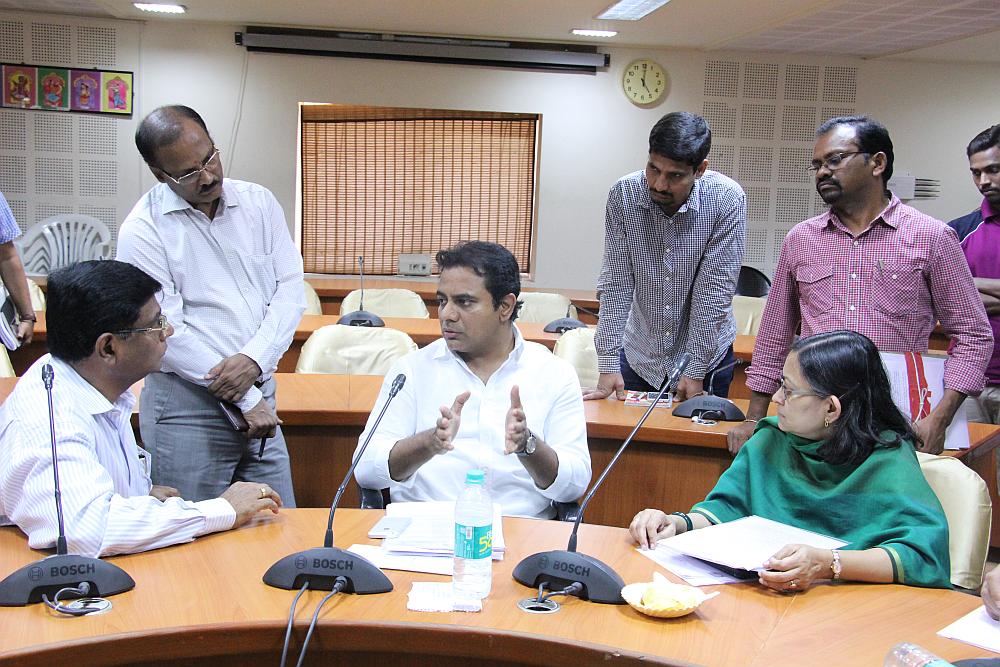 When Outlook contacted K T Rama Rao, the Minister dismissed all the allegations stating that the Congress' accusations were "preposterous and stupid".
A short Q & A with Panchayat Raj and IT Minister K T Rama Rao.
Do the Congress party's allegations on the ambitious Water Grid project hold any water?

I have issued a series of rebuttals and I request all the critics to view the plans drawn by our Engineer-in-Chief, engineers and Rural water supply works officials to understand the programme which envisages drinking water supply throughout the year to all rural households in Telangana.

The Congress says you have handed out tenders to your friends and that the bidding process is not fair. The Congress also says that the project cost is at the most Rs 10,000 crore.

My friends? Can they name them please? So far, only Rs 1500 crore worth of bids for intake structures have been called. The intent was to work in a multi-faceted manner. When the tenders have not been called, where is the question of favouring anybody? Secondly, let me remind the Congressmen about Y S Rajasekhar Reddy's Jalayagnam where the norm of party leaders was to allow mobilisation advances and seek commissions to line the pockets. Secondly, in the Kiran Kumar Reddy government had sanctioned a drinking water project in Chittoor district for Rs 7,000 crore. If the cost for one district is Rs 7,000 crore, then please calculate the cost of an integrated water project for 10 districts in Telangana.

Do you think that the PWD tender system is itself flawed where the pre-qualification requirements are just a bunch of documents? The competence of the bidder is not investigated.

I beg to differ. The document which you call a bunch are actually many and in fact the process is cumbersome. There are three steps we have taken to root out graft. Any company which had undergone corporate debt restructuring and does not follow financial discipline will not be allowed in the bidding process. Secondly, we have done away with mobilisation advances though the contractors hate it.
? ?
Thirdly, officials of our Rural Water Supply department have gone to the field and designed the project based on the line survey. It is not me or the Chief Minister who have designed it. Based on their estimates, we have called for tenders. The other thing is that the tenders have come for less than the estimated value. The bids were quoted at less than the finalised amount which will save a lot of public money.

So when do you expect to complete the project?

Before the next elections.
Rising electricity tariffs
?The cost of electricity bills in both Telangana and Andhra Pradesh have gone up with both States increasing tariff by 4.14% and 4.42% respectively. Telangana's electricity woes began after bifurcation owing to water wars between the two CMs. There were frequent power cuts even in winter. APGenco (Andhra Pradesh Power Generation Corporation) on the other hand feel it is sitting pretty even after the bifurcation making a neat profit of Rs 250 crore a year. It is the best performing power corporation among all the States.
According to the Genco officials, the common man does not grumble when he spends Rs 1,000 on a movie outing at a multiplex, spending more on vegetables every month, shelling out higher prices for petrol or rail/air tickets but if the electricity bill goes up by even Rs 200, he feels cheated. This is simply a case of counting pennies in one aspect and splurging pounds in other areas, they say. The domestic consumers on the other hand say that it is never a case of just the hike alone but the fact that they are unfairly billed most of the time.
Tailpiece
This correspondent recently met a young man who works with an informal group named Queer Rights. "We work to support gay people who would like to come out of the closet and need any form of advice," he said. So are gay men sensitive and creative as is often stated, I asked. "Yes we are very sensitive. Well I'll tell you something. Never ask a woman her age, a man his salary and gay man either his age or salary," was his prompt reply.