Unseasonal rains and other depressing stories ?

The unseasonal rains in Hyderabad have cooled temperatures alright but have thrown life out of gear in many low-lying areas of both Secunderabad and Hyderabad. Uprooted trees and electric poles, power cuts, damaged roads and traffic thrown out of gear are common complaints. But what is disturbing is that crops over one lakh acres have been damaged in both Andhra Pradesh and Telangana. Nizamabad, Karimnagar and Nalagonda were the worst hit in Telangana. In Andhra Pradesh, the districts of Anantapur, Kurnool, Kadapa, Chittoor and Srikakulam were badly affected.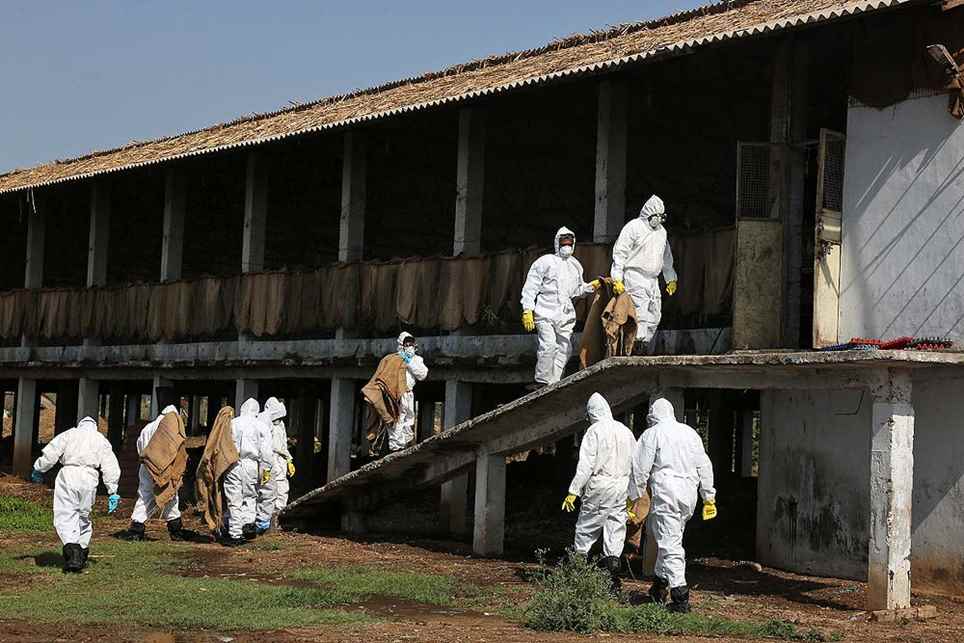 Veterinarians carry gunny bags and enter a farm to cull chicken at Venkateshwara Hatchery farm at
Hayathnagar, the main town of Ranga Reddy district, on the outskirts of Hyderabad. (AP)
Against this gloomy atmosphere, there is further bad news that the bird flu virus has broken out in the Ranga Reddy district of Telangana. D Venkateswarulu, director of the Animal Husbandry Department, said that a veterinary lab in Bhopal had tested samples from a poultry farm in Thorur village of Hayathnagar. Local vets grew suspicious as hundreds of birds began dying in the farm a week ago. The Telangana government has set up rapid response teams to help in culling at least 2 lakh birds within a 10 km range of Thorur village. "Gunny sacks are being procured and pits are being dug up," says Dr K Vamsi Krishna Reddy, assistant veterinary surgeon. The government has also banned sale of eggs and poultry in Hayathnagar, a large town in Ranga Reddy district. Poultry farms in 18 villages have been put under surveillance. The H5N1 virus is highly pathogenic. Since the first human case of bird flu in 1997, the virus has killed 60% of those infected, say medical experts. People catch bird flu either due to close contact with birds or bird droppings.

?Tug of war in Telangana?

If the word on the street is to be believed, Telangana ministers K T Rama Rao (KCR's son) and T Harish Rao are engaged in a tug of war over their pet projects Water Grid and Mission Kakatiya respectively. Both schemes are built on huge funds and each of the ministers is trying his best to outdo the other to make his project a success. Sources say that the uneasy vibes between K T Rama Rao and Harish Rao have intensified after Chief Minister K Chandrasekhar Rao sacked T Rajaiah as Health Minister in January. The reason behind the sacking was Rajaiah's inept handling of the swine flu crisis. Harish Rao is close to Rajaiah and the sacking is said to have left behind a bitter taste. The TRS will be holding its party plenary on April 24 and there have been rumours that Rama Rao might be appointed working president. But the Minister himself denies it point blank.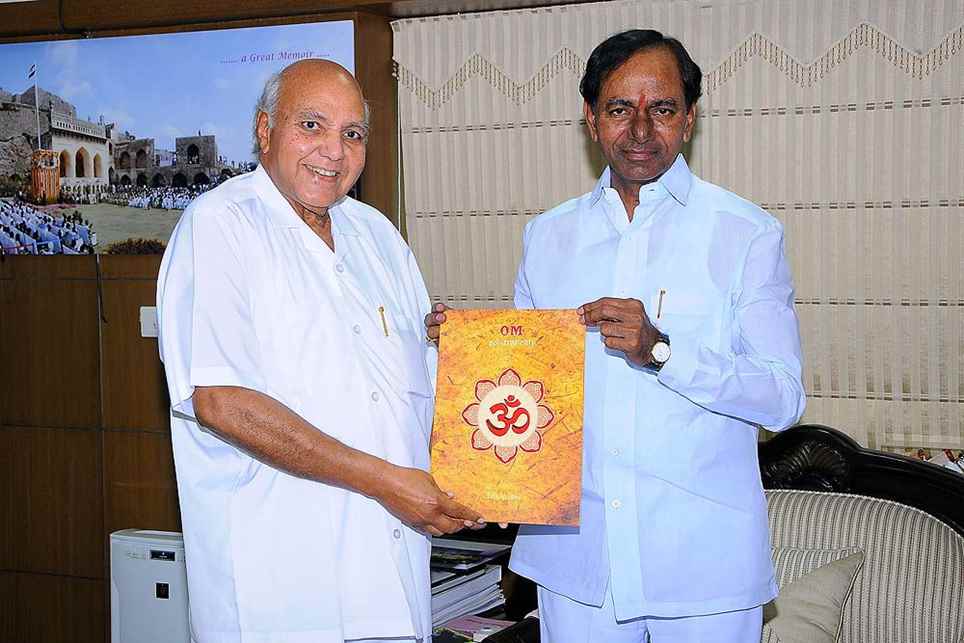 Ramoji group of institutions chairman Ramoji Rao calls on Telangana CM K. Chandrasekhar Rao.
?Growing bonhomie with Ramoji Rao

?Meanwhile, KCR seems to be going to all out to be friendly with media baron Ramoji Rao. The Telangana CM had called on Ramoji Rao in December, 2014 at the Ramoji Film City (RFC). The Eenadu has mostly been perceived as being a newspaper which favours the Telugu Desam. But after bifurcation, TRS seems keen to bury the hatchet with Eenadu. Ramoji Rao called on the CM on April 13 and presented him with a copy of the coffee table book on the spiritual township Om City, which is coming up near RFC. Ramoji Rao briefed KCR on the features of Om City. It would have models of 108 famous temples. Devotees who are unable to travel to all the temples would be able to worship all the shrines at one location. Om City would also have a theme park, an auditorium for spiritual meetings and a museum.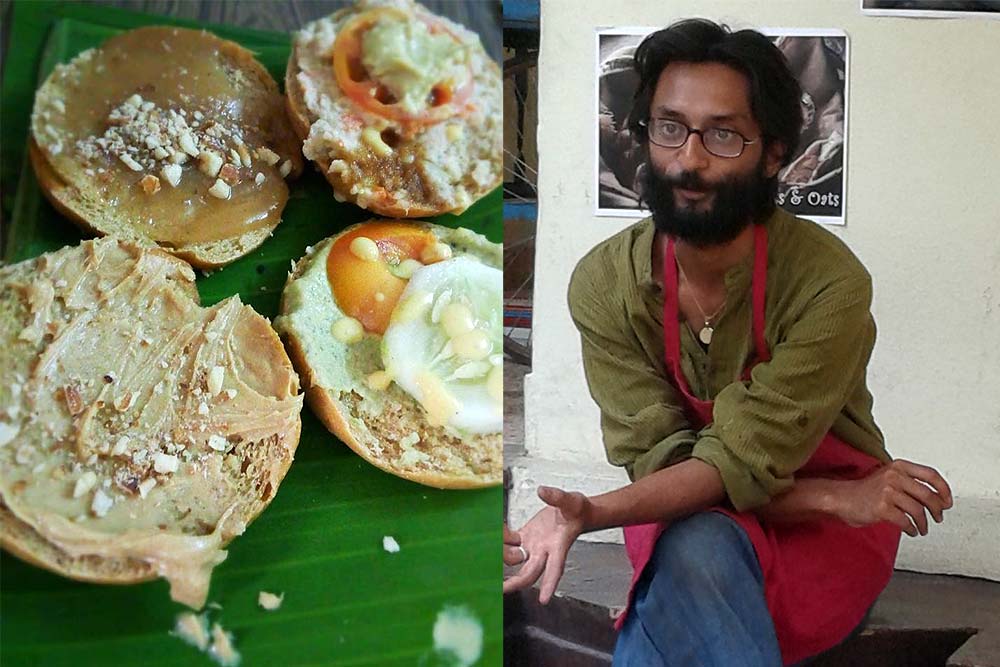 ??Vegan food finds a parking space?

The director of the German cultural centre in Hyderabad Amita Desai, who is a fan of vegan food, has decided to indulge her passion further. So we have a newly opened cafe named Poets and Oats-Terrassen Cafe at its centre in Banjara Hills. The simple? cafe serves bagels, sandwiches, salads, cakes and coffee --? ?all completely vegan. It is operated almost single-handedly by Dhanesh Sharma who runs his bakery Poets and Oats in Secunderabad. Since even dairy produce is not allowed in vegan food, Dhanesh makes mayo by using pumpkin, cabbage and onion or coffee using soy and almond milk. His bagels with a smear of peanut butter are delicious as are the lemon and banana cakes. Soy kheema sandwiches served with mint chutney on banana leaves and the spicy tomato-cucumber sandwiches are also appealing. Dhanesh bakes his own whole-wheat breads with sour dough. The cinnamon rolls are really addictive. "Many people who go out for breakfast or a brunch in Hyderabad choose the comfortable option of dosas, vadas and idlis. Veganism is a new concept but it is catching on in the city," says Dhanesh. What's best is of course the cost which would even put college canteens to shame. A sandwich costs Rs 25 and a lime juice with cane sugar costs Rs 10. Dhanesh says he used to be a staunch beef-eater till four-five years when he suddenly decided to give up meat as well as dairy. "I have lost 12 kg but I am more energetic and I feel that I see world more clearly," he insists. It is difficult not to share Dhanesh's enthusiasm but as a true blue Telugu, I could not help but grimace when I took the first sip of almond coffee. Let's make one thing clear. For south Indians, nothing, absolutely nothing, can take the place of filter coffee.?

??Upendra delivers a good performance?

Kannada superstar Upendra has acted brilliantly in new Telugu release S/o Satyamurthy directed by Trivakram Srinivas. None of the eyeball rolling histrionics though he plays a character with negative shades. The S S Rajamouli film Eega had earned Kannada actor Sudeep a lot of praise. S/o Satyamurty is doing the same for Upendra though there was talk that his fans were unhappy at his absence in film's promos and late entry. But if reactions of audiences in film theatres across Hyderabad are any indication, Upendra's macho man persona has struck a chord. His long curls and intense eyes which light up the screen are worth catching the movie for, apart from Allu Arjun of course.

?Malik on Malik Jr?

Pakistani cricketer Shoaib Malik, who is over the moon with wife Sania Mirza's World No. 1 ranking in tennis doubles, recently took questions from his fans on Twitter. Stating that he would be flying down to India shortly to be with his wife, Shoaib also told his fans, "Junior Malik is coming soon, Inshallah". The star couple got married in 2010 and there have been several rumours about their marriage being in trouble. But the couple has constantly issued clarifications on the same. Wonder if Sania is going to back up hubby's tweet and make a "baby" announcement soon.