The politician and the baba

What starts off as a spiritual connect manifests itself in other areas. Andhra Pradesh Chief Minister Chandrababu Naidu has always been a fitness buff and a yoga enthusiast. Having celebrated his 65th birthday recently, Naidu surprises everyone around him with his boundless energy. A large part of this is the bland diet that he follows which is high on protein, nuts and fibre content.

The catch is that sometimes Naidu takes the fitness obsession a bit too far. In January, 2015, his party MLAs and bureaucrats underwent a crash course in Inner Engineering conducted by Sadhguru Jaggi Vasudev's Isha Yoga Centre. The session seems to have left a deep impact on the CM who is now taking his association with the turbaned Jaggi Vasudev further.

The AP government is granting 400 acres of forest land at Trilochanapuram at Ibrahimpatnam near Vijayawada to Sadhuguru to set up an institute. The proposed site for the foundation is also close to the State's Capital region. Realtors estimate that each acre out here costs Rs 2 crore. It is rich in flora and fauna and its forest wealth supports many people living in the area. Naidu's eagerness to grant such a huge land tract has astonished many and the Opposition leaders are not amused. The CPI has already begun staging protests. Leaders are waiting to see if Naidu can actually wrangle clearances from the Union government to gift this land to Jaggi Vasudev.

About six years back, this correspondent met the Sadhguru for an interview. Sipping some iced tea, the 'Inner engineering' master spoke in length about married people having affairs and about the falsehoods in society in general. He combined wit with spirituality to buttress several points. Reforestation is a pet subject with the guru and he claims to have done that to a large extent in Tamil Nadu by planting 114 million trees so far.

Sadhguru does not demonstrate his yoga skills at the drop of a hat like Baba Ramdev. He projects an uber cool image, one of playing golf and being a motorcycle enthusiast. But he is no stranger to boasting and says he had a sudden spiritual awakening at the age of 25. What was more interesting, however, was the fact that Sangeeta Reddy, Executive Director of Apollo Hospitals played host to Sadhguru, as he lounged around in their sprawling Jubilee Hills residence. She was the one serving him refreshments and fussing over him as several other richie rich disciples trooped in for a darshan.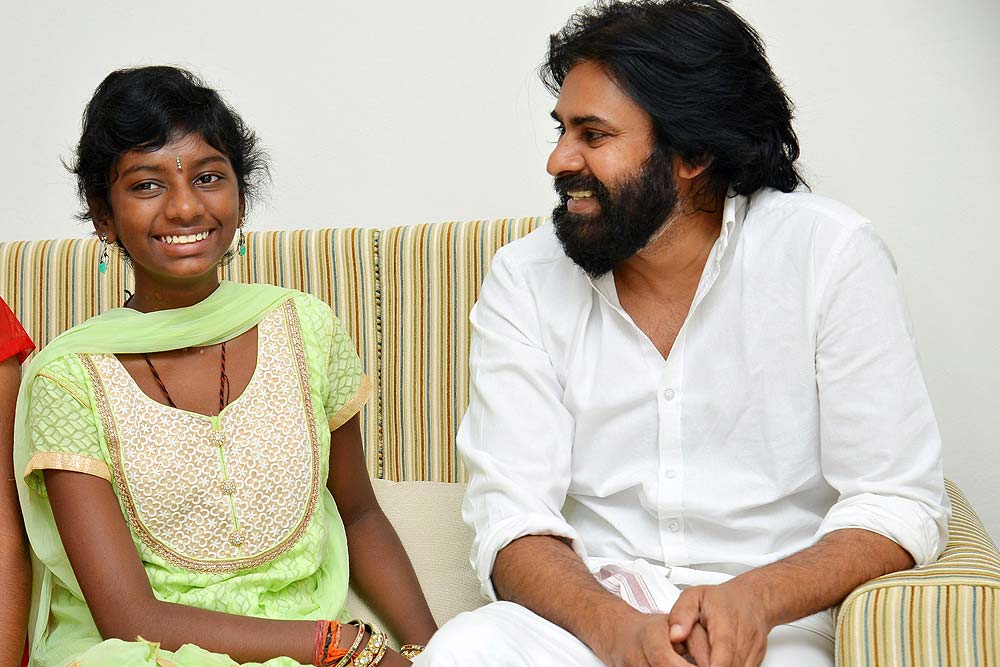 Whatever happened to Pawan Kalyan?

He's eccentric and has this habit of making sudden appearances in public after which he vanishes suddenly all over again. But Pawan Kalyan always makes news. In October, 2014, the actor had visited a young fan named Sreeja, who was hospitalised in Khammam, with a brain tumour. He gave her Rs 2 lakh, some toys and an idol of Goddess Lakshmi. He even broke down on learning that she may not respond to treatment. But amazingly, the 12-year-old made a remarkable recovery. She recently paid her favourite actor a visit in Hyderabad. Pawan Kalyan spent some time with the girl and her gushing family. But what came as a surprise was Pawan Kalyan's dishevelled appearance. A shaggy, overgrown beard, untidy hair, a white cotton dhoti and shirt. He looked more like a man ready to renounce the world rather than one who will take up its causes. Where's the stylish Power Star we all knew?

Pickles, anyone?

The mangoes have finally arrived at the Gaddianaram fruit market in Kothapet. Market secretary K Janardhan Reddy says that the mangoes arrived two weeks late this year because of lack of rainfall earlier and the unseasonal showers recently. This affected both the yield and quality of the king of fruits. Hyderabadis as of now are paying between Rs 80-100 for a kilo of banganpalli mangoes. The Nuzvid rasaal mangoes (a variety which is juicy and slurped rather than cut into piece) might be in short supply though, say gloomy traders.

But April-May is also the season for pickles. While most people assume that pickles in Andhra Pradesh and Telangana are all about spice and heat, there is one variety which is pleasantly different. The bellam avakai (sweet mango pickle) is popular in coastal Andhra. Powdered jaggery and methi (fenugreek) seeds are used along with chilli, sesame oil, mustard powder, salt and turmeric to give the mangoes a sweet and sour taste. Garlic pods are optional but the more traditional households give the garlic a miss. Most pickle-lovers prefer using Totapuri mangoes for bellam avakai.

There is another variant of the sweet pickle called magaaya. Here, the mango peel is removed and it is cut into thin slices rather than cubes. As a result of the softer texture, the sweetness is enhanced.

The shelf life of the pickle is usually more than a year and tastes good with anything, be it parathas, upma or hot rice and ghee. But it tastes best with curd rice. Sour curd and the sweetness of the jaggery-laden pickle give taste buds a huge burst of flavour.

A new city landmark in the making

The NTR Stadium which stands opposite Indira Park in the city is all set to make way for the Telangana Kalabharati. Telangana Chief Minister K Chandrasekhar Rao has approved the design for the building. The NTR Stadium is the place where Chief Ministers of undivided Andhra Pradesh celebrated the State Formation Day on November 1. The new Kalabharati is being designed by architect Hafeez Contractor who is the brain behind buildings such as the Infosys IT Parks, Rajneesh Osho Ashram, Pune, DLF Aralias, Gurgaon and Hyatt regency, Mumbai. Telangana Kalabharati, being built on 14 acres of land, will be an international convention centre and have four auditoriums.

False alarms in the air

When will people learn that using the words bomb, terrorist or hijack in airports and planes is not funny. Thirty-five-year-old Yousuf Shareef, a resident of Tappachabutra area in the old city, was flying business class from Dubai to Hyderabad on an Air India flight. He was returning home after working for five months with a drilling company in Dubai. Yousuf, who took a shine to one of the air hostesses, began summoning her for snacks and beverages at regular intervals. He then attempted to flirt with her and then asked her if he could visit the cockpit. When the answer came back as a no, Yousuf asked the air hostess to pose for a selfie with him. When the harried lady refused, he said that plane was being "hijacked". After stating this, Yousuf calmly went back and sat on his seat saying it was a joke. The air hostess informed the pilot who alerted authorities of the Rajiv Gandhi International Airport. Yousuf was taken into custody once the flight landed. Police officials conducted a thorough investigation into Yousuf's job and personal profile. He lives in Tappachabutra with his wife and two children and has worked in Saudi Arabia earlier. But cops found nothing untoward and announced that it was a clear case of misbehaviour with an air crew member rather than one of terror.