Restoring Lucknow's glory
The state machinery has suddenly started focusing on the otherwise neglected historical monuments of Awadh. Endowed with truly rich heritage of the famous Nawabs, Lucknow could somehow never make it to the national or international tourist circuit largely because of lack of interest by successive governments and an indifferent bureaucracy. The present chief secretary Alok Ranjan, who did his schooling from the city's famous 170-year-old La Martiniere College, however, chose to rise to the occasion and take keen interest in restoring the glory of monuments like the Bara Imambara, Chhota Imambara, Roomi Darwaza, Hardinge Bridge, besides the Residency and other monuments closely associated with the India's first war of independence in 1857.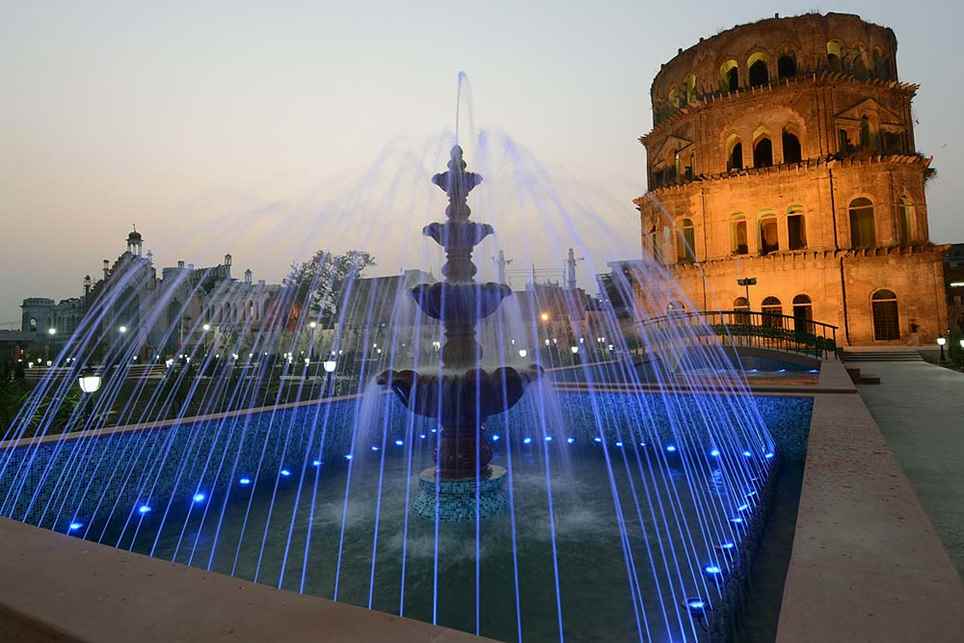 Sat-Khanda Building, in old Lucknow. Photo by Nirala Tripathi
For a start, the surrounding areas of these monuments have been cleaned up and gardens are being laid. Even the 'Satkhanda' — an intended replica of the leaning tower of Pisa — that was left unfinished after the sudden death of Nawab Mohammad Ali Shah in the 1830s and had virtually turned into a dilapidated slum — has been spruced up beyond recognition . Experts are already on the job to illuminate each of these buildings, much to the pleasant surprise and delight of all and sundry.
All the father's men
With less than two years in hand, Uttar Pradesh chief minister Akhilesh Yadav now appears to be inclined to — at long last — break all shackles and get down to rebuilding his earlier profile of a young and dynamic leader, determined to cast the Samajwadi Party in a new mould. It was that image of this unassuming son of the powerful UP satrap Mulayam Singh Yadav, which propelled SP to a mandate the party leadership had never conceived.
Realising that his earlier image had suffered a beating, Akhilesh sought to get down to brass tacks. And with that came the initiation of a series of development projects like a six- lane expressway connecting Lucknow to Agra on the fast track, an international cricket stadium, a metro-rail for the state capital and four other UP towns , besides an IT city and a state of art cancer hospital .
However, thanks to his father and the father's appointees, the chief minister is unable to combat multiple hurdles on several fronts including the all important law and order situation or the all pervading corruption. And it is not just too many 'uncle' cooks spoiling the broth. There are some unbridled 'babus' who have become law unto themselves — one of them, widely known to be corrupt, arrogant and inaccessible, is sitting at the helm of affairs in the chief minister's personal secretariat and calling the shots because of his proximity to the father. Be it selection of district police chiefs, district magistrates or other key functionaries particularly in the police, the appointees are handpicked at the morning and evening 'durbars' held at the powerful bureaucrat's residence — obviously for reasons other than merit.
Rise of Azam Klan
Other than Mulayam Singh Yadav's own clan, there is yet another powerful leader in the ruling Samajwadi Party who is trying to get his family a prominent political identity in the country's most populous state. And that is none other than Azam Khan, who as number two in the Akhilesh Yadav cabinet, is often in the news for all the wrong reasons. His clout became more than amply visible to all and sundry when the entire Rampur police was deployed to track down his buffaloes, allegedly stolen from his farm on the outskirts of the town.
Earlier regarded as a man of firm integrity, he has been losing the sheen largely on account of his super ego and uncontrolled arrogance. What seems to have made it worse is his sudden passion to promote his own family — something he is believed to have acquired in the company of his mentor-compatriot Mulayam Singh Yadav who runs his fiefdom largely through his personal clan. This was witnessed for the first time a few months ago, when he moved heaven and earth to get his wife installed in the Rajya Sabha. Currently, he is busy pushing her case for chairpersonship of UP Sunni Central Waqf Board from where he recently got a Mayawati appointee thrown out. Apart from holding the powerful office of Urban Development Minister, he also holds the portfolio of Parliamentary Affairs and Muslim Waqfs. So now it can be all in the family.
Leaks and damages
Use of unfair means in examinations has always been so rampant in UP that it rarely causes outrage. However, what was earlier limited essentially to class X and XII level examinations, gradually seeped into entrance examinations to professional courses like B.Tech and MBBS. The nexus between those in governance and the cheating mafia allowed the racket to grow by leaps and bounds. Even expose by the media followed by some arrests failed to deter the masterminds, who succeeded in taking the cheating racket to new heights. This time the cheating mafia managed to crack the Provincial Civil Service (PCS) Examination — something that was unimaginable to all those who look up to the sanctity of the examination which is the stepping stone for Sub-Divisional Magistrates, Deputy Superintendents of Police and others who form the backbone of the state's civil administration.
But last week's PCS exam paper leak on WhatsApp in Lucknow eroded the myth that the examination was as impregnable as the Civil Services Examination conducted by Union Public Service Commission. Sure enough, it provoked tremendous outrage. And apart from aspirants and social activists, even a serving principal secretary rank IAS officer has gone on record to demand deterrent action against the culprits.
Even as UP STF sleuths arrested three suspects, a discreet game is on to give the State Public Service Commission a clean chit. Even though there is ample evidence to establish involvement of commission bigwigs, nobody is ready to take on the powerful Yadav chairman of the service commission. Sure enough, STF is busy cracking down on smaller fries who can be easy scapegoats.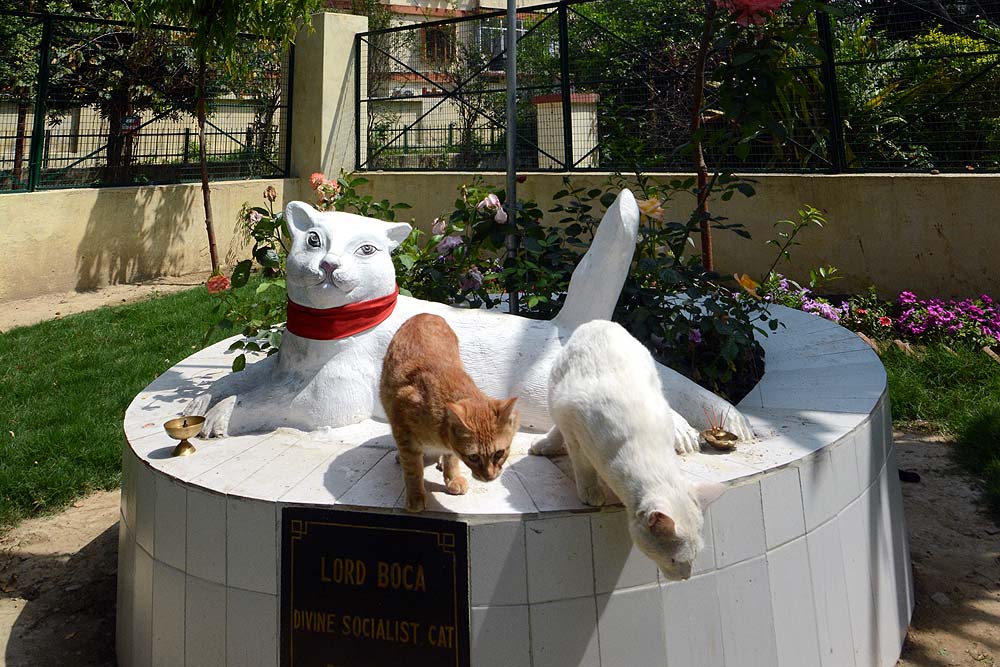 The official meow house
UP chief minister Akhilesh Yadav may be creating a Lion Safari in his home, Etawah. But back in Lucknow, there is a devoted disciple of the Samajwadi Party who has converted an official bungalow into a home for cats. The party activist has no qualms about proudly displaying his proximity with the powers that be through a nameplate which reads — "FH & CATS" (FH stands for his name - Frank Huzoor). Located in the state government's posh Dilkusha Colony, the entry gate also bears a portrait of SP chief Mulayam Singh Yadav and his chief minister son Akhilesh Yadav. On the lawns outside stands a well manicured statue of a cat under a fluttering Samajwadi Party flag affixed permanently to a pole planted firmly in the ground.
No one knows how many cats live inside. Some say there are 18, others believe 32. While the caretakers are tight-lipped, from the cacophony of meow-meow that one can hear in, surely the number would not be less than two dozen.