Maruti Suzukihas introduced a telematics solution for its Nexa range of cars. Subscription for the connected car tech, known as 'Suzuki Connect', costs Rs 9,999 for three years. The Arena range of Maruti cars will get the telematics service by the end of 2018.
Maruti says that the telematics solution utilises a Telematics Control Unit (TCU) to exchange car-related information with a centralised server through cellular network. The information can be accessed by customers via the Nexa app, which is available for both iOS and Android.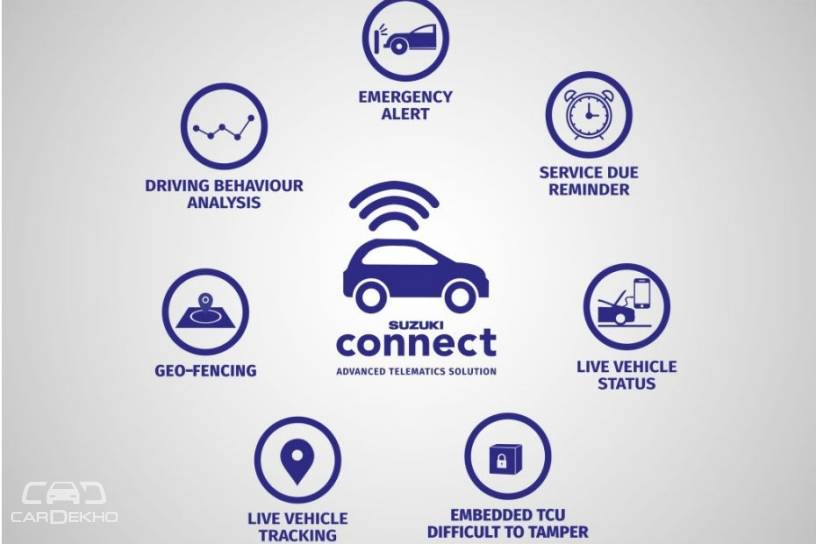 Key information from Suzuki Connect that can be accessed on the Nexa app includes:
1. Emergency alerts: In case of airbag deployment, Suzuki Connect sends an alert to the user's family with the GPS co-ordinates of the car
2. Preventive assistance: In case of vehicle malfunction, Maruti's customer care will contact the owner
3. Tracking: Users will be able to track the location of the vehicle. Also includes geo fencing that alerts the owner when the car goes out of a specified area
4. Driving analysis: Analyses driver behaviour with respect to economy and driving style. Even reads trip details
5. Other alerts: Indicates low fuel, over-speeding and service reminders
6. Vehicle status: Can report status of seat belts, aircon, fuel level & odometer.
The telematics solution is available for both existing and new Nexa customers. Such connected services can be particularly useful in case a car is used by more than one driver. That said, features like driver behaviour report, live vehicle tracking and preventive assistance can come in handy even for those who drive their cars themselves.
Refer to the press release below for more details:
Press Release:
Maruti Suzuki launches 'Suzuki Connect'
An empowering solution – deeply embedded and difficult to tamper
Enhanced vehicle security, vehicle tracking and offers vehicle diagnostics and alerts
Available on Android and iOS platforms for NEXA's existing and new customers
New Delhi, July 24th, 2018: Maruti Suzuki today announced the launch of its advanced telematics solution 'Suzuki Connect' for its NEXA customers. 'Suzuki Connect' aims to enhance user convenience and experience through advanced technology for emergency alerts, vehicle tracking, live vehicle status, and preventive maintenance calls. 'Suzuki Connect' will be available as an option that can be installed by customers in their cars across NEXA network in the country. Once installed and connected with smartphone through the Nexa App, customers can experience its progressive features like emergency alerts, vehicle tracking, driving behaviour analysis, car assistance, driving analytics report amongst a host of other features.
Introducing `Suzuki Connect' to the customers, Mr. R S Kalsi, Senior Executive Director, Marketing & Sales, Maruti Suzuki said, "Suzuki Connect is an advanced telematics solution developed and tested in India to offer seamless connected car experience to car owners. A nationwide extensive study was conducted to understand the challenges that Indian car owners face daily and their expectations from these solutions. 'Suzuki Connect' empowers customers to manage host of services such as emergency alerts, vehicle tracking, driving behaviour analysis, car assistance, and many more functions on their fingertips and create a delightful car ownership experience. Unlike other OBD based telematics solutions available in market, 'Suzuki Connect' is a TCU based solution which is better, safer and more user friendly."
'Suzuki Connect' is developed and rigorously tested in India and extensively incorporates learning from driving behaviour and challenges faced by Indian customers. 'Suzuki Connect' is a step towards development of a comprehensive ecosystem of "Connected Cars".
One of the significant features of 'Suzuki Connect' is that it is `deeply embedded' and is very difficult to tamper. Over 2800 technicians have been trained to install the equipment on cars. While offering a connected ownership experience, 'Suzuki Connect' also provides proactive warnings to car user on vehicle health to ensure seamless experience.
Built on the pillar of technology, 'Suzuki Connect' utilizes a Telematics Control Unit (TCU), which exchanges information through cellular network with a centralised server connected to NEXA customer care, subject to applicable terms and conditions of the NEXA app.
'Suzuki Connect' can be configured to send information up to 5 selected users in case of an emergency.
---
Source: cardekho.com