It was a seismic shift when Ducati announced that they would no longer be employing a L-twin engine but a V4 motor for their next big sportsbike, something similar to their Italian cousins, Aprilia. What it resulted in was the Panigale V4, a motorcycle that has garnered rave reviews around the world. With Panigale V4 becoming a huge success for the company, Ducati is seriously considering using the 1103cc V4 engine for its other motorcycles as well.
In a recent interview with MCN, Ducati boss Claudio Domenicali has hinted at the possibility of Ducati using the same architecture, if not the same motor, for other segments. He has confirmed that there will be 29 new models over the course of the next five years, with existing models receiving updates along the way. But he has also stated that the V4 platform has allowed them to enter unchartered territories and will help them set up motorcycles that were until now missing from the Ducati lineup.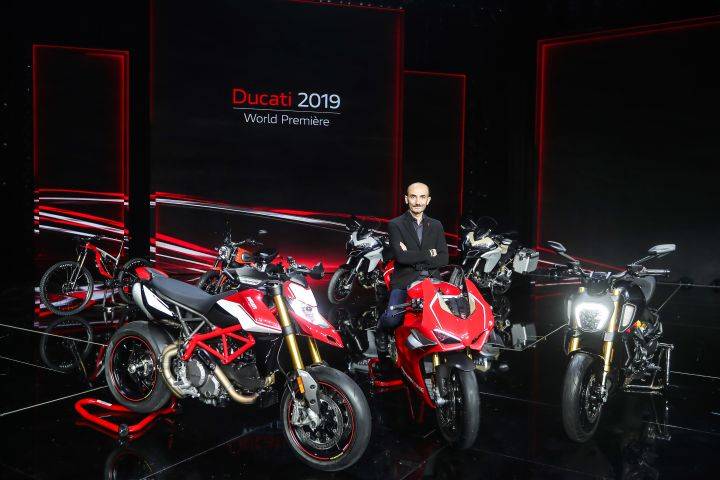 The best guess would be a big naked motorcycle which has been missing from the Ducati brand for quite some time. A naked bike powered by the 1103cc V4 engine does sound tasty, but it's highly unlikely that it will appear with the same state of tune as the Panigale V4, which makes 211bhp in its base tune. This will be followed up by touring (perhaps a larger SuperSport) and adventure (an even larger Multistrada?) models. Or Ducati could follow in the footsteps of Aprilia and Norton who have showcased new 600cc concepts that use only half the cylinders of their larger litre-class counterparts.
Recently, Ducati unveiled the Panigale V4 R with a smaller yet more powerful 998cc engine to allow it to compete in WSBK (Superbike World Championship). Domenicali has stated that the new motorcycle has caused quite a stir amongst enthusiasts even though it was developed alongside the road-spec motor in the first place.
In the interview with MCN, he said, "It was a difficult exercise already with the reduced capacity to keep the same horsepower but the engine then responded quite strongly to the improvements that we made, so that by the end we found a bit more (power) than we expected. In many ways it is the most advanced bike we have ever developed."
---
Source: zigwheels.com