Now you see them...
The ripples from Narendra Modi's Reuters interview that made national and international news are still being felt in Mumbai. Now that he is the campaign chief and a BJP's PM candidate, local leaders have rushed to express their support to the Gujarat strong man. Soon after the interview in which Modi proclaimed that he was a Hindu nationalist, BJP MLC Ashish Shelar put up huge hoardings in and around Bandra and Mahim with Modi's picture and the quote (complete with the missing 'a'). However, as the commentariat reacted loudly to what was seen as a return to the Hindutva agenda, some of those hoardings have now been removed. Perhaps the fact that LK Advani and Modi saga is far from over, and the karyakartas do not yet know the party line with any clarity, it is making the younger leaders confused and turning them into fence sitters?

Like Uncle...
The Thackerays, one thought, are anything but fence sitters. After all, Bal Thackeray left a long legacy of serving his opinion straight up. Remember how he supported Pratibha Patil for President over BJP's nominee Bhairon Singh Shekhawat? After Bal, it seemed it was Uddhav's turn to indulge in some plainspeak recently. A Saamna editorial had criticised Modi's PR agency, but later Uddhav clarified that it wasn't against Modi. Later, they met and posed for pictures. In Delhi, instead of openly welcoming Modi, Uddhav said the country needed a strong government and a "dependable face" as its leader, but no such could be seen. Soon there after, he clarified saying he was misquoted and that he meant there was no Congress or UPA leader in sight. While Uddhav is busy talking and retracting, his cousin Raj, more like uncle, has gone ahead and declared his support for the policemen who were convicted in the fake encounter case. Not bowed down by their conviction, Raj has criticised the government saying it could not have been done without higher up orders, and is in no mood to retract. Like father or like uncle?

The Tolerant Lot...
Freedom of speech and expression, anyone? Our politicians waste no time in criticising their opponents. But when owner of a central Mumbai restaurant decided to take on the UPA government's policy on service tax with a rather mild swipe on its bill, it was not too well received by Congress workers who kicked up quite a row. All that he bill at Aditi restaurant opposite the busy KEM hospital mentioned was, "As per UPA govt eating money (2G, Coal, CWG scam) is a necessity & eating food in an AC restaurant is a luxury."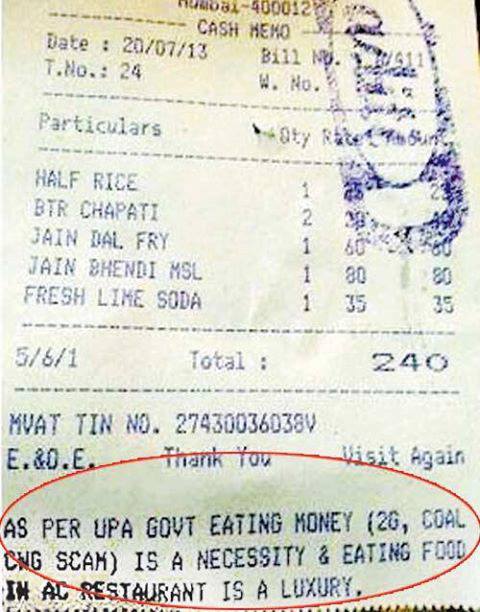 With the protests threatening to get ugly, the owner agreed to take off the message amid reports that the Congress workers are going to press for action against what they call illegal extensions of the restaurant. And, of course, the man renowned for his tolerance — Narendra Modi — jumped in to bemoan the "Height of Intolerance!" in a tweet, with the above picture, of course.
Raingods, Help!
CM Prithviraj Chavan was at Pandharpur to perform the annual ritual puja at last Friday on the auspicious occasion of Ashadhi Ekadashi, which marked the end of a two-week long pilgrimage. While speaking to the media Mr Chavan said he had prayed to Lord Vithhal for a good monsoon considering the state was reeling under the worst drought in 40 years. He also prayed for good rains. Now that we are in perpetual flood-like situation in Mumbai, Vidarbha and other parts of the state, we know his prayers have been more than answered. Perhaps what we need now is to pray for avoiding floods and to save whatever little is left of the potholed Mumbai roads.

Chew On It!
Last year the state government created quite a stir by banning sale of gutkha and paan masala in Maharashtra. Now, despite strong opposition from the Gutkha manufacturers, the state government has extended the ban for another year. Not just that, the department of Food and Drug Administration (FDA) has clarified that the ban appplies to sale of tobacco and betel nut which is "either flavoured, scented or mixed with any of the said additives, and whether going by the name or form of gutka, paan masala, flavoured / scented tobacco, flavoured / scented supari, kharra (also known as mawa, it is a mixture of tobacco and betel nut)". Basically, what it means is that "Except raw tobacco and raw supari, all other tobacco products will be banned." But kimam and zarda used in paan have not been banned, and the government plans to conduct a 'sensitisation programme' for these as well.
Bhag Milkha, Aur Bhag
Much has been said about Farhan Akhtar's superlative Milkha act in Bhaag Milkha Bhaag (lauded by the legendary athlete himself), directed by Rakyesh Omprakash Mehra. Whatever the critics may say about the melodramatic and yet very watchable movie, the state government has decided to give tax exemption to the film to promote sporting culture and popularise Milkha Singh's struggle and achievements. The movie will be tax free for six months in Maharashtra and is expected get a fresh run, two weeks after its release.
Historic Hug
The fans were wondering if they will ever hear this piece of news in their lifetime. But it happened. At long last. At Congress leader Baba Siddique's iftar party, Salman Khan and Shahrukh Khan finally hugged each other after what seems like a long span of silence and avoiding each other. After a nasty fight at Katrina Kaif's birthday bash in 2008, the best of friends swore off each other. Shahrukh even tweeted happily, "Finally u realize turning the page is the best feeling in the world, becos there is so much more to the book than the page u were stuck on." So true. And perhaps all well in time with a Mumbai court today framing charges against Salman, including under harsh provisions relating to culpable homicide, in the 2002 hit-and-run case for which he may face a jail term of up to 10 years.