Continuing Collapse
Not less than 60 people lost their lives in yet another building collapse in Mazgaon, Mumbai. This time it was a BMC building itself. The rescue operations went on for two days and more than 30 were brought out of the rubble alive. Seven civic officials have been suspended and the culprit, this time too, may be illegal alterations on the ground floor and/or delay in repairs. Officials had already declared this building unsafe but then, when has that stopped anyone from living dangerously? One of the victims was Yogesh Pawar, a journalist with Sakaal newspaper, who lived here with his father leaving the rest of the family back home in Konkan. With lethargic administration and helpless residents who have nowhere better to go to, one wonders of the 19000 plus cessed buildings in the city how many will have to come down like a pack of cards before we see some semblance of a solution?
Crying Wolf?
After Afzal Usmani, an alleged Indian Mujahidin terrorist escaped on his way to court from jail, police, lawyers and media are now extra-diligent. During the hearing of Shakti Mills gang rape case, some misunderstanding about absence of one of the accused Siraj Khan created quite a furore. Unsure about his absence, a rumour that he had escaped cops, spread like wild fire—or, more like, went viral. However, the jail superintendent soon clarified that the accused never stepped out of custody because of lack of police escort. All the dust was settled after television had run the story for half a day. More importantly, the court has set a tentative two-month deadline for concluding the case. After fast-t rack hearing of the Delhi gang rape case, in all likelihood, this case too should conclude sooner than later.
Delayed Until Further Notice
Much like many other projects in the state, the flagship Navi Mumbai airport project too has hit a roadblock. Owing to unviable cost escalation— due to delays and dollar-rupee mess— reports of "scrapping" emerged in the media. Within days the officials seem to have taken a U-turn and have now insisted that the project will be executed despite the increased cost. The project is stuck at land acquisition stage and by the time it actually takes off— if it does—the cost of a world class international airport will also be world class. In the meanwhile, four more Special Economic Zones may be withdrawn from Maharashtra as promoters no longer find it viable. It is hard to tell if these now-unsustainable projects were always a bad idea and if the downturn is a blessing in disguise or they were much-needed boost for rural economies and deprived citizens of the other India. I know not.
Conservative Foodies
While Shiv Sena may have always played the conservative card with regard to western dressing, culture, Valentine's Day etc, young Aditya Thackeray may just be breaking away from the trend. He wants special eateries that stay open for 24 hours in Mumbai, a city that never sleeps. He felt the need for people to be able to eat well and enjoy after work hours. However, there is no mention of alcohol. With Shiv Sena in power in the civic body, the proposal to have eateries, medical stores, milk centres may not meet opposition as such— but where will we find the place to set up such shops? No harm in indulging in some good pao bhaji and chicken bhuna rolls at 2 am at a restaurant instead of cart-like stalls, no? Anyway since we are the second most honest city in the world, security and safety should not be a problem. You may get your wallet back, but don't know about your precious life if you're attacked.
Rest In Peace
Veteran Marathi writer S.N. Navre, popularly known as Shanna (his Marathi initials) passed away at his residence after a brief illness. He was 86. Navre wrote extensively— novels, short stories, scripts and plays for years together. His writing was marked with a characteristic sensitivity exploring love and human relationships. He lived in Dombivli, a far suburb in Thane, becoming not only the pride of the cultural hub for all things Marathi but also synonymous with the place. His well-known scripts include Kalat nakalat (Knowingly-Unknowingly), Savat majhi ladki (Mistress is Dear to Me), Nivdunga (Cactus). Even as we mourn the demise of a veteran writer, another piece of bad news has just come in. Rajiv Patil, director of national award making films such as Jogwa and Pangira died of a cardiac arrest. Barely in his forties, his death is truly shocking and a great loss.
More the Metro-er
The state government has just announced that Pune too will get the famous metro. Despite being shadowed by Mumbai, Pune has grown enormously in the past few years, especially with regard to IT industry, car manufacturing zones and so on. However, infrastructure has always been a problem with citizens required to have their own vehicles— mostly two wheelers. (You will see many girls riding their bikes with head and face covered fully—a trademark Pune rider) No doubt the city will benefit greatly from it. Just one question, when will the long pending metro start chugging in Mumbai?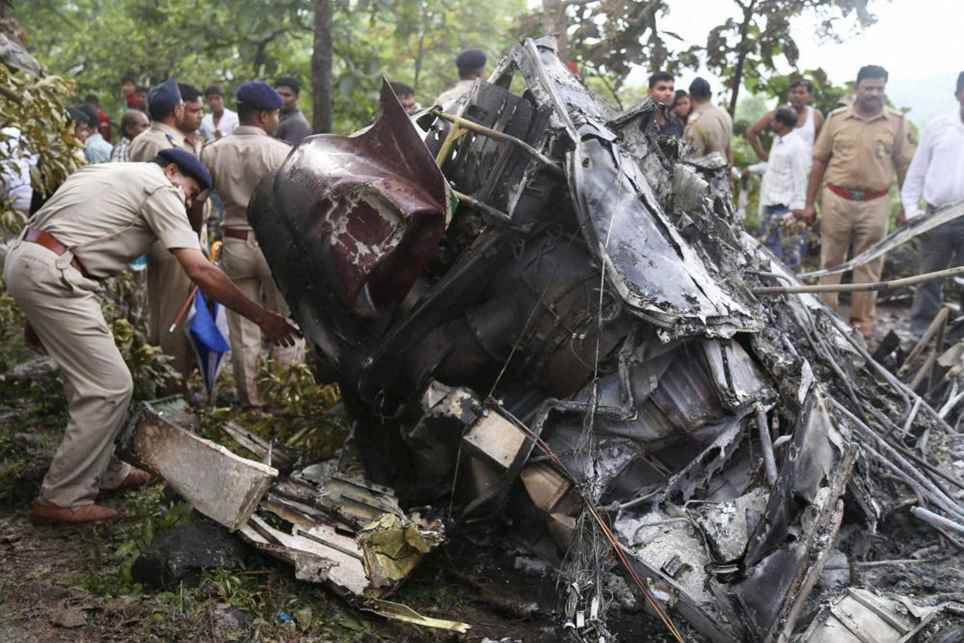 Chopper Crash
Five persons including pilot and co-pilot of a chopper died in a crash outside Mumbai. It was a private helicopter manned by senior pilot. Weather and technical snag may have led to the crash in Murbad. It is unlikely that anyone may suspect foul play and seems to be an unfortunate accident in the rough weather of passing monsoon. Enquiries will follow, of course.