Mumbai chapter Of national events
For every recent national headline-making news, we have had a local episode. Take the case of fake degree certificate case of Jitender Tomar, causing much heartburn to Arvind Kejriwal. In Maharashtra two ministers — Babanrao Lonikar and Vinod Tawde had much to answer when Congress, now the aggressive opposition party, raised the issue of their affidavits submitted before elections. And while Sushma Swaraj and Vasundhar Raje Lalit Modi controversy raged in the capital, our police commissioner Rakesh Maria, known for investigations into 1993 blasts and 26/11 attacks, had to explain his meeting with Lalit Modi, the pictures of which were in the media. He had apparently informed the then home minister RR Patil, who is now no more.
However, former CM Prithviraj Chavan has stated to the media that he was not informed of the said meeting. Current CM Devendra Fadnavis has however declared on Twitter that he is "prima facie satisfied" with the explanation given by Rakesh Maria about his meeting with Modi. He has asked ACB to look into some more issues. And just when IITs settled their students' freedom of speech issue, Film and Television Institute of India students took to streets to oppose appointment of Gajendra Chouhan as the new director. Said to be a BJP appointee with little cinematic credentials, except playing Yudhishtir in BR Chopra's famous serial Mahabharata, Chouhan is finding hard to justify his appointment as the head of country's premier film institute. And while you are at it, watch this beautiful short film on monsoons in Sahyadris by FTII students of 2009 batch. ??
It is raining troubles
Just a week after we gladly announced the arrival of monsoons in Amchi Mumbai, we have a??lready received record rainfall in the wettest June. And of course the record will allow authorities to explain a record number of pot holes, tree falling incidents and water-logging at all the possible known low lying areas in the city. The state already declared a two-day holiday last week owing to heavy rains and possibility of high tides. The infamous Mithi River is treacherously close to its danger mark and another 48-hour spell with high tide would spell doom. Suburban trains have stopped more and run less. Record number of people taking to the roads caused traffic snarls of another level. If Mumbai comes to a standstill, the ripple effect was felt outside too with several long distance trains having to cut short their journey. At least four to five people have died in different incidents of landslides and electrocution. The Mumbai-Pune Expressway was shut for hours due to a landslide. ? ?
The rains may have halted several plans over the past three- four days including special screenings of the latest movies but it could not dampen two things. The usual revelry at all sea fronts — Gateway of India, Marine Drive, Worli Sea Face, Band Stand, Carter Road, Juhu Beach... And Yoga Day, which outshone all other records. According to BMC schools data, more than 18,000 students and 11,000 teachers and staff participated. Not to mention everyone else. The images of people performing yoga with umbrellas in their hands would last us a long time. Now that is a new asana —chatri asana, to be performed for perfect balance of hot and cool quotient! ?
Hooch tragedy
Perhaps it was a tragedy waiting to happen. More than 100 people from Malvani area of Mumbai have died after drinking spurious liquor. What started as a minor incident last week with 10-15 people admitted to local hospital, turned out to be a case of blatant violations at all levels of law and order. The victims, poor people who work as labourers in the nearby areas, consumed local brew which had large quantities of methanol. The chemical, police sources say, made its way to several illegal local breweries through a well-oiled network of mafia, bootleggers all the way from neighbouring Gujarat. The state has declared compensation for the victims, resulting in an unexpected debate over whether the victims of consumption of illegal alcohol deserve compensation. Few police officers have been suspended and the alleged kingpin has been arrested in New Delhi. Last time a hooch tragedy of this magnitude happened was a decade ago in 2004 when 87 people had died in Mumbai. ?
How disproportionate is Bhujbal's empire
It was anticipated that NCP supporting BJP after the state assembly elections, would lead to some cushioning of the NCP leaders who were embroiled in controversies. Turns out, not really. The Enforcement Directorate registered two cases against former PWD Minister ?? Chagan Bhujbal under the Prevention of Money Laundering Act and searched at least 16 premises related to the minister, his friends or colleagues. The illegal transactions, to the tune of Rs 900 crore reportedly, pertain to two major cases — the well-documented Maharashtra Sadan Scam and lesser known allotment of land in Kalina in Mumbai comprise one case. Then there is investigation into a housing project at Navi Mumbai. Reports also suggest further investigation into some redevelopment projects in Bandra. While rumours about his estate and wealth in his hometown Nashik are routine, now the murmurs are about how the senior-most party leaders aren't standing by the Bhujbal family. Any attempt at making this sound like vendetta from BJP has been taken with bagful of salt by the media. But the million dollar question is — will it reach its logical end? ?
Flood of Fire and Amir Khan
Trust Mumbai to give a filmy twist to almost any happening. Fabulous writer Amitav Ghosh has done many book launches and readings for his latest in the Ibis Trilogy, Flood of Fire. Last week at a packed and overflowing house at the National Gallery of Modern Art, Ghosh read some engaging passages from the book. Then the lovely Shobha De interviewed him not only about the book but also his politics, how he writes and everything that we wanted to know about him. Seated in the audience, among other prominent people like Chetan Bhagat, was Amir Khan. And at one point Ghosh declared that it was Amir Khan's praise for the earlier works that had kept him going when he was down and low. "Wing beneath his wings," he said and the audience applauded for the "careful reader," that Amir is. Then De and Ghosh even discussed what part Amir would play if the book was made into a film. However, much as everyone would love to see the books made into a film, Ghosh did a reality check and said that it would be nearly impossible for any filmmaker (and there have been a few enquiries) to pool in enough resources to recreate the opium wars through three parts. And Ghosh wouldn't like one of the three to be made. It is all or none. Sigh. But yes, now I have his autograph! #Justsaying. ?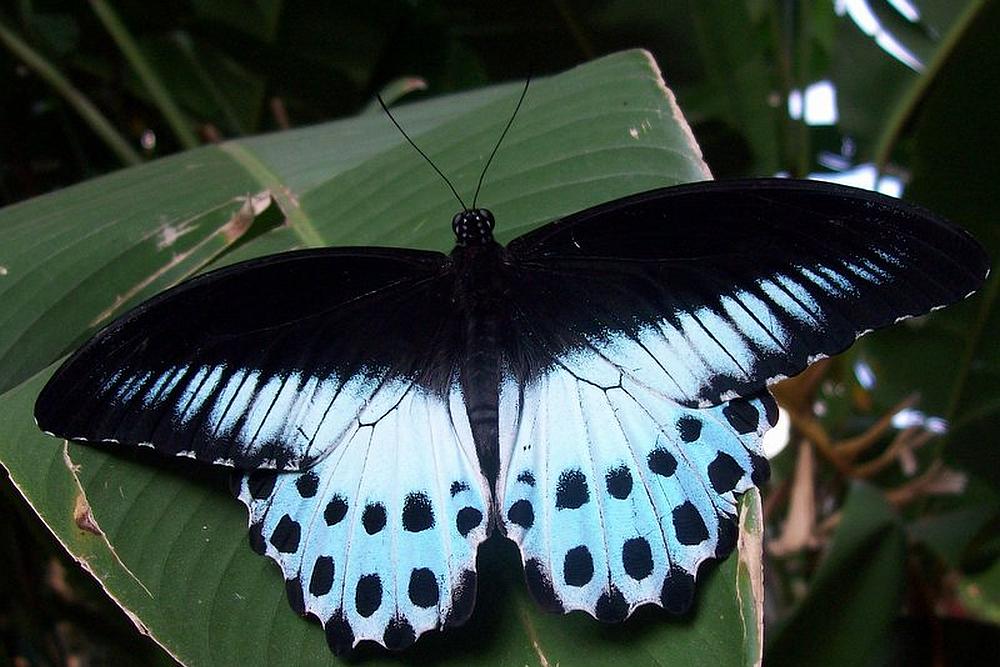 State butterfly
Maharashtra may have many other firsts. But this one is pretty cool. On Monday, the state government approved Blue Mormon to be the "state butterfly" thus becoming the first state in the country to have a state butterfly, "because the species is neglected". Other states (and so does Maharashtra) have a state animal, state bird etc but to give the status, hence mandating protection of that species, for an insect is a new and a welcome development. The Blue Mormon (Papilio polymnestor) is a large, swallowtail butterfly found the Western Ghats of Maharashtra, South India and coastal belts. The large butterfly with striking looks of black, pale blue and dots is not endangered and is commonly seen during or after the monsoons. Time to sign up for one of those butterfly spotting nature trails by BNHS.