Fit for demolition
Aaditya Thackeray, head of Yuva Sena, is a big fan of fitness and more importantly fitness for all. He enthusiastically inaugurated the open air gym, two of them in fact, owned by Dino Morea, on Marine Drive promenade in presence of other celebrities such as Jaqueline Fernandes. There have been a few now, including one at Shivaji Park, Dadar. The very next day, the ward officer in that area had it razed because "it didn't have required permissions." Within hours of media and social media going tizzy over the development, junior Thackeray tweeted saying the ward officer was not aware that all the permissions were in fact in place and she has apologised. The BMC, ironically governed by the Shiv Sena, erected it again within hours showing enviable efficiency. Only if they would mend the potholes on EVERY road of the city with the same swiftness.
Fields of despair
It is raining suicides. After a stormy start to the monsoons, the rains have disappeared altogether leaving the farmers from Vidarbha, Marathwada and even Konkan, high and dry and worried. According to reports Maharashtra has already crossed more than 1000 farmers' suicides in the first six months of the year. Hailstorms and unseasonal rains hit them hard in the first quarter and now since the rains have dried up farmers are looking at the expensive and bleak possibility of having to sow again. In the meanwhile, Chief Minister Devendra Fadnavis has made it clear that a complete loan waiver is not an option because of the burden it puts on the state budget. Congress is of course up in arms against this decision. There are chances of waiving the interest on farm loans. However, farmers say getting a fresh round of crop loan for re-sowing from nationalised banks is an impossible task and the vicious cycle of private money lending, high interest, poor recovery and the inevitable losses and despair are inescapable, yet again.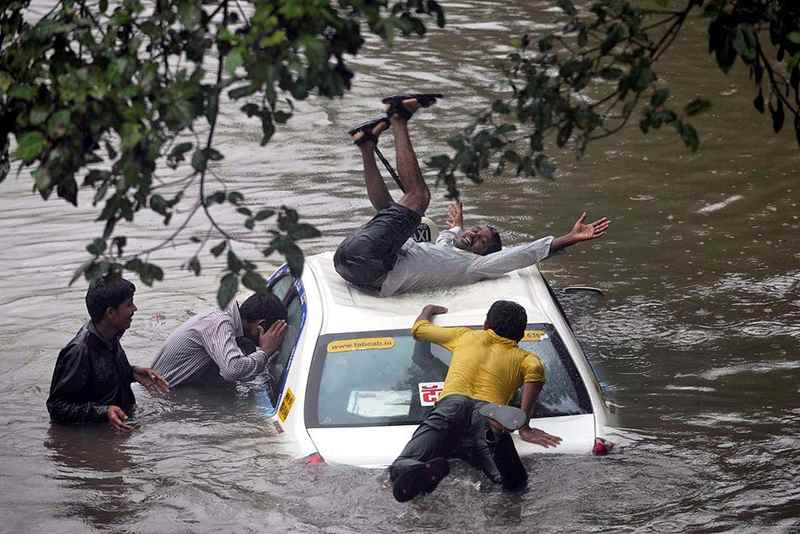 Other Monsoon Maladies
It has been couple of years since Mumbai's civic body sort of won the battle against Malaria (of course it continues but deaths have reduced substantially). However, since then it has been a bleak situation — be it Dengue, TB, Swine Flu and the latest entrant Leptospirosis, which we assumed had appeared and disappeared after a bout during the floods of 2005. In the past month death toll to the deadly disease has reached 16 with 12 of the patients succumbing to the infection in a week. Discussions and reports about how other states such as Andamans have coped with the deadly disease, spread by rodents mostly. And even as we thought that swine flu was under control with rising temperatures, of the 75 cases registered this month so far, four have succumbed to the virus, which seems to be adapting to changing temperatures. While researchers continue to work on the nature of mutations of the virus, the civic body is busy fumigating residential areas for mosquitoes, issuing instructions to not ignore any symptoms as people continue to wade through dirty water and puddles to go from anywhere to anywhere.
Journalists at risk
Even as hundreds of journalists are getting killed the world over for reporting conflicts, corruption and shady deals of governments, here in Mumbai a journo was murdered for allegedly standing by his colleagues who were beaten up mercilessly for covering a police raid on a bar. Raghvendra Dubey, a Mira Road based journalist, who worked for a local weekly magazine, was found dead after he left from the police station where he was called regarding the attack on his colleagues, Santosh Mishra and Shashi Sharma. Mishra was shifted to JJ Hospital as his condition suddenly became critical. "This is shocking. This incident comes a day after journalists were abused and manhandled at Santacruz in Mumbai here when they were covering a cylinder blast. We want the chief minister, who also holds the home portfolio, to look into the frequent attack on journalists and once again we reiterate the demand for making attack on journalist non-bailable and cognizable. This is a serious issue and the government's attention is warranted," says the statement issued by the Mumbai Press Club.
Shhh, festival is in session
The Ganesh festival is still a couple of months away but the build-up has started and how. Following a public interest litigation filed in the Bombay High Court by Dr Mahesh Bedekar over noise pollution during celebration of festivals such as Ganesh Chaturthi, Nav Ratri the Shiv Sena has reacted sharply. While the court had noted that illegal platforms cannot be erected in crowded areas and that citizens' right to silence must be safeguarded, Sena chief Uddhav Thackeray lamented that "our own people" were against celebrations. As expected the comparisons between those offering namaz on the streets and the pandals for Ganesh festival or Nav ratri were drawn with a pungent remark, "should we now go to Pakistan to celebrate Ganesh Festival?" He also assured the "Mandals," cultural outfits that organise the festival every year, with great pomp and pleasure that no matter what the complainant or courts say, the festival, heavily funded by political parties, will not be scaled down. And it is only the beginning of the festive season.
More festive
On a really festive note, the Kumbh Mela at Nashik and Trimbakeshwar has started with great fanfare and the administration is busy making preparations for the three big days next month when lakhs of people are expected to take the holy dip. And the city celebrated Eid ul Fitr that fell on Friday and Saturday making the weekend replete with delicious excesses as Mohammad Ali road witnessed thousands of people taking a different kind of dip — in the khana khazana.