The letter wars
India Today TV anchor Rajdeep Sardesai has a long association with Mumbai, right from his school days. His father, test cricketer Dilip Sardesai played for Bombay and lived there, so he feels especially strongly about the city, and the state. It would explain his recent attack on Maharashtra Chief Minister Devendra Fadnavis through his weekly column in the Hindustan Times written in the form of a letter to the CM. In it, he urged Fadnavis to focus on the drought-like situation in Maharashtra and the farmers' plight rather than what was on people's plates, referring to the beef ban and temporary meat ban. He also brought up the issue of "lost in translation" with regard to the sedition circular brought out by the government on the Bombay High Court order, and ended with a criticism of former Police Commissioner Rakesh Maria's promotion cum transfer. Newspapers are obliged to print rejoinders so Fadnavis responded with his open letter, also published by the same paper in the same space. Calling Rajdeep a "senior" journalist, and one with a leftist agenda, Fadnavis sought to clarify that meat bans were in place even during the Congress-NCP regime and the problems faced by farmers in the state were an inheritance of the same state government that had ruled for 15 years. He then did some self-promotion by writing about his water management initiative, and claimed that the results are already being seen in rural Maharashtra. Anchors always have the right of response so Sardesai replied to the reply, this time on his website, questioning his criticism as being branded as a leftist agenda. Watch this space.
Hypnotic Performance
The Sanatan Sanstha held a bizarre press conference to counter the bad press it has received after the arrest of Samir Gaikwad, a member of Sanatan Sanstha, for his alleged involvement in the murder of rationalist Govind Pansare's in Kolhapur. The organisation became front page news after attacks on other rationalists, with several reports detailing the organisation's alleged military/self-defence training, hypnosis therapies and possible involvement in several crimes. At the press conference in Mumbai, its spokesperson Abhay Vartak, went into a detailed explanation of how it is impossible to get any person, let alone a "sadhak" (follower), to commit a crime such as a bomb blast under hypnotic influence. The conference started after a prayer to Lord Krishna. There were heated exchanges on the cases filed against the organisation by families of followers who refused to come back/were not allowed to return, about the self-defence classes and their stance on rationalists. What was not discussed is the security threat to journalist Nikhil Wagle, allegedly by the same outfit, and his refusal to accept security cover by the police.
Pardon me?
Sanjay Dutt, who is serving a five year jail term at Yerawada in Pune, always manages to be home for any occasion — happy, sad and anything in between. Despite the criticism of getting VIP treatment when it comes to the parole itself — apparently he has spent more than 100 days out of the prison since his jail term began — there were reports of Dutt applying for pardon to the governor Vidyasagar Rao who is said to have rejected it. However, the application for pardon, as pointed out by his lawyers, was not filed by Dutt himself, but by former SC judge Markandey Katju suo motu. Katju reportedly urged the governor to grant pardon to some of the convicts of the 1993 blasts case including Zaibunissa Qazi and Dutt. In his latest taste of freedom and home cooked food, Dutt was back in Mumbai for his daughter's health related problems. Going by past record, he could well be home for Dussehra, Diwali and the New Year.
No end in sight
Hope floated for the FTII students who called off their prolonged hunger strike after they were promised a meeting with the government. The meeting was inconclusive and another round was fixed, so it was back to square one. The strike continues and the students spoke of being tired but motivated enough to not give up after their 110 day protest. They said the discussions were "positive" and expressed hope for a solution by the time the next round of meetings is over. Despite support pouring in from all over including by Noam Chomsky, the government shows no inclination to remove Gajendra Chouhan or the other society members who have been appointed with little qualification excepting their RSS links.
Out of reach
A recent report published by JLL India says that 69% of unsold flats in Mumbai are priced at Rs 1 crore or over, implying that decent accommodation for the middle class and lower middle class will remain out of their reach for some time to come. The same note reveals that the average annual income of a Mumbaikar is Rs 7.5 lakh, which means he/she will need to save for more than a decade to be able to acquire a Rs 1 crore apartment, presuming there are no other financial obligations. For a house that costs more than Rs 2 Crore, and there are many, an average Mumbai resident will need to slog and save for 27 years! There have been no new launches offering a house under Rs 30 lakh and only about 3 % between the range of Rs 30 lakh and 65 lakh. Rate cut or no rate cut, a house in Mumbai is set to remain a dream for most.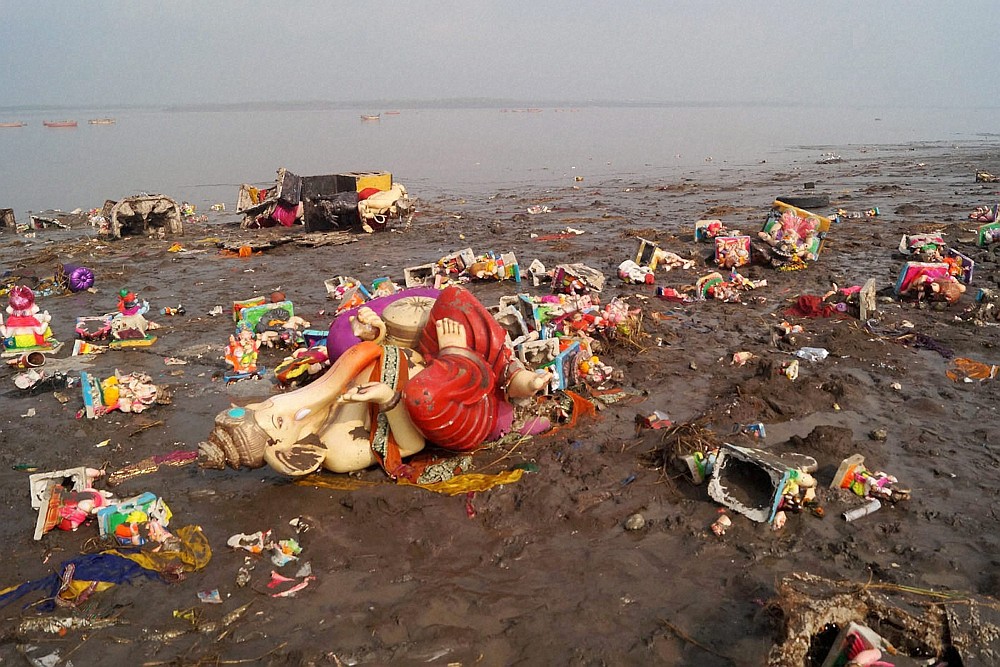 Bye with a bang
I may be wrong but ever since Ganpati Visarjan has started featuring in cutting edge Bollywood movies and has also acquired wish-fulfilling qualities, the festival has become something else altogether. This year, more than 2 lakh idols were immersed, private and public, with elaborate celebrations such as modern DJs, and traditional Dhol, Tasha and Jhanj. Unbelievable traffic jams and serpentine queues outside the main pandals such as the Lalbaug cha Raja are routine, but this time we had police constables allegedly hitting a girl who was trying to cut the VIP line, noise levels going above permissible levels in all areas including silent zones and the mounds of garbage on the beaches the following day. Activists and citizens groups are up in arms. On the up side, I saw many more north Indians in the processions as participants as well as spectators. Now if the festival was indeed bringing the Marathi manoos and the Bhaiyya together, it would be worth the inconvenience. The signs are there. In our housing society, we had a Ganesh Pandal and Bakri Eid celebrations together. Ganpati Mubarak ho Bhai!