It's that time of the year. Time to take a break from the humdrum office routine, escape your maid's cooking, the power and water woes. Nothing like a road trip to beat those summer blues. Here's something to keep you company on your journey to happiness. A list of 15 songs from Hindi films to hum along. Each one is a gem, loving crafted and picturized, and beautifully sung. Joie de vivre' on wheels.

1. Yeh dil na hota bechara (Jewel Thief, 1967)

Out of the holy trinity of Indian cinema, it was city slicker Dev Anand who had the most peppy songs picturised on him on the road. Tragedy king Dilip Kumar and loveable tramp Raj Kapoor's screen personas wouldn't allow such indulgences. In this song, nymphet Tanuja is behind the wheel of a Chevrolet Bel Air convertible. Charming wayfarer Dev Anand blocks her way, forcing her to drive slowly on a narrow road in the country side. The "parp" (sound of the horn) at the end of each stanza adds zest! One of Kishore Kumar's most popular songs. Burmanda at his playful best.
2. Mere sapnon ki rani (Aradhana, 1969)

The song and the film that launched Rajesh Khanna's career. He of the fur cap, the tilt of the head and the shy smile fame. The film that also saw Kishore Kumar's career as a singer soar. Shakti Samanta's pioneering ploy of showing the hero in a jeep (a Willys left hand drive) driving alongside a train worked and how! One really didn't care if the portions with Sharmila Tagore sitting in a train were shot in a studio. The chug of the train, the peppy music by S D Burman (assisted by RD Burman), a coy Sharmila Tagore pretending not to notice her suitor, the shots of the heritage Darjeeling Railway bogies winding their way around the scenic tea gardens, make this one truly special. Serenade ho to aisa.
3. Yaaron nilaam karo susti (PremPujari, 1970)

The espionage drama Prem Pujari, written, produced and directed by Dev Anand, had one of the best soundtracks by Sachin Dev Burman. Whether it is "Shokhiyon main ghola jaye", or "Rangeela Re", or "Phoolon kay rang se", each song has been beautifully written and composed, and remains at the top of most music compilations of the 1970s. Dev Anand and Anup Kumar are shown singing this song in a jeep (also a left-handed jeep, probably a Willys) to an inscrutable stranger, Zaheeda. The song has been beautifully picturised in the hills of West Bengal, particularly Kalimpong, and ends ostensibly at the Indo-China border where the hero's adventures begin. The film was also shot at Himachal Pradesh, Khem Karan, Punjab, and at several stunning locations across Europe, including London, Paris and Switzerland.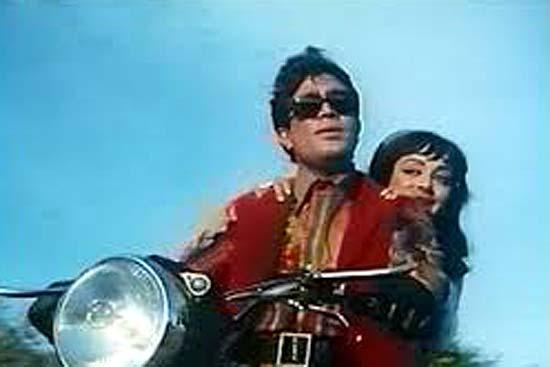 4. Zindagi ik safar hai suhana (Andaz, 1971)

The Superstar. The Dreamgirl And the Bike. Director Ramesh Sippy's debut film had lead stars Shammi Kapoor and Hema Malini cast as two lonely single parents looking for love. Superstar Rajesh Khanna appears in the flashback song sequence to remind Hema Malini of their joyful past. The lyrics by Hasrat Jaipuri remind you that life is for living; there is no time for regrets. So hit the road and enjoy it while you can.
5. Musafir hoon yaaron (Parichay, 1972)

One of the many wondrous results of the collaboration between the inimitable duo: Gulzar and RD Burman, this song features Jeetendra as the young, itinerant teacher who doesn't know where he is headed in a tonga, but is happy to enjoy the journey, rather than fret over the destination. Gulzar Sahab's powerful lyrics remind you that life is but a journey, and that whenever you come at the crossroads, all that you need to do is to follow your heart.
6. Chala jaata hoon, kissi ki dhun main (Mere Jeevan Saathi, 1972)

Aah, the Rajesh Khanna-RDBurman-Kishore Kumar magic strikes again! The hero, on his way to meet his beloved, driving a yellow Chevrolet Impala convertible with nary a care in the world, on a scenic route somewhere in the Western Ghats. Kishore Kumar yodeling as only he can makes you want to do the drive uphill again and again, to savour the delights that await you at the end.
7. Title Track (Sholay, 1974)
It speaks volumes for the genius of RD Burman, that the title track of Sholay (as most of his music) retains its freshness even four decades after the release of the film. There must have been many a moment in our lives when we were are on a dusty road and at first a train track, and then a goods train suddenly looms up large in the horizon. And it all comes back to you. Thakur Baldev Singh on duty, dacoits trying to loot the goods train, Jai and Veeru saving the Thakur. Cinema at its most enjoyable. Surely this track is best enjoyed on the road.
8. Ik raasta hai zindagi (Kala Patthar,1979)

Immortal lyrics by Sahir Ludhianvi, picturised on the handsome Shashi Kapoor, who is on his way to starting a new job and a new life and sung perfectly by Kishore Kumar. The traveller, like in "Musafir hoon yaron", must continue his journey, no matter what the distractions. Life must go on.
9. Deewana, dil deewana (Kabhi Haan, Kabhi Naa,1993)
One of most endearing performances of Shahrukh Khan's career. Kundan Shah directed SRK in this film. Some great tracks by Jatin-Lalit, who were widely acknowledged for bringing melody back to Hindi cinema with Qayamat Say Qayamat Tak(1988). Of course the late Majrooh Sultanpuri breathed life into those songs as well. This song has SRK and his rival Deepak Tijori, racing, on a mobike and a car respectively, on their way to the train station to pick up the common love of their lives Kavita Krishnamoorthi. Young and innocent love in Hindi films. Sigh! Udit Narayan and Amit Kumar at the peak of their careers. Sigh! Lush green Goa , before the construction boom. Deep sigh!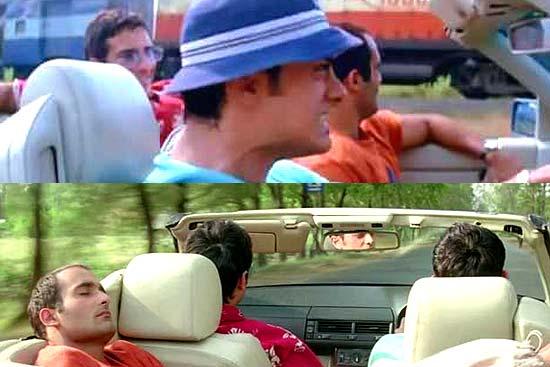 10. Dil chahta hai (Dil Chahta Hai, 2001)

Farhan Akhtar's superb debut became a cult film for my generation. A film which established Aamir Khan's position as the superstar who was willing to take risks, resurrected the career of Saif Ali Khan and gave Akshay Khanna a new lease of life. When Aamir and friends took out his Mercedes Benz 300SL and set out on a drive from Bombay to Goa, with one action they liberated an entire generation which was fed up of watching unreal people lead unreal lives on the big screen. Some excellent music by the sound masters Shankar Ehsan Loy, who, true to form, used some Australian aboriginal instruments to impart a unique sound to another song from the film "Jaane kyun log pyar karte hain". The title song (all lyrics by Javed Akhtar) made Hindi lyrics cool. Who else but Akhtar Sahab could translate "shimmering summer sun " as "chamkeele din".
11. O humdum suniyo re (Saathiya, 2002)

Saathiya is one of my favourite A.R.Rahman albums. Each song is memorable. The unique lyrics by Gulzar go perfectly with the melodies of Rahman, whether it is the title track sung by Sonu Nigam, or "Chupke se" sung beautifully by Sadhana Sargam, or "Chhalka, Chhalka rey",or "Aye udiudiudi". The song "O Humdum", which plays while the credits roll out, gives a perfect entry to fresh faced debutant Vivek Oberoi. The young man feeling groovy on a bike, on his way to kiss and make up with the love of his life, played by Rani Mukherjee. The pulsating rhythm is perfect for the road.
12. Yun hi chalachal (Swades,2004 )

Pardesi Shahrukh Khan comes to India to seek a missing piece of his soul. The tone of the film is set from the start when SRK sets out on a journey in the RV that he rents in search of the village where his childhood nanny now lives. Rahman gives a perfect vehicle to Kailash Kher. Kher rises to the occasion superbly, giving able support to Udit Narayan. Shahrukh charms the young and the old alike with this song. Javed Akhtar's fabulous lyrics are the icing on the cake.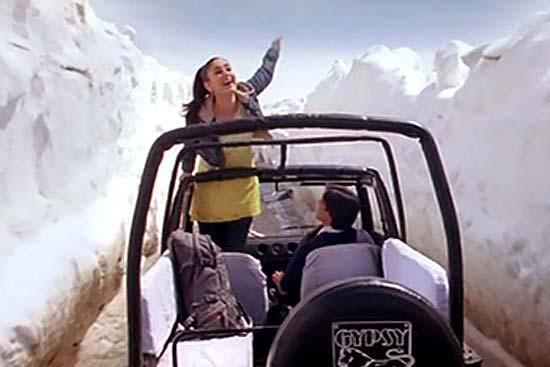 13. Aao meelon chalein (Jab We Met, 2007)
Shaan delivers a superb number for Shahid Kapoor. The song is made special by the chemistry between its lead actors, Shahid and Kareena. The actors traverse the route between Bombay and Bhatinda, meandering through Rajasthan. The picturisation is fresh , the song, catchy. Who cares about geography when you have such good company? The destination becomes irrelevant when you are on the road with your soul mate.
14. Khwabon kay parindey (Zindagi Na Milegi Dobara, 2011)

The film, which was as much about the journey within, as outside, of three young men played by Farhan Akhtar, Abhay Deol and Hrithik Roshan. The trio discover and conquer their fears, find and understand what is true love, and learn to reset their priorities in the course of their journey across the most stunning parts of Spain. The film opened new vistas of travel for Indian tourists. Did you know that 2011 recorded a 65 percent increase in the number of Indian tourists visiting Spain as compared to 2010? Shankar Ehsan Loy set Javed Akhtar's lyrics to some great music. One of the most popular songs from the film asks you to relax and take the slow road to bliss. Three young men and one young woman exploring the virgin Spanish countryside where wild horses seem to float , not gallop, alongside the classic sky blue 1949 Buick convertible .
15. Patakha guddi (Highway, 2014)
Nooran sisters pack in a punch. What a delightful, guileless performance by the lovely duo with the throaty voices. They do complete justice to AR Rahman's music and Irshad Kamil's lyrics with "Ali, Ali" in Highway — Imtiaz Ali's sweet tale about a young girl who discovers herself on a journey that she is initially forced to undertake by her kidnappers. Her lust for life comes through superbly in this song — sipping fresh sugarcane juice, washing up at a tube well, tripping through mustard fields. Riding a truck was never so much fun! The cinematographically is stunning. The journey through the countryside in the northern part of the country, culminating in the Indian Himalayas leaves you breathless. Fresh faced Alia Bhatt and brooding Randeep Hooda impressed audiences and critics alike.Truly a feast for the senses, this one.
---
Nirupama Kotru is posted as Commissioner of Income Tax at Delhi. She was formerly Director (Films) in Ministry of Information & Broadcasting. Views are her own.