How much do you think this man might be earning in a day?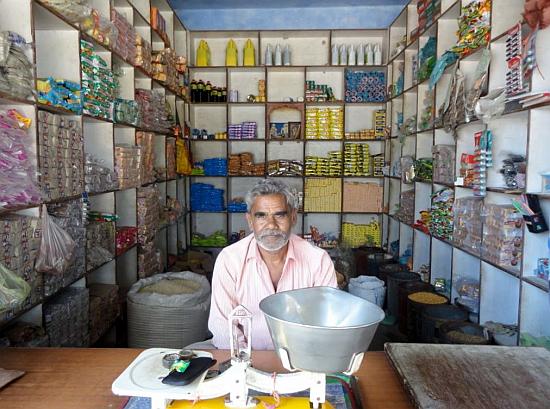 Let me provide some hints: he is the owner of the departmental store where he is sitting and also a licensed retailer of fertilizers.
Rs 1000? Rs 2000? Rs 3000? Or did you say more?
Wrong.
According to the government records, he earns less than Rs 28.
Yes, officially he is Below Poverty Line (BPL).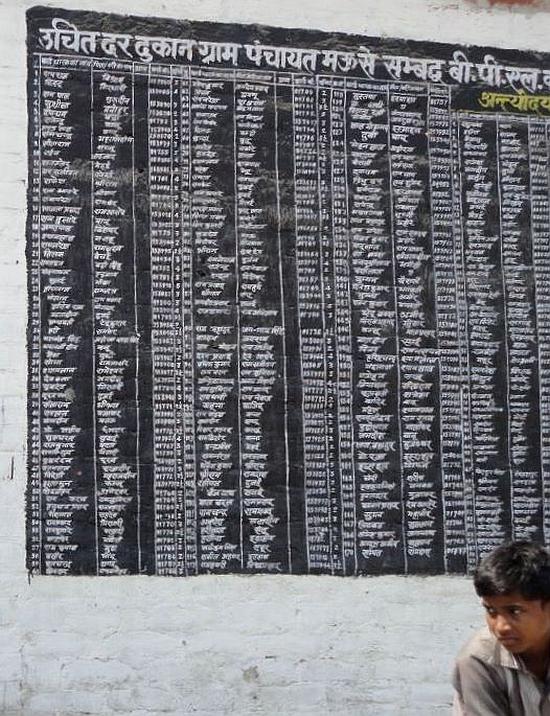 If you check out the list painted on the wall of the government ration shop in the village Mau Deeh you will find his name— Banarsi Lal, son of Bhagauti—along with that of his brother, sons and other family members. Together they have almost a monopoly on the village market place.
"There are 40-50 names on this list (of 170 entries) which don't deserve to be here by any standards. They have hundreds of bighas of land, own tractors, have shops and bungalows and yet have a BPL card," Phool Chand, a farmer in the village, says.
It's not a story of this village alone. It's also not a 'disease' endemic to Amethi. It's an epidemic which has taken monstrous proportions across the country; just that I found documentary proofs of its existence in Rahul's backyard.
While rich are made 'poor' in Amethi, poor are made 'rich' in his neighbouring constituency—Sultanpur—where his cousin is contesting on a BJP ticket.
Irrespective of their different political ideologies, the brothers seems to be complementing each other perfectly.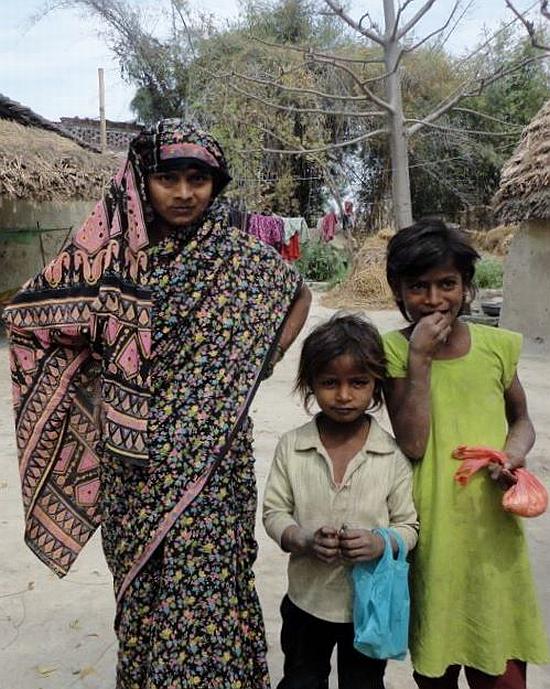 Meet Ms Rohana of Pali village, a landless labourer who works on other's fields at an abjectly low wage of Rs 60 per day. She is a widow with the responsibility of two daughters and a toddler son. Her house is in shambles.
That's all right. But does she still qualify to be called officially poor? Montek Singh Ahluwalia of Planning Commission might ask.
Well, my eyes may falter and so can my understanding about poverty but there can't be a more accurate metric than an earnest verdict of an entire village. "If there is someone who is poorest among all of us, she is the one," said 15-20 people who were present at the shop where I stopped for some refreshments. An old man, himself a BPL card holder, confessed that she is poorer than him.
Most of the welfare schemes of the government are targeted towards the poor (obviously!) and the BPL list serves as the most important criterion to decide who is poor. But when the list itself is fudged with half of the deserving people left out, with the rich figuring on it, how will schemes like MGNREGA (Mahatma Gandhi National Rural Employment Gaurantee Act), Indira Awas Yojna, Nirmal Bharata Abhiyan etc ever be able to achieve their avowed targets?
Subaalak, of Deegha village asks for a full-fledged inquiry in to this whole 'BPL Scam'. "The rich have bribed their way to get a BPL card while poor are high and dry for ration," he said.
The concept of journalism is based on the assumption that a reporter would report and the policymaker would earnestly take note of it and act. But if that were the case, India would not have been languishing at the bottom on the Human development Index. (Rank: #136 among 187 countries)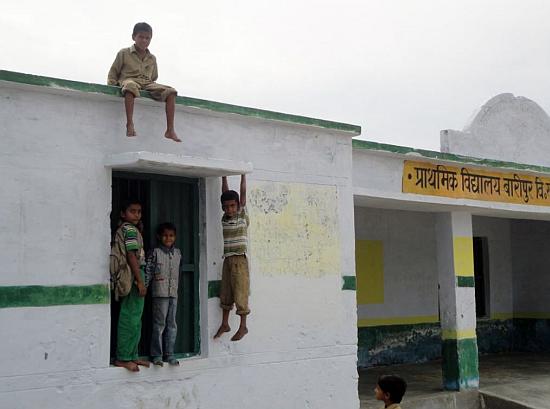 Let's move on to education now. Most—sorry—all the schools of Amethi lack basic facilities like toilets (even for the teachers), are severely underequipped and understaffed. To add insult to injury, the teachers, especially the ad-hoc ones called shiksha mitra (literally, education friends), are not paid for months.
Parmanad Yadav, a Shiksha Mitra at a Primary School in Manerika village wasn't paid for the past 9 months i.e. the entire session of 2013-14 until March. His dues have been cleared only in April with the salary from Jan-April still outstanding.
How much is the government paying him by the way, you ask? A bomb— Rs 3,500/- "My children don't believe that I am actually not paid for all these months. I can't even take a loan from someone and promise to pay back the next month," Parmanad complains.
But he simply can't vent out his frustration against Rahul Gandhi, such is his love for him and his family.
Krishna devi Maurya, a vegetable vendor on the outskirts of Amethi city sums up the predicament of citizens of Amethi succinctly: "Ghar ka sadsya kitna bhi nikamma kyun na ho, usse ghar se nikal thode hi dete hain (howsoever useless a family member may be, do we kick him out?)".
People are convinced that whatever good happens to their village or city is solely because of Rahul Gandhi but if development hasn't reached them, it's because of the corrupt Gram Pradhans, secretaries and other intermediaries.
In fact, village Saruava, my entry point to Amethi from Sultanpur, even went on to hold Mr Clean, Manmohan Singh, responsible for all the corruption in UPA government to exonerate Rahul Gandhi.
"Rahul Gandhi is our Sarkaar, how can we not vote for him?" said Kusum near village Pashchim Dwar. She later corrected 'sarkaar' with 'Neta'. A lot of others will choose him because he is too big a tree to fall (oops, did his father say something similar?) and there's no point wasting one's vote in experimenting.
He doesn't even need to do any rally here, people believe. "Agar unka poster lag gaya hai, matlab unko vote paana hai (if his poster has been put up, it means he will get votes)," says Dashrath, a labourer working on a road project under Mahatma (MGNREGA). The letter 'G' in the acronym stands for Guarantee, a guarantee of at least 100 days of employment. But he tells me that even that is a farce.
Till 2009, Rahul Gandhi's candidature from Amethi used to be virtually unopposed; not any longer. This time he faces stern competition from a poet—Kumar Vishwas of Aam Aadmi Party (AAP). A late nomination from the National bahu—Smriti Irani of Bhartiya Janata Party (BJP) has made the scenario even worse for him.
Because people of Amethi, like a fairy-tale princess, were just waiting for a knight in shining armour to come on a white horse and sweep them (and their vote) off their feet. Anjni Kumar Mishra of tehsil Salona says: "We want to overturn Congress, defeat Rahul, but until we get a good alternative, we won't." If they come to us, tell us what they stand for, what they would do if they win and ask for our vote, we will surely give them a chance, he adds.
People who are looking for a change but are not too confident about AAP after it resigned from Delhi within 49 days, are banking on BJP. In fact the Pradhan of Naseerabad, Mohammed Miyaan is a hard core BJP supporter and member and getting other Muslims to join the party, given his influence.
People are gradually realising that it's the work that matters, not the name (Gandhi) or the 'VIP constituency' tag that comes along with it. The voice of dissent is audible if not ear-drum shattering. The Gandhi scion would do good to pay heed to it if he survives this election.
"I don't want to give vote to Rahul Gandhi. He is simply good for nothing. My vote goes for Aam Aadmi (party)," says Hemraj of Argwan village. Leave alone ration, I don't even get any pension meant for disabled people. Finally, I have started a business of poultry and fish along with my friend, this young man, showing some traces of innovation in his wheel-chair, says.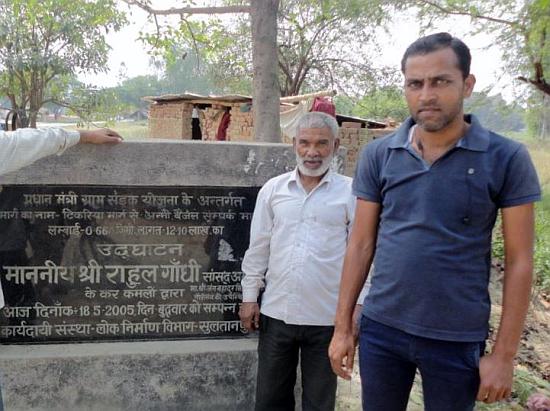 The road may or may not exist but you simply can't miss a shining black marble stone telling the world who is the 'father' of this road. All this tamasha for a 660m road; a simple steel board would have served the purpose. Do they include the cost of stone and the stone-work in the project cost? Hang on. Rs 12 lakhs for a 660m long road? Isn't it too much? Well, who am I to comment on that? Therefore, I asked a road contractor and he peeled the layers off the onion one by one.
Guddu Singh (man on extreme right in the above picture), a road contractor who builds roads under Public Works Department (PWD) said two things
The maximum expenditure for this project should have been Rs 7 lakhs and
The road is not 660m long!
Moreover, the road hasn't been constructed from scratch. It already existed, only the top layer has been laid.
"A road and a bridge have already been passed till Argwaan, where you are heading but nothing exists till date," said the man standing on the right of our road contractor. In the absence of the bridge, I had to cross the monsoon-river with my bike on my shoulders; a little adventure for me but a daily nightmare for these people.
The man is miffed for this neglect and holds Rahul Gandhi squarely responsible. But it doesn't shake his faith in him. If human beings were easy to understand, the world would have been such a boring place to live.
When I asked K.L. Verma, a welder having a shop near the Amethi bus stand, if Kumar Vishwas has some footing in the area, his response was: "Not 'some' but 'a lot'." "Amethi kisi ki Bapauti to hai nahin (Amethi s not someone's inheritance)," he added. He questioned the absence of industry in the area. The Hindustan Aeronautics limited (HAL) factory doesn't count; hardly anyone from Amethi works there, he added.
Dildaar khan, in the business of waste-recycling (kabaadi), frustrated with the level of unemployment in the region said, "Yahaan MA, BA kar ke log jhaadu laga rehe hain, FIR jhaadu hi na dekhi jaaye is baar (people are forced to sweeping streets even after studying till MA or BA, so why not try the broom in the elections as well?). He is a high school graduate. Youth are particularly very excited about the disruptive politics of AAP. Kumar Vishwas is banking heavily on them to create history.
Sriram of Bhartiya Kisaan Union (BKU) in village Bhetua asked why a farmer has to face long power-cuts while Banks and tehsils have 24 hrs power supply. I also met Rajdhani Yadav in Lehanga village who has a fertilizer agency. Fertilizer, especially Urea has always been a very politically sensitive subject which is why no government has dared to change its price substantially since 2003.
The MRP of a 50 kg bag of Urea in UP is Rs 311.50 but he himself buys it for Rs 325-330. It's virtually impossible to sell at MRP. Even if he wants to do business honestly, he simply can't. The system is such. You simply can't go against or circumvent it. If you do, you are out. Your supplies stop, he said.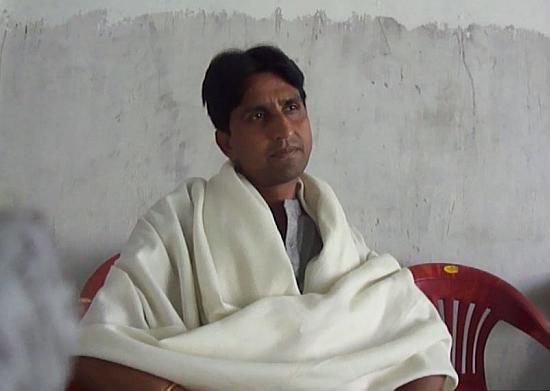 A farmer is made to beg even for a costly fertilizer, says Kumar Vishwas. "The moment a farmer reaches his fields with seeds, fertilizers vanish from the market," he adds during the interview at his recently bought residence. I enjoyed the interview. When I asked a question in Hindi, he replied in English, but when I asked in English, he would switch to Hindi.
Taking a dig at Rahul Gandhi's performance, Kumar Vishwas quoted a common saying among the people, "People of Amethi are fed-up of two things—Neel Gau aur Rahul Gandhi, one eats up the fields, and the other eats up Amethi."
Vinit Agrahari, a Chemist in the city believes that Kumar Vishwas deserves to be congratulated irrespective of the result on 16th May. "Usne kam se kam ghanti bajane ka kaam to kiya hai (he has at-least rung a bell in their ears). Earlier, he (Rahul) would come in 5-10 years, wave his hand to the people and the job is done," he said. Now he has to sweat for every single vote, he added. (exact translation not printable!)
The battle of Amethi is basically between two visions. People who compare the present Amethi with what it used to be 20-30 years ago give all credit to Gandhi family. However, the younger lot, who compare it to cities like Delhi, Ahmedabad etc are able to see the stark differences in growth and hold Rahul Gandhi responsible for their backwardness.
Would Kumar Vishwas or Smriti Irani (backed by Narendra Modi) be able to show the people, who are looking at the past, what's in store for them in the future?
May 16 will tell.