The rise of China and India as major powers within Asian geopolitics is shifting the dynamics of their bilateral relationship. During the recent visit by Chinese President, Xi Jinping to India, China and India signed many agreements which will boost Chinese investments in India, reduce trade imbalance, and build a high speed train corridor, among other things. Significantly, Xi Jinping pledged to support India's full membership to the Sanghai Cooperation Organization (SCO).
Yet, despite this convergence, the meeting between the two leaders was negatively impacted by border transgressions across the Line of Actual Control (LAC) in the Indian state of Ladakh. There were two major confrontations: in Demchok and Chumar.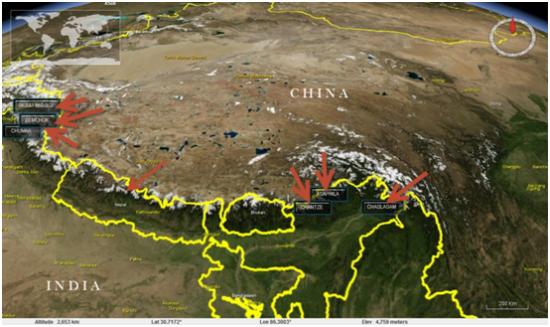 China's Intrusions across the LAC/Source and Copyright: Namrata Goswami
Indian civilian workers were stopped from constructing a government of India approved water canal in Demchok by a large number of 'Chinese civilians' who were especially deposited near the LAC in military trucks, camping out in the area in tents to keep vigil.
In Chumar, China's military are building roads to the LAC with heavy machinery and large workforce in violation of the border agreements with India. The People's Liberation Army (PLA) escalated tensions by surrounding Indo-Tibetan Border Police (ITBP) personnel who are in the area, after which they called a local commanders flag meeting.
In earlier incidents too, the Chinese military patrols have tailed Indian border police parties in gross violation of the Border Defence Co-operation Agreement (BCDA) signed by the two countries as recently as October 2013.

While patrol party face-offs between the two sides are consequences of an undemarcated boundary, the spurts of border aggressive posturing by China, timed just around the visits and meetings of high profile Chinese leaders needs to be underlined. In this case, it was the Chinese President Xi Jinping visiting India. Last year, intensive Chinese intrusions had occurred in Ladakh with PLA soldiers setting up tents on the India side of the LAC just before Chinese premier, Li Keqiang's visit to India. In 2006, just before Hu Jintao's impending visit, the resident Chinese ambassador to India claimed in New Delhi that the "whole of what you call the state of Arunachal Pradesh is Chinese territory".

Certain analysts theorise that Chinese intrusions and incidents are the actions of rogue local military commanders acting in isolation. However, it sounds far-fetched when in this case in point, the head of the Chinese military (read Jinping) is himself calling on India. It is reasonable then to conclude that these seem to be well planned and orchestrated tactics to perhaps exert pressure and garner bargaining points at the table, a fact which speaks volumes of China's intentions to honour earlier good conduct border agreements.

China insists on linking economic ties and security issues, while India wants to delink the two areas of co-operation. President Xi Jinping has pledged investments worth US $20 billion in the next five years in India. It would be interesting to watch how China's economic investment flow in India plays out in the future, given the ongoing security issues between the two countries. China's aggressive posturing to pursue its 'expansionist' goals at the disputed border is a prime example among other strategic theatres, which is certainly not promoting regional security let alone working towards striking a strategic partnership with India. Several potential areas of co-operation may fall prey to such an adversarial environment, such as China's proposals to India for the Maritime Silk Road and the Bangladesh, China, India and Myanmar (BCIM) economic corridor.

As a result, India may be motivated to respond vigorously in kind to protect its national sovereignty and territorial integrity, both militarily and geopolitically. Some indications of these policies can be inferred from President Pranab Mukherjee's visit to Vietnam and signing agreements in defence co-operation and off-shore oil exploration in the South China Sea (SCS), disputed and claimed by China as its territory. China is in a regional 'power' contest with the US in the East China Sea, SCS and beyond the first island chain of the Pacific Ocean in the aftermath of the US's 'Asia pivot' push.
That said, the timing and location of the current ongoing Indo-US joint military exercises "YudhAbhyas 2014" at the Himalayan foothills will also not be lost to Chinese observers. [1] A strategic partnership with the US is on the table during Prime Minister's Narendra Modi's summit meeting with President Barrack Obama.

The situation, as its stands today at the LAC, has come full circle. In the first place, China signals aggressive intent with regard to its position on the LAC and Ladakh. It also lays claim to the entire state of Arunachal Pradesh and has been upgrading its military presence in Tibet. As a counter-response, India is upgrading its military infrastructure in Arunachal Pradesh and Ladakh to deter possible Chinese aggression. China views the Indian military upgrade as a response to China's rise in Asia, forgetting that its own aggressive posture and military upgrade since 2006 has provoked the Indian response. Amidst this scrimmage, China interprets the US-India strategic partnership as a move to contain China. The consequence of all this is a classic "security dilemma" requiring deft handling, as any wrong signaling of intent or offensive military posture from either side could lead to conflict escalation.

The India-China territorial dispute, pending resolution for decades together, is not an intractable issue. It can be resolved. It is in India's interest to address China's security concerns to enable steady and greater Chinese investments over time. It is for China to initiate the rolling back of coercive military manoeuvres and intimidatory geopolitics to allow enough strategic space for all stakeholders to establish a win-win security environment in the region.
---
Dr. Namrata Goswami is Research Fellow at the Institute for Defence Studies and Analyses, New Delhi and a former Senior Fellow at the United States Institute of Peace, Washington, D.C. The views expressed in this article are solely that of the author.
[1] See "Indo-US Joint Military Exercise "YudhAbhyas 2014" Begins", NDTV, September 17, 2014 at http://www.ndtv.com/article/india/indo-us-joint-military-exercise-yudh-abhyas-2014-begins-593523 (Accessed on September 18, 2014).