Tata Motors delivered the first batch of Tigor EVs to the state run Energy Efficiency Services Limited (EESL) today. The delivery comprised of 250 units which formed a part of EESL's initiative of procuring 10,000 electric vehicles setting a precedent for the upcoming changes in the Indian automotive industry. Tata Motors had qualified as the L1 bidder despite tough competition from Mahindra in September, 2017.
The Tata Tigor EV is currently being produced at Tata's facility in Sanand, Gujarat and continues to be the 'Styleback' that it is but with zero emissions. To fulfil EESL's order, the Tigor EV will be available in three variants - Base, Premium and High - with a single colour option 'Pearlescent White' colour with blue decals. Fulfilling the basic requirements of floated tenders, all the variants come with automatic AC, which Tata calls FATC.
Guenter Butschek, CEO & MD of Tata Motors, handed over the keys of the Tigor EVs to Saurabh Kumar, managing director of EESL. "This initiative of the government of India to procure 10,000 electric vehicles is a bold step in terms of promoting green and sustainable transport solutions. We, at Tata Motors are extremely proud to be part of this project and are supportive of the government's transformational vision of auto electrification in India. With Tigor EV, we have begun our journey in boosting e-mobility and will offer a full range of electric vehicles to the Indian customers. This tender has effectively paved way for connecting our aspirations in the e-mobility space with the vision of the government." Guenter Butschek, said on the occasion.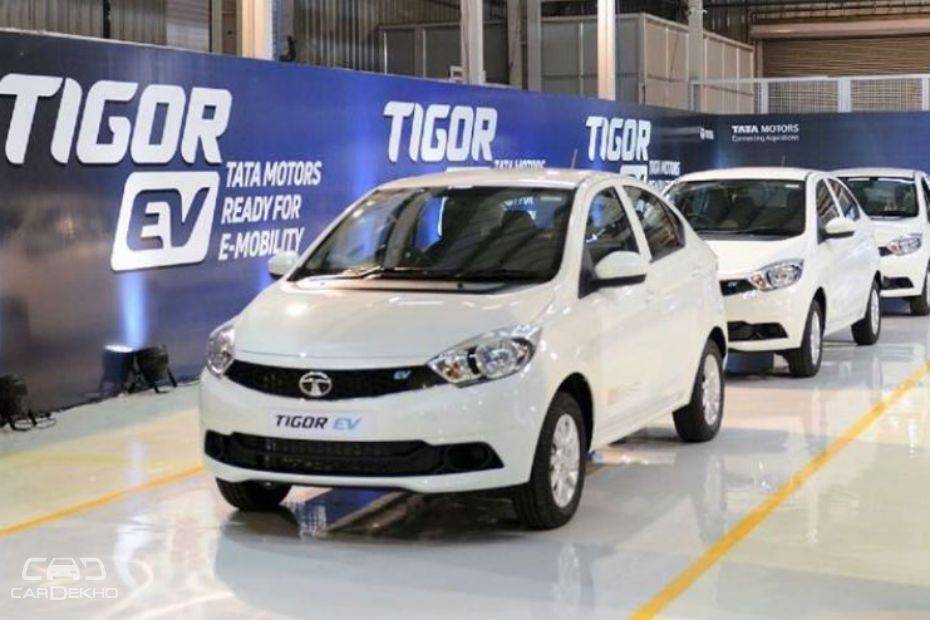 The Tata Tigor EV has a single speed automatic transmission with an electric drivetrain which has been developed in sync with Electra EV, a company which has been established to develop and supply electric drive systems for the automotive sector. The Tigor EV could also be the first of Tata's emission-free passenger vehicle for sale to the public with the launch expected to take place in mid-2018.
---
Source: cardekho.com