The Indians played their first tour match against T.G. Trott's XI at Pelsham Farm, Pearmarsh near Rye on 29 April 1932. Interestingly, playing against the Indian team in this match was Duleepsinhji. While the Indians acquitted themselves fairly well, Lall Singh, the Sikh from Malaya, leading the way, it was on 22 May 1932 in the match against the MCC that the world had a glimpse of what India's first home grown legend, C. K. Nayudu, was capable of. Nayudu, Wisden Cricketer of the year in 1933, smashed the first Indian century of the tour in style.
However, it was in the first and only test match at Lords that the Indians shocked the English in the first half-hour itself. The MCC was reduced to a dismal 19-3 by some excellent Indian bowling and fielding. Wrote The Birmingham Post: "The All India cricket team has administered a few shocks to the dignity and confidence of England today. If there were among the 24,000 spectators at Lords some who imagined that the granting of a Test match by the MCC to the tourists from the Indian empire was merely an amiable concession, then they had a very rude awakening before the close of play…" Though India eventually lost the match by 158 runs, the courage and grit shown at Lords clearly conveyed to the world that the Indians, in little time, would carve out a niche in the world of cricket.
Lords, 25-28 June 1932
England 259 (Jardine 79, Ames 65, Nissar 5/93)
India 189 (Naoomal 33, Nayudu 40, Bowes 4/49, Voce 3/23)
England 275/8 (Jardine 85*, Paynter 54, Khan 4/60)
India 187 (Wazir Ali 39, Amar Singh 51, Hammond 3/9)

England wins by 158 runs
---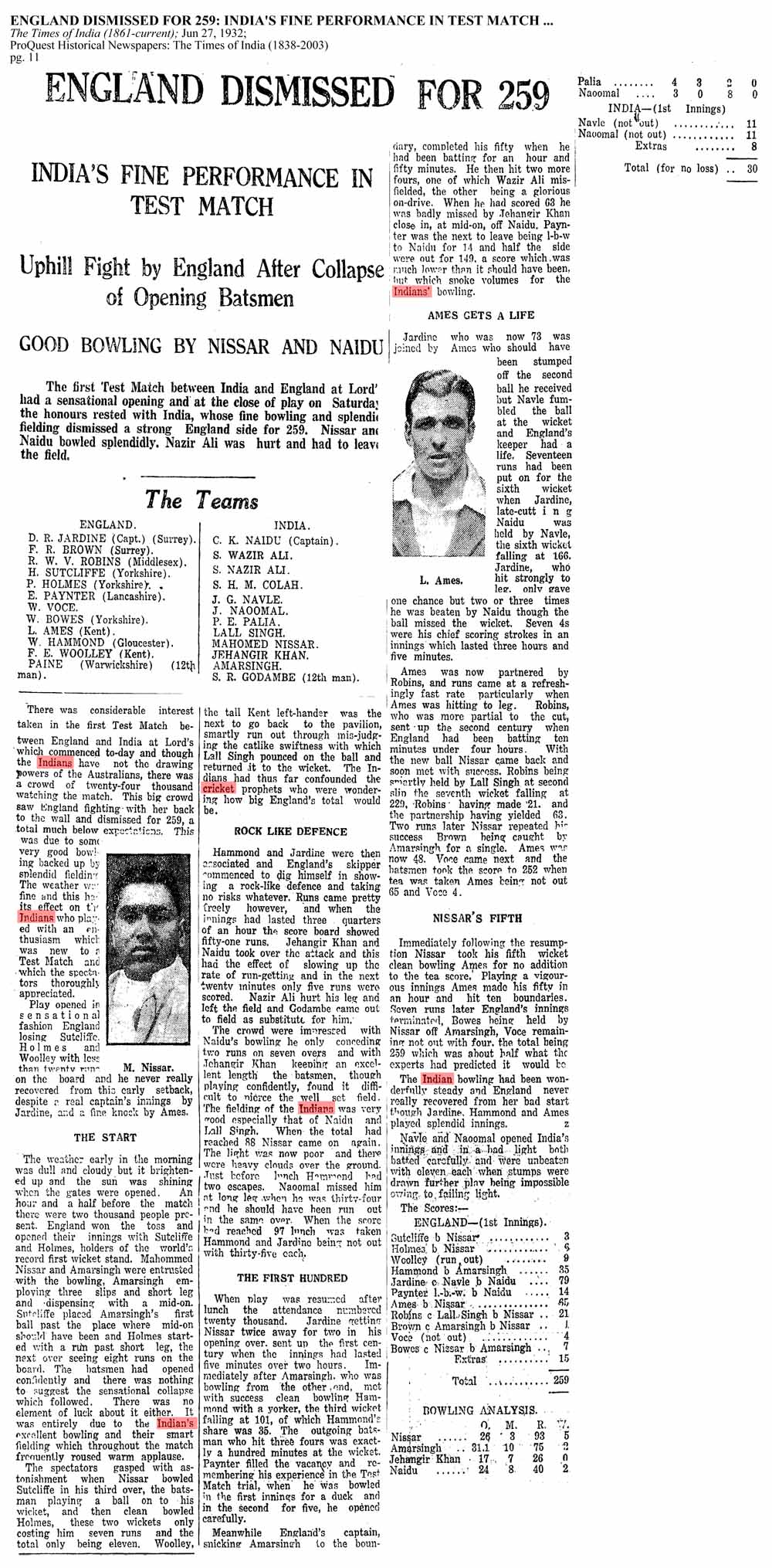 ---
Extracts from Sporting Times: The 175 Year Journey Of Indian Sports, launched in Mumbai today as part of the Times of India's 175th anniversary celebrations that uses the newspaper's archives to document the India sporting story.
Reproduced with permission of the copyright owner. Further reproduction prohibited without permission.
---
For in-depth, objective and more importantly balanced journalism, Click here to subscribe to Outlook Magazine
---