Despite being published in several languages globally, there has been an unofficial 'ban' on 'The Red Sari' in India for seven years. The Congress party ensured that this dramatized biography of Sonia Gandhi by Spanish writer Javier Moro was never available in Indian bookstores. After it was first published in Spain in October 2008, and then in over a dozen languages (but never in English), the book is finally being published in India this week by Roli Books. What is in the book about Sonia Gandhi that led the Congress to so vehemently try to stop its publication? Here are a few samplers from the excerpts Outlook will publish in its forthcoming edition: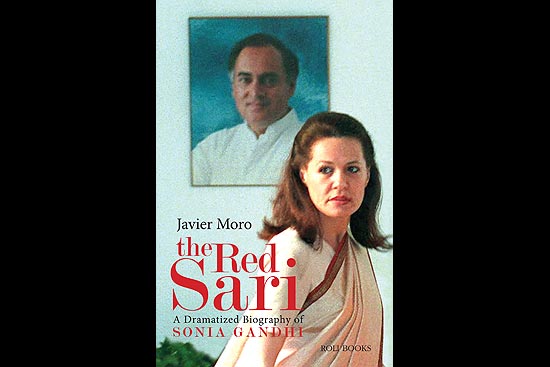 Can love arise in such an instantaneous, almost insolent way? When Rajiv took her hand as they were walking in the shade of the ancient walls of the cathedral, Sonia had no strength to pull it back. That warm, soft hand transmitted a feeling of immense, profound safety and pleasure. She could not pull her hand away.
It was still a difficult situation for Sonia, but she was determined to do the right thing and do it well. Her legs trembled as she walked up the stairs of the Indian ambassador's residence where Indira and her best friend, Pupul Jayakar, who had helped her organize the tribute to Nehru, were staying.
"I have come with a very serious proposal," he told Stefano Maino. "I have come to tell you that I want to marry your daughter."
Delhi society was conventional and small – it seemed as if everyone knew each other. Most praised Sonia's beauty, but others alluded to her lack of pedigree: "She's a nobody" or criticized her way of dressing, "She wants to attract attention."
They arrived a day before the wedding when the mehendi ceremony was being held at the Bachchan's house. Although traditionally, the groom was not supposed to attend the mehendi, an exception was made and both Rajiv and his mother were present because they wanted to greet Sonia's family that had come from Italy.
The atmosphere had never been so charged. On 20 June 1975 the party organized a solidarity rally at the Boat Club and it was Sanjay's idea that the whole family should be together. "It'll be good for the people to see us all together," he had said. "I'd prefer it if you didn't decide for us," Rajiv spat back at him.
Sonia got up, wrapped her robe around her, and went into the living room to answer the phone. Amid all the interference, she recognized the nervous voice of one of her mother-in-law's secretaries. Now she was certain that it would be very bad news. "Madam… Sanjayji has had an accident…He's dead."
Sonia's hair stood on end when she heard that. She was about to shout "No!" loudly, but she stopped herself. She knew they would try to persuade Rajiv to fill the vacuum his brother had left. Sonia knew this would mean the end of their happiness. She was prepared to fight tooth and nail to prevent that from happening.
He remained still, not speaking and not shedding any tears. The Nehrus, as he had learned, did not cry in public. It seemed as if the news had not surprised him, perhaps because he was overcome by a certain feeling of fatalism, similar to what his mother had once felt.
When she got home and her children asked her "How is dadi?" Sonia fell to pieces. Her sobbing drowned out her words. But were any words necessary? Rahul hugged his mother tight, and Priyanka ran into the house and came back with the inhaler. Sonia did not need it, and gradually, she calmed down.
Rajiv immediately knew what they had come to ask him. They had come to demand that, whether he liked it or not, he should be the next prime minister of India.
"They're going to make me prime minister," he told her in a whisper. Sonia shut her eyes. It was the worst thing she could have heard. It was like the announcement of a death sentence. Rajiv took her hands in his as he continued whispering the reasons that were forcing him to accept the post.
"Oh no! Oh my God, no!" Sonia sobbed in a flood of tears. "They'll kill you, they'll kill you…" she repeated as P.C. Alexander, Indira's official secretary, came to interrupt them. The wheel of succession could not wait. It was urgent to set it in motion. He took Rajiv by the arm.
Her whole body contracted as if she had received an electric shock, and from the depths of her soul, a harsh, guttural cry arose. Seven years after the conversation she had had with Rajiv in the hospital where Indira lay dying, in which she begged him not to accept the post that his mother had left vacant, her grim fear was finally realized.
Priyanka ran to her mother's room and searched feverishly for her inhaler and antihistamines. When she came back into the living room, she saw Sonia sitting on an armchair with her eyes almost turned up, her mouth open and her head thrown back, trying to get air. She thought she was dying.
Rajiv's remains were there. At the instructions of the authorities, they had brought it to the airport in a bid to help Sonia and Priyanka avoid having to drive into the city. They were very nervous… nervous to see his remains and be compelled to accept the reality of his death.
Sonia begins to feel slightly guilty, her conscience afflicted by a kind of pain. "Can I go on being a silent spectator in the face of the disintegration of the party for which Rajiv gave his life?" The question perturbs her.
It is clear that if the party goes under, Sonia and her children will be left defenseless. But if she agrees and goes into politics to save it, is that not tempting the devil? Is it not exposing herself to the bullets of any madman?
---
For in-depth, objective and more importantly balanced journalism, Click here to subscribe to Outlook Magazine
---