Dark Star: The Loneliness of Being Rajesh Khanna
By Gautam Chintamani
Rs 499 | 272 pages HarperCollins India
You often meet your destiny on the road you take to avoid it. Many things had changed by the second time Khanna and Bachchan came together for a film. Although Khanna was still the bigger star by miles, in Namak Haraam, he wasn't as self-assured as he was while filming Anand. More than the change in Khanna's stature, it was the alteration in Bachchan's status that made all the difference. He was no longer the pariah that he used to be and was turning out to be quite a dark horse. Khanna had come to Namak Haraam as the most important entity in the film but by the time it was seen by the audience, he recognized the new direction the winds were blowing in.
Inspired by the troubles of Bombay's textile mills in the early 1970s, and based loosely on the classic 1964 film Becket, starring Peter O'Toole and Richard Burton, Namak Haraam was directed by Hrishikesh Mukherjee and was the first mainstream Hindi film to feature trade union politics as a central theme. A carefree young man Vicky (Amitabh Bachchan), who also happens to be the son of a rich businessman (Om Shivpuri), is forced to temporarily run his father's business. Vicky would rather spend his time with Somu (Rajesh Khanna), his friend who comes from a humble background, than attend to matters of business. One day, the hot-headed Vicky has a confrontation with Bipinlal (A.K. Hangal), the trade union leader of his father's mill, and feels insulted when his father makes him apologize to the lowly workers' leader. When Somu learns of Vicky's insult, the two hatch a plan wherein Somu would infiltrate the union pretending to be a worker and make life hell for Bipinlal. Things go according to plan initially, but the more time Somu spends with the workers, the more he realizes their hardships. Somu is transformed and becomes the union's poster boy—another Bipinlal for Vicky, who can't get over his friend's betrayal. When Vicky's father finds out the truth, he sets in motion a chain of events that makes Somu and Vicky sworn enemies.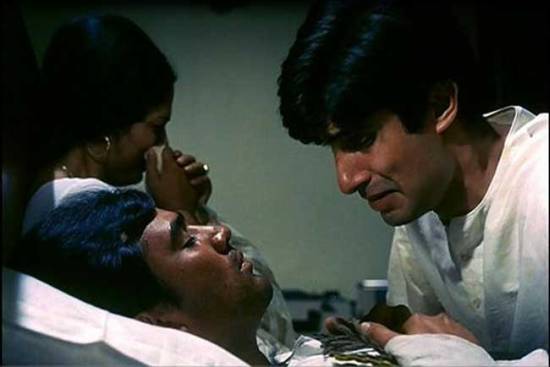 A screenshot from Anand
When Khanna was offered Namak Haraam, he was to play Vicky, the spoilt brat, but he opted for Somu, the conscientious poor man, for he is the one who dies in the end. Following the success of Safar and Anand, Khanna's superstition about his onscreen death warranting a hit came up once again and he asked for the script to be rewritten so that Somu would suit his persona. Again, like Anand, he wasn't bothered about Bachchan being cast as Vicky. His decision to play Somu changed the screen length of the role. With his role now not only the longer of the two but also author-backed in every sense, with enough histrionics and punches as far as dialogues went, and some brilliant songs to be shot on him, Khanna was sure that the result would be on the lines of Anand. Vishwas Pandya, son of Jayendra Pandya, one of the three producers of Namak Haraam, recalls how Khanna was confident that he would walk all over Bachchan—or anyone else, for that matter.
When the film was finally released, the outcome was different. Bachchan ended up walking away with most of the glory. As compared to Zanjeer, the film that had initiated the concept of the Angry Young Man, it was Namak Haraam that contributed more to shaping the image that Bachchan would further explore in films such as Deewar, Trishul and Kala Patthar. Bachchan's Vicky was a marked departure from his Bhaskar in Anand; and the change in his off-screen status also influenced his portrayal of Vicky. While Anand's Bhaskar becomes Anand's friend, he, much like the actor who played him, continues to be in awe of Anand while in Namak Haraam, Vicky and Somu are equals, which made the camaraderie different. It is also obvious that Khanna had already achieved dizzying heights; so even a sterling performance could do only so much for him. But, for Bachchan, this was just the beginning. In the climax of Anand, when the audience saw Khanna die on-screen, it didn't bother about anyone else; but in Namak Haraam, Khanna's cinematic death ended up giving Bachchan a new lease of life.
For audiences and critics alike, if Anand was largely about Khanna, Namak Haraam ended up being mostly about Bachchan, although it was the other way round for the director of both the films. Hrishikesh Mukherjee, the only director for whom both Khanna and Bachchan delivered stellar performances on every outing, believed that Bachchan was the scene stealer in Anand while Khanna was the one who shined more in Namak Haraam. A quarter of a century after both the films, Mukherjee, in an interview to film critic Namrata Joshi, said that Bachchan's role in Namak Haraam, like Khanna's in Anand, was an author-backed role and hence easier to execute. As a director, he had a ringside seat to judge and so, unlike the average viewer, he believed Anand to be Bachchan's and Namak Haraam to be Khanna's film.
The year 1973 proved to be a watershed for both Khanna and Bachchan. Namak Haraam had changed the equation between the superstar and Bachchan, and Khanna wasn't unaware of this. It was apparently Khanna himself who, at the premiere of Namak Haraam, told Hrishikesh Mukherjee that his time was up and that Bachchan was the new superstar. It's possible to imagine someone in a weak moment admitting the obvious, but people like Shyam Keswani, who knew Khanna at his peak, and film journalist Ali Peter John, who knew Khanna all his life, find it impossible to believe that Khanna could have been so generous.