When I first came to Australia, I had to bring kaalo jeere or nigella seeds with me, along with 'panch phoran' or Bengali five spice—a mix of whole cumin, fenugreek, brown mustard, fennel and nigella seeds as these were unavailable in this country. These were usually bought the day before we left India, from the reliable local 'mudikhana' grocery, an unsmiling Satyababu on the corner of Broad Street and Bondel Road in my case. I then snuggled the little packages of newsprint tied up with jute string in anything that I thought I would not have to unpack at the airport; spectacle cases, suit pockets, the inner pockets of men's trousers. Australian Customs were notoriously difficult at the time, just past the mid-1980s and anything that they did not know by sight was promptly confiscated. Men mostly, as unsmiling as little Satyababu back home, manned the counters and at some point would ask the dreaded question: Have you got any food?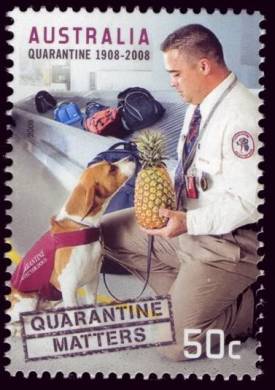 Signs about getting rid of fruit, seeds, live plants and uneaten food lined the way from the plane to the immigration counter. Reluctant Asians, who had already been bitten once before but had given in to temptation or the entreaties of elderly mothers, crowded around these emptying precious pouches of star anise, belacan or shrimp paste, 'kashundi' and kaalo jeere.
Others like me, intent on keeping the kitchen functioning like a proper Bengali kitchen, strode boldly ahead, our immigration forms filled out with a tick in the box that denoted we had food in our luggage. One thing I learned early on was that the fellow at the counter knew India produced tea. When the question came, I opened my easily accessed stash of Darjeeling and showed them the Makaibari or Lopchu which I was carrying. Tea was sacred to Indians. Even the Customs guys knew that. And as long as it was packaged, it was okay in their eyes. A few minutes later, we were past the hurdle and I was mentally calculating how often we could have fish curry over the next year.
The reason Australia is so protective of its borders is that being an island has helped it avoid a lot of insect and animal pests. Those signs still line the airport corridors and air bridges today. These days they do allow a lot more to enter the country, including aromatic brown cakes of jaggery or gur which I once brought in, claiming they were Indian candy! They allow every colour of spice and often ask you about how to use various things that may be sitting at home in their own pantries. But living plants and animal products are still a complete no-no as they introduce pests and harm conservation efforts.
Gradually over the past 28 years, things have changed. Kaalo jeere is now available in Indian and Bangladeshi shops and even in mainstream shops like Coles and Woolies. Where once I had to bring a tin of Ganesh marka mustard oil in and eke out drips of it at a time, now one can even choose to use the pungent golden oil for a pre-bath massage if needed. The shelves groan under the weight of 'Kacchi ghani' this and 'Shudh' that.
I realised how far Australia and the world had come when I went to the neighbourhood Indian shop which used to be the neighbourhood Bangladeshi shop before it changed hands. The smiling young owner at the counter offered me a foil packed finger of 'Aam papad' or mango leather before informing me that the 'katla' fish Bengalis like was not available but that he could offer me the 'mrigel' for a discount. He threw in phrases like 'pabda' and 'saralputi' knowing fully well that a Bengali's heart is satisfied by 'Macch' more than anything else. Having piqued my interest, he then proceeded to give me a recent film as a freebie. We exchanged phone numbers so that I would not make the 20 kms trip in future without knowing what was in stock. I noticed that his name was Reddy; a name that does not hail from either side of Bengal. I then stocked up on the fish, the 'Aam shotto', burhani powder, Anil Ghosh's 'Gawa ghee' and 'kaalojeera' rice for birthday sweet dishes. Oh, and now, we are Facebook friends.
---
A high school mathematics teacher in her other life, Ruma Chakravarti is an avid blogger, writer and people watcher. She currently lives in Adelaide, Australia with her family which includes three children, one dog, one rabbit and one bird.