Vijay Anand's Jewel Thief is one of my all-time favorite movies. It's packed with mod style and magnificent songs. It puts some real cleverness into play in building a mystery that is genuinely intriguing. And underneath its slick, jaunty tone there is some richness of theme, too. The film exemplifies an Indian strain of fetishisation of the West, a contemporaneous and mirror-image view of Hollywood's fascination with elements from the "exotic" East. These ideas find expression in the super-modern style of the characters and the interiors, the James Bond-esque aspects of the jewel thief's life and lair, and the sexual emancipation of many of the film's female characters.

But frequently, when I mention my love for Jewel Thief, Teesri Manzil is somewhere in the reply. And Teesri Manzil, too, is a great film – all the 60s style, a full helping of Helen, a rocking soundtrack, and a terrific noir vibe. Its characters inhabit a nighttime fantasy world of smoky nightclubs and cabarets with outrageously trippy sets, a perfect mise-en-scene for shady dealings, dark jealousies, and, ultimately, murder.

Indeed, Teesri Manzil and Jewel Thief match up so well, many find it hard to pick a favorite between them. A couple of years ago, I conducted an informal straw poll on Twitter, asking, which of these oft-compared contemporaneous Vijay Anand classics do you prefer? My query received a range of responses. Many noted what a close decision it was; some did not want to make any decision at all. And yet, some folks voted with the enthusiasm of strong opinions, like the one responder who squealed "Teeesreeee manzillllllllll!" and another who prefered "Jewel Thief, by a good mile." And the result? A precise, vote-for-vote tie.

Since the anniversary of Vijay Anand's death (23 February, 2004) was just a couple of days back, I put these two beloved movies in opposite corners of the ring again. Here is a look at how they stack up.

Opening sequence. Both films have terrific openings, buoyed by driving funky melodies. In Teesri Manzil, title cards are interleaved with quick scenes of the night of Roopa's deadly plummet from the titular third floor, lending a distinctly noir feel that sets the tone for a moody thriller. But Jewel Thief's title sequence is even better. It opens with a beautifully stylised presentation of the jewel thief himself, a pair of white-gloved hands roving across starkly lit displays, grabbing choice pieces out of their cases and plucking them off mannequins. Then an increasingly dramatic selection of headlines flashes across the screen – Biggest Jewel Theft in 20 Years! Police Baffled - Who is the Jewel Thief? Peheredar sote hain to Jewel Thief jaagta hai! These titles hint at the grand scale of the thief's operations and set the stage for the thrills to come.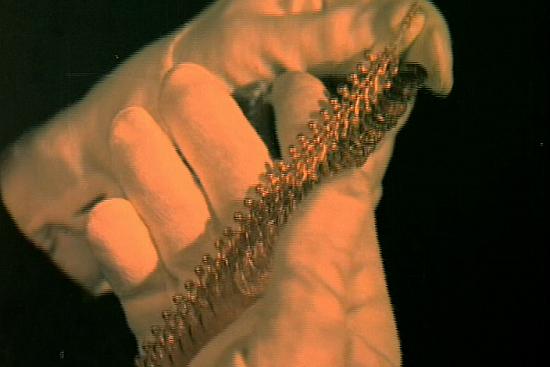 Costumes and set design. Each film is, in its own way, an epitome of 60s style, loaded with beehived women in cigarette pants, gents in stovepipe trousers, and superb mid-century modern interiors. In costume design, Teesri Manzil's offerings aren't bad – like Asha Parekh's fur-collared cape, or Shammi Kapoor's ten-gallon cowboy hat. Jewel Thief too has a superbly unique style, memorable outfits like Vijayanthimala's red saree festooned with tufts of rabbit fur. Jewel Thief's set design is fabulous too, a veritable mid-centrury modern feast, from the marvelous champagne-glass-shaped bar shelves of Tanuja's home to the fish tanks, ancient Egyptian styled sculpture, and polka-dot lamps of the jewel thief's Bombay apartment. But then, Teesri Manzil serves up the awesome set of the song "O haseena zulfonwali,"" with its humongous eye that frames Helen in its pupil and has dancers for eyelashes. Both films simply overflow with rad visual style.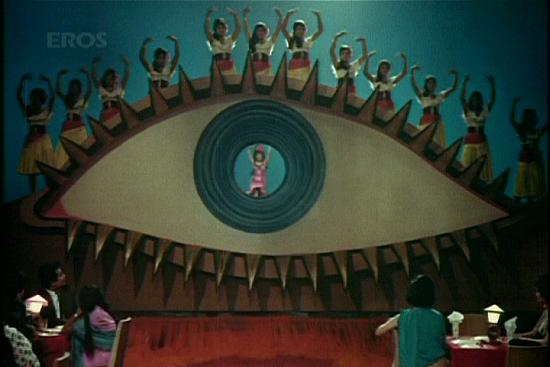 Romance. Then there is the romance angle to consider, the appeal of the leads and the dil-squish factor of the pairing. When it comes to hero charisma, Teesri Manzil has the edge. Shammi Kapoor may be tubby by today's standards but he is certainly more appealing than late-60s Dev Anand, who if he wasn't yet aged out of the romantic hero role, should have been. But Teesri Manzil is marred by the invocation of the stalking-as-romance trope. Shammi is uncomfortably relentless in his pursuit of Asha Parekh; the song "Deewaana Mujhsa Nahin" is practically a paean to stalking. Still, Jewel Thief's principal romance, between Dev Anand and a morose, introverted Vyjayanthimala, is admittedly fairly flavourless. But Jewel Thief has more, its secondary romantic thread: Tanuja's feisty attempts to seduce Dev Anand, a subplot that implicitly acknowledges its own inappropriateness with humour, culminating in the delightful boldness and brilliance of "Raat Akeli Hai.""

Deployment of Helen. Both movies offer ample helpings of Helen, not just shoehorned in for a dance, but playing an actual character of significance to the story. Miss Ruby in Teesri Manzil is the more substantial of the two characters; she loves the hero, and sacrifices her life to help him as the film approaches its climax. Many Helen characters take this path – Jerry Pinto's book on Helen contains an entire chapter on her characters who die. And that is just what makes Jewel Thief's use of Helen so remarkable – this incarnation of Helen is a gangster's moll, deceiving the hero for the benefit of the bad guy, and even sleeping with him, but she is nevertheless permitted to remain alive at the end of the movie.

Scenery. Neither film is content to remain on the streets of Bombay; both venture far into the mountains for both the exoticism and the views. And while Teesri Manzil's Mussoorie mountainscapes are fine enough, they do not touch the dizzying Himalayan vistas from the steep hillsides of Gangtok, Sikkim, where Jewel Thief begins and ends. In this setting, too, Jewel Thief shows its thematic depth. It fetishises the West, with characters who wear rad European styles, drink Coca-Cola, and drive huge, left-side-drive convertibles. But it also exoticises the East, situating its climax in the royal court of Sikkim, populated with dancers in fierce-looking lion masks. The world is Jewel Thief's playground, and style and flair are ripe for the plucking everywhere.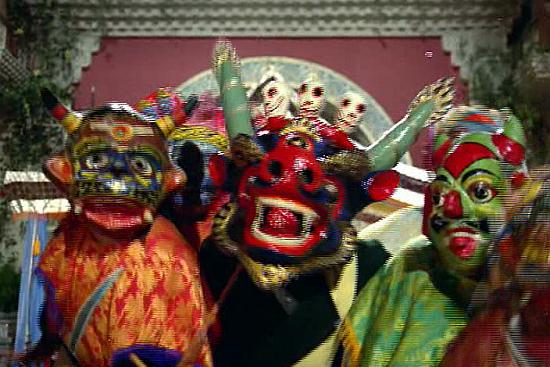 Naach-gaana. Sparkling S.D. Burman vs. rocking R.D. Burman – I would not have to choose a favorite soundtrack between these two. In that informal Twitter poll, several people chose Jewel Thief for Vyjayanthimala's amazing "Honthon Pe Aisi Baat" alone. If that's not enough, Jewel Thief also has Helen dancing backwards on top of a bar, and I have already mentioned the delicious "Raat Akeli Hai."" But then Teesri Manzil has "Aaja aaja," with Asha Parekh and an army of sparkle-clad chorus dancers shimmying and mashed-potatoing with Shammi in a distillation of everything that makes 1960s movies fun.

For sure, there is a lot of style and fun in both films. Teesri Manzil is a great film, a satisfying and entertaining noir thriller, with a few almost Hitchcockian details and a generous helping of romance and style. And that moment in "O haseena zulfonwali," when Helen appears framed in the pupil of that gigantic eye, is sublime, a concentrated moment of pure 1960s Bollywood bliss. Jewel Thief is a wild and twisting romp with stylistic nods to the likes of James Bond and Breakfast at Tiffany's. Two fantastically stylish films, both thanks to the great Vijay Anand.