Teaching is considered the noblest of professions. A true teacher has commitment, dedication and industry regardless of whether he or she is working in a primary school or a university. Ved Vyas, the much-loved founder principal of Modern School, Vasant Vihar, Delhi, who passed away on June 2 at the age of 91, always expected these cardinal qualities in his fellow teachers. Once convinced that they were not short of these requirements, Vyas gave them free rein. He never doubted their potential. All he expected of them was to go the extra mile, which they did most willingly. Who would not with a leader like Vyas?
"He was not just an individual. He was not just a teacher. He was not just a principal. He was, and continues to be, an institution," says Zal Daver, his colleague and a former teacher at the school, also known as MSVV. "His rich legacy lives on through his countless students spread all over the world, his teachers and all those whose lives he touched so remarkably." Kiran Bhatt, another former colleague, adds that Vyas had this uncanny knack of connecting with people. "Whether it was the nursery kid who entered the school gates for the first time, kicking and screaming, tugged on by anxious parents, or a class IV employee who had undergone some family trauma, he was always there. He noticed. He observed. And he responded," she adds.
Daver and Bhatt only echoed the sentiments of most of those who knew Vyas. Writer and scholar Ananya Vajpeyi, who works at the Centre for the Study of Developing Societies, Delhi, attended the school for 12 years as a student. "He was a gruff, ambitious, large-hearted and liberal-minded educationist and teacher, a doyen of theatre and music, a lover of Hindi language and literature, a football and cricket enthusiast, a man who tempered discipline with humour, and really built some fabulous institutions that fostered creativity, experimentation and open spaces," recalls Vajpeyi, who was the Head Girl at MSVV in 1988.
It was Vyas' confidence, foresight and vision that impressed M.N. Kapur, the renowned former principal of Modern School, Barakhambha Road. Kapur met Vyas nearly a year after the latter migrated to Delhi from Lahore along with his aged mother, three sisters and one brother in the summer of 1947 in the wake of Partition. He was in his early teens and had been doing various jobs for a living.
Vyas and his family were living on Keeling Road, now known as Tolstoy Marg, just 200 yards from Modern School, which he would describe as "the school with five gates". One day, in January 1949, he happened to watch a football match between Modern School and a neighbouring school. Though they played "a technically superior and well-coordinated game", the Modern School boys lost by 5-0. Feeling "sad", Vyas asked a boy why they lost despite being a better side. "We play for the glory of sports and we don't mind losing or winning," replied the boy without any remorse.
Vyas, who represented Punjab University in football, was not convinced. He noted that the youngsters had never experienced the thrill of victory. "Suddenly, I felt that the school needed me and I needed this big, beautiful school to give vent to my talent and experience in sports," he recalled. The next day he walked into Kapur's chamber. It was a meeting of two great minds. Kapur wanted to know whether Vyas was certain the boys could ever enjoy the thrill of victory in the presence of hostile crowds.
Vyas reassured him saying they had to be trained to be fearless on the field. "They have to be taught to become immune to jeers and jibes and learn to bear physical injury and pain. This attitude of resignation to loss had to be expunged from their bodies and minds," he emphasised. Kapur was convinced. Vyas joined "the school with five gates" the very next day as a Hindi teacher and sports instructor.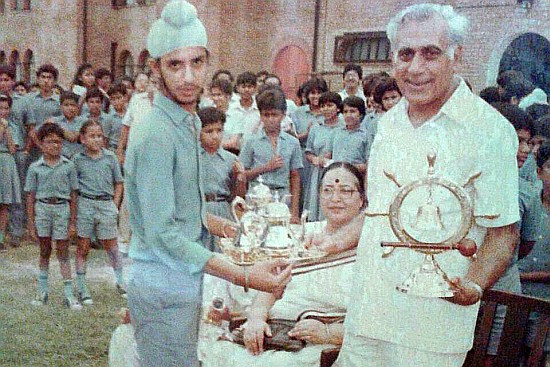 It did not take Vyas long to figure out why the Modern School boys were good in elite, "touch-me-not" games like riding, swimming and tennis, and poor in football and hockey. He noticed that they were seldom or never at their best — and often vulnerable — in sports which involved tackling and rubbing shoulders. He set about obliterating the fear from their minds by devising strategies like heading the ball, tackling and letting the feet clash.
Vyas' frank, friendly and forthright approach was liked by all. His popularity among his students and colleagues was growing by the day. It was inevitable that he rose to become the vice principal. Given his command of the language and his love for literature, he gradually switched over to writing, directing and producing plays and composing songs for different groups of students, something he continued doing even when he became the first principal of Modern School, Vasant Vihar in 1975. He evolved a new medium of theatrical expression and named it Rupak.
"The narration of the theme was in blank verse which was interspersed with songs. The mime, action and acting were interwoven into a pattern. This was the nearest thing to total theatre. Themes — selected to make the students aware of the importance of their heritage — related to India's independence, the country's endeavour towards progress, spirit of the national flag, national anthem and national integrity were put to this new theatrical form," he wrote.
Calling Vyas "a force of nature" and describing him as a "versatile genius", Seema Chishti, an alumnus of MSVV who is now a senior editor with the Indian Express, says: "He understood the meaning of education better than most. A holistic person, he encouraged students and teachers and believed in team work. He was a phenomenal theatre personality."
Clearly, Vyas understood the importance of art in the development of students. For instance, he gave the art teacher Marie Arora, who retired from Modern School, Vasant Vihar, about 12 years ago, "total freedom" to nurture and encourage the budding, talented artists. "He gave his full support to the art room, which was known for its gigantic collages made by the children with great gusto and often visited it and encouraged the little artists with his inspiring presence and words. He knew the value and worth of children's creation, made it a point to visit their exhibitions and ensured that their work was preserved," says Arora.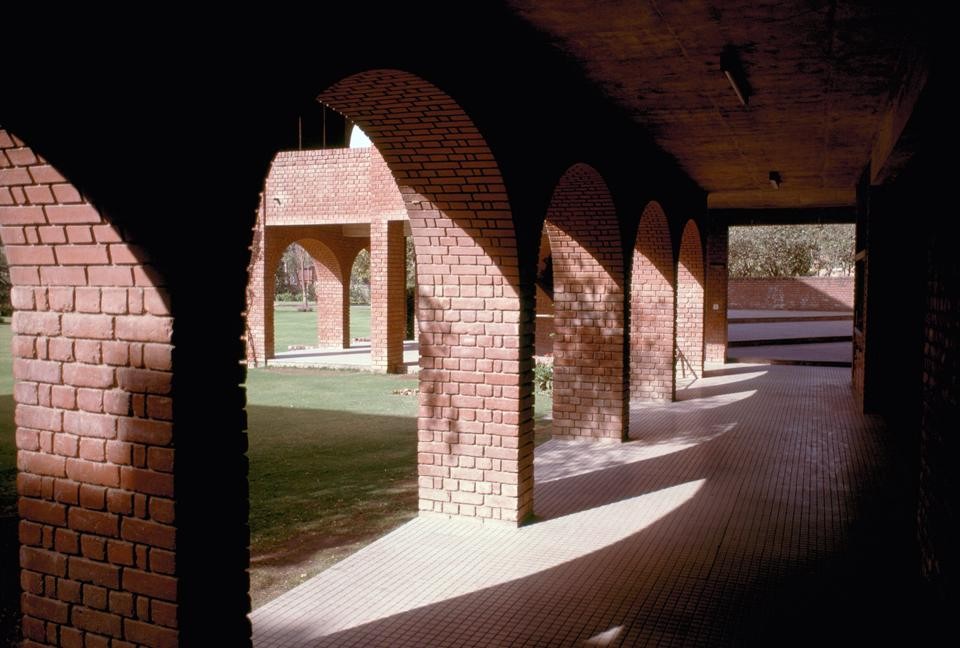 ***
Ved Vyas was born in Lahore on July 24, 1924. He had his schooling in Lahore; and college and university education in Lahore and partly in Delhi. As a student he used to participate in plays and sports, particularly soccer and cricket. He was passionate about mountaineering. And yes, he relished vegetarian fare.
Tall, dashing and handsome, Vyas was square-jawed and strongly-built with a filmstar's looks. He had a booming deep baritone voice. It was not uncommon for him to receive compliments from his colleagues and students for his striking personality. And knowing his talent for theatre, many felt that he could have given some Bollywood heroes of the time a good run for their money, if he had tried his luck in Hindi cinema.
He married Kanta, a beautiful lady several years younger, on October 16, 1953. Though a homemaker, she was a tower of strength for her husband. They shared a beautiful bond and it was wonderful to see this kind of understanding between them. They were blessed with two lovely daughters — Richa and Ruchi. Elder Richa, an alumnus of Modern School, Vasant Vihar, was into theater and participated in many of her father's plays. She has also acted in two experimental movies. She has studied psychology and is married with two children.
Younger Ruchi has studied in the United States. She is a beautician by profession and has been working at The Taj Mahal Hotel, Delhi. Ruchi has one son, who is into art and has carried on his grandfather's legacy of love for the mountains. "I am deaf, but papa encouraged me so much that today I can face the world on my own," Ruchi proudly says. "As a father he was very caring, very protective, but at the same time he gave us all the freedom to grow, learn and flourish. He would show us path and let us map our own journey."
At a time when education has become a big, thriving business, Vyas shows us the importance of doing simple things the right way. He was an educator par excellence.
---
For in-depth, objective and more importantly balanced journalism, Click here to subscribe to Outlook Magazine
---